God specializes in the unexpected. No one expected the Messiah King to be born in a manger. Mary never expected an angel visitation, and Joseph certainly didn't expect his fiancée to get pregnant. The shepherds weren't expecting angelic visitors either, and the last thing on anyone's mind that night in Bethlehem was that the baby would grow up to die on a Roman cross.
The crowds who greeted Jesus 30 years later when He entered Jerusalem weren't expecting His crucifixion, and they certainly weren't waiting for His resurrection.
Mary's hopes must have been crushed when she witnessed her son's death.
Yet God's greatest surprise is raising the dead to life. Jesus himself said it: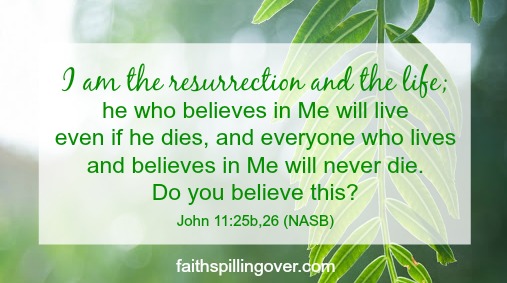 Jesus still speaks this to us today, but it's worth remembering He said it first to Martha in Bethany (John 11:1-43). When her brother Lazarus fell ill, she and her sister Mary had called on Jesus, fully expecting Him to come and heal their brother. Yet instead of answering their call quickly, Jesus lingered where he was. When he arrived in Bethany, he found Lazarus already dead and Mary and Martha grieving. Their hope had died along with their brother.
Perhaps this Christmas you find yourself in the same place as Martha and Mary, with hopes crushed.
Maybe a goal you set this year proved unattainable, or a dream you treasured didn't materialize. Where you see impossible, Jesus sees fresh starts, new possibilities, and the strength He'll give as you continue moving forward.
Perhaps you didn't get the job. Where you see a shut door, Jesus sees the path He's guiding you on.
Maybe you're grieving the loss of a precious loved one. When you see loss, Jesus sees the promise of life and resurrection. Where you see grief, He sees comfort and new hope down the road.
Perhaps you love a prodigal who hasn't come back home yet. Even when you see hopelessness, Jesus sees your beautiful heart –still loving, still praying, and still hoping against all odds.
Maybe your family isn't Christmas-card perfect. Where you see brokenness, Jesus sees redemption and God's steadfast love poured into emptied hearts.
Let's Rejoice in the Hope We Have
As we come to the end of another year and the reality that not everything in our lives is what we'd hope for, let's rejoice in the good things we do have. Let's remember that Jesus is the resurrection and the life. His specialty is bringing life to the dead.  He resurrects dead hopes. He brings people back to life, no matter how far they've strayed. And He proved His power by rising from the dead himself.
Martha and Mary never expected Jesus to resurrect their brother, but He did.
And the unexpected, broken parts of our lives remind us that we have resurrection hope in a person: Jesus Christ.  He will make all things right in the end. He will bring life to the dead. He will bring His words to pass. Let's believe them.
He is the Resurrection and the Life.