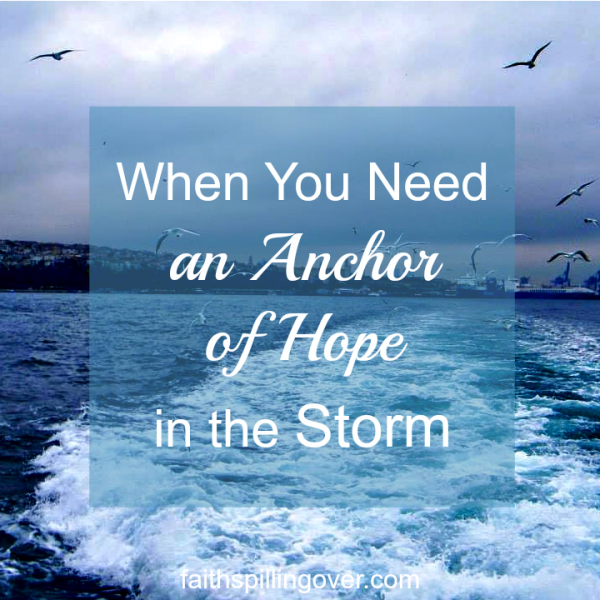 "Mom, we need to pray urgently for my flight." My heart lurched when I read the text from my son. Since we live in the Middle East, I hadn't noticed news of a hurricane back in Texas. Our family hadn't seen Andres for 9 months, and all summer we'd been looking forward to his visit before school started.
Hurricane Harvey changed our plans. Four hours after Andres arrived to Houston for his flight home, both the airport and the roads around the neighborhood where he was staying closed due to flooding.
"Our electricity may be cut, so I'll turn my phone off to save power. No news is good news," read another text.
We'd expected to spend a joyous week as a family reunited, but instead we spent a stressful week on the phone checking on our son, rescheduling his flight multiple times, and watching the heartbreaking news from Houston.
Life changes quicker than you can blink when a storm hits.
And when that storm hits, you need something to hold on to. That's why Micah Maddox's new book Anchored In brings us such a powerful message of good news. Anchored In reminds us God's power can carry us through any storm when we anchor ourselves firmly to Him.
Sometimes big storms bring us to our knees.
Whether our storm is an actual tempest, like the hurricanes in Texas and Florida, or upheaval brought on by life's hard knocks, we need an anchor. In her book, Micah shares the story of how her dad, a pastor, abandoned his family the same day he left his church one Sunday morning. Micah has gone through tough trials, yet she has a message of hope. God's power makes us overcomers. No matter our past, He sets us free to live transformed lives today.
Sometimes a small storm knocks us over the edge.
When I finally had to make the two hour phone call to cancel our son's visit, I made my own tempest in a teapot and threw a big pity party. Of course I realized not seeing Andres for a whole year was small in comparison to losing our lives or a house. I was grateful my son was safe, yet it crushed my heart to see tears in my husband's eyes and disappointment on my daughter's face.
Anchored In offered me a bright light during a hard week.
It reminded me that God's power will transform my thinking and strengthen my heart when I keep my eyes fixed on Him and stand on the truth of His Word. He works all things for our good and His glory.
The book offers hope and wisdom for people grappling with the struggles and problems of life. Micah will encourage you to rely on God's power and presence to find healing for past hurts and help for today's challenges. Here are two quotes I liked:
"As we identify the problems in our lives and shift our focus from our problems to God's power, we begin the process of living anchored even amid the difficult events of life."
"God continues to teach me that as long as I keep my mind on my life and the things that happened to me, my power is limited to my own strength…I need His strength and His words for my life, not my own."
I especially liked the practical side of the book.
Anchored In offers us real-life stories, scripture, and lots of practical help for learning to rely on and experience God's transforming power in our minds and hearts. Micah gives us steps we can take to anchor ourselves more tightly to Jesus, no matter what's going on around us. Follow this link for more information on #AnchoredInBook.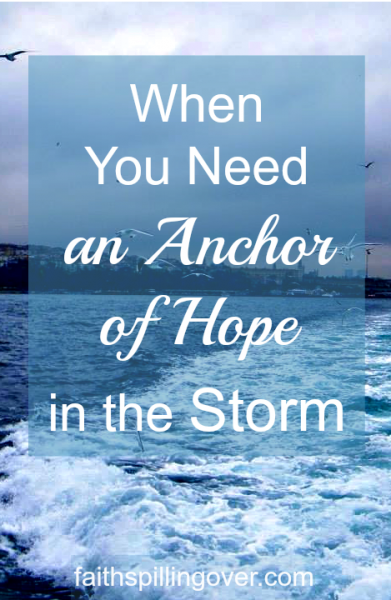 If you'd like fresh servings of Faith Spilling Over delivered weekly to your inbox, enter your e-mail address in the box in the sidebar. I'd love to send you my free guide, 10 Days to More. You'll find 10 ways to study and engage with God's Word.
Linking up with Kelly Balarie's #RaRaLinkup, Jennifer Dukes Lee's #TellHisStory, Holley Gerth's Coffee for your Heart, Suzie Eller's #LivingFreeTogether, Brenda Bradford Otinger's #ChasingCommunity, and Arabah Joy's Grace and Truth. Check out these communities for more encouragement.