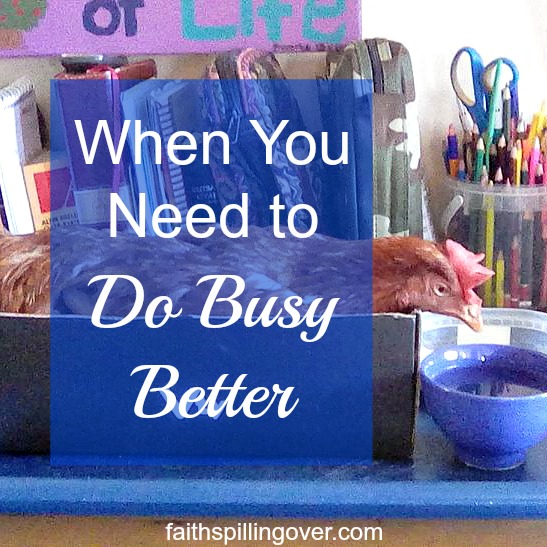 When my kids were little, getting them out the door turned into a major military operation with me as the commander-in-chief. I'd rush around to grab snacks, extra clothes, and playthings to entertain them in the car. Next I'd herd everyone to the bathroom and then to the door. I'd sweat over putting everyone's shoes on. A few years went by, and I'd break out in a sweat watching them grapple to get their shoes on themselves.
I didn't like the person I became during those mad dashes out of the house. I'd bark out orders, roll my eyes, and yell, "Come on, guys!" I blamed my bad attitude on my kids, who constantly made us late. In reality, I was the one who hadn't left enough margin in my schedule for the "I-need-a-miracle-now" feat of getting two toddlers out the door.
I thought my drill sergeant days would end when the kids got older
Although now the game has changed with my adolescent daughter, I can still turn into someone I don't like while I hurry her out the door. She's a beautiful girl who likes to look her best before she leaves the house. I'm an impatient mom who taps my foot and yells out, "Ready to go?" several times while waiting.
Hurry is not my friend.
Hurry steals my joy and turns me into someone I don't want to be. Maybe I should let my daughter be my life coach. While she finishes her makeup, perhaps I should go work on mine a bit more. I'd probably look better, and it would give me a chance to pray for the Holy Spirit to pour more of His love and peace over me.
In her book Doing Busy Better, Glynnis Whitwer says hurry is never worth it. The benefit of getting somewhere a few minutes quicker never outweighs the stress, relationship friction, and general bad mojo caused by hurry. "Hurry and love are incompatible," Glynnis writes, "because a hurried person is more concerned with their own agenda than with others…" (p. 92). How many times do I allow hurry to keep me from being fully engaged with people I love at home and in ministry?
Doing Busy Better
I jumped at the chance to read this book because I loved the title: Doing Busy Better: Enjoying God's Gifts of Work and Rest. Like so many women, I live half my life feeling overwhelmed and the other half rushing around, so I thought it could help me. (And it did.)
My Personal Takeaways from Doing Busy Better
I need more margin in my daily life.
I can set a reset button on life each Sunday.
"God's to-do list for me always involves loving others fully, being patient, and only doing the things He assigns me to do." (p. 93)
When I follow God's leading and am careful to plan well, I can work peacefully and productively.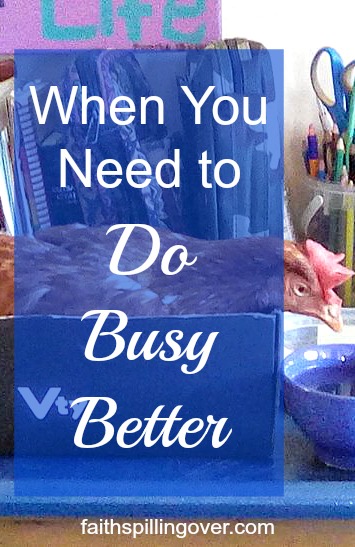 The book encourages us to examine our lives for causes of unhealthy busyness and offers practical solutions. Glynnis's words about God's plan for work and the blessing of rest inspired me. She reminded me all over again to surrender my to-do list to God each day and to remember that my value does not come from how much I accomplish.  Rather than running ahead with my own projects, I want to stop and seek God's wisdom first. I want to trust Him for each thing He calls me to do and work with an attitude of rest, not hurry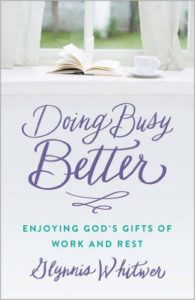 If you're anything like me and feel overwhelmed by your life, this book just might help you learn more about beating the busy monster. Doing Busy Better was released July 4th. Follow this link for more information.
If you'd like fresh servings of Faith Spilling Over delivered weekly to your inbox, enter your e-mail address in the box in the sidebar. I'd love to send you my free guide, 10 Days to More. You'll find 10 ways to study and engage with God's Word.
I link up with Kelly Balarie's #RaRaLinkup, Holley Gerth's Coffee for your Heart, Crystal Storms' #HeartEncouragement, Salt and Light with Shannon Guerin, and Arabah Joy's Grace and Truth. Check out these communities for more encouragement.