Sometimes I feel like I'm making it through by the skin of my teeth. Just barely making deadlines and scrambling to get dinner on the table 15 minutes late. Just barely holding chaos at bay because I'm a wreck on wheels.
But God. He loves me anyway. He reaches down and speaks to me in the loveliest of ways right in the middle of my chaos.
I'm the pastor's wife who forgot it was her turn to lead the service last Sunday. Until five minutes before starting time, when someone asked was I ready. (Gulp. This really happened, people.)
I'm the shopper who left her credit card at an Ikea cash register and realized it an hour later while trying to pay for groceries next door. Yes, I was THAT customer who systematically emptied the entire contents of her purse right there in the grocery store, looking for said credit card. I was also the only one trying to get a large shopping cart of groceries in that revolving entrance door at Ikea.
Follow this link to join me over at Brenda Bradford Ottinger's blog to read more about how God can stop our spinning wheels on our chaos days.
Sometimes stopping for just a minute to remember we're loved can turn our day around…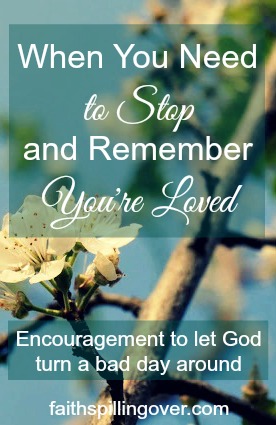 If you'd like fresh servings of Faith Spilling Over delivered weekly to your inbox, enter your e-mail address in the box in the sidebar. I'd love to send you my free guide, 10 Days to More. You'll find 10 ways to study and engage with God's Word.
I link up with Holly Barrett's #TestimonyTuesday, Kelly Balarie's #RaRaLinkup, Holley Gerth's Coffee for your Heart, Crystal Storms' #HeartEncouragement, and Arabah Joy's Grace and Truth. Check out these communities for more encouragement.