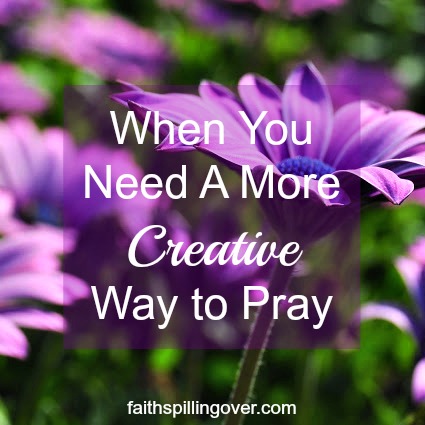 Prayer is difficult for me. I might have all the good intentions in the world, but if I sit down to close my eyes and pray, I last for all of two minutes. Three minutes if it's an exceptionally good day.
To really pray longer than three minutes, I need to be doing something. I need to be walking on the trail at the park. For my mind to find focus, my hands need to be hanging laundry or cooking or moving a pen. Sometimes I write out prayer in colored words in my journal.
I've discovered a way to help anchor my thoughts and find direction for my prayer life at the same time. I make personal prayer maps. They help me to make prayer into more than an order at a fast food restaurant.
Repeating the same requests over a list gets boring. (Shh! Did I really say that?) Shouldn't prayer be more than a To-Do list for God?
Shouldn't prayer invite more of God into our lives?
Last year, I asked God to show me seven Big Things I could ask Him for. I made a list: Greater Faith, Healing, Joy, Anointing, Provision, a Life that Honors God, and Passion for Christ. I mapped these out on paper and included scriptures, song quotes, written out prayers, and specific requests.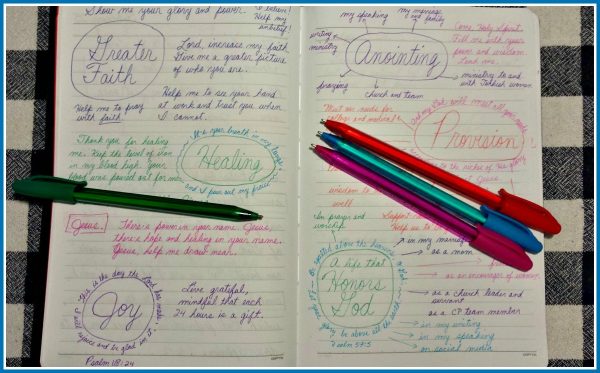 I've used this map to guide my prayer life since then. Some days I take a few minutes to listen to a worship song and pray through my map. Other days, I pray for one or two of the items while on the walking trail. My map has become part of my prayer life. It reminds me of what I really want from God when I'm tempted to reduce prayer to asking for help to make it through dinner time. (Of course we always need practical, daily help too!)
Here's how you can make your own personal prayer map:
First, take some time to think and pray about your Big-Picture prayer requests. Ask God to lead you, but don't make it hard; trust that He'll speak to you. Over several days, snatch a few spare moments to make a list of 6-7 words or phrases that represent what you most want God to do in your life.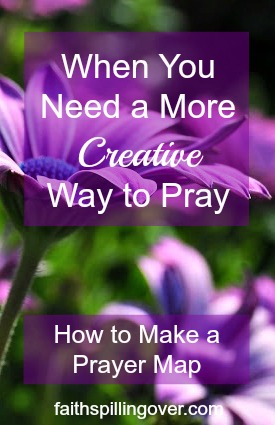 What You'll Need:
I used a two page spread in my journal and marked it with a stick-on tab, so I can turn to it easily. You could also use a piece of typing paper and keep it folded in your Bible. I used colored pens. You can make yours as plain or fancy as you like, even incorporating scrapbook materials to make your map pretty. Plan on taking 6 or 7 days to make it, one day to pray for and think about each request.
How to Do It:
1. Start by writing the first word or phrase in big letters, on the top third of one side of your page. Circle it.
2. Choose several of the following to write around or next to it:
A related Bible verse or promise
A song quote
A one sentence prayer
Specific, short requests
3. The next day do the same thing with your next prayer request until you've finished.
You can also make a map for your family, circling each name and surrounding it with requests for that person. I have a family prayer map in my journal that reminds me of how to pray for my children.
A prayer map can be as creative, elaborate, or simple as you want. The most important thing is to actually use it! Prayer mapping can help you center your thoughts and find direction when you want prayer to be more than a to-do list for God. How about giving it a try?
Now it's your turn: What creative ways to pray have you found?
NOTE: Follow this link to read a related post, "When You Need More Inspiration for your Prayer Life" You'll find 3 ways to make prayer more than a takeout order.
If you'd like fresh servings of Faith Spilling Over delivered weekly to your inbox, enter your e-mail address in the box in the sidebar. I'd love to send you my free guide, 10 Days to More. You'll find 10 ways to study and engage with God's Word.
I'm linking up with Holly Barrett's #TestimonyTuesday, Kelly Balarie's #RaRaLinkup, Holley Gerth's Coffee for your Heart, Crystal Storms' #HeartEncouragement, and Arabah Joy's Grace and Truth. Check out these communities for more encouragement.