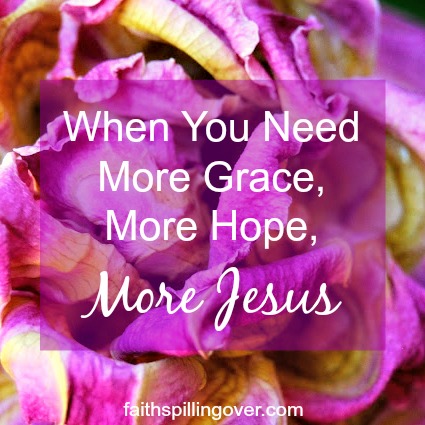 If you're like me, you wish your relationship with God made a bigger difference in your everyday life. During Sunday worship, you feel spiritually refreshed, but by the time you corral your kids to the car, your nerves are on edge again. Monday morning finds you back in the rat race, overwhelmed by school lunches, that work project, and that hard conversation you need to have with your husband. Then your 12 year old tells you he needs to go the store for science supplies before school!
Don't we all need a little more grace for the hard, hectic days? Grace to stop, breathe deep, and remember He's with us? Grace draw near to Our Helper and do the next thing in front of us. Grace to recognize God's hand at work in our lives.
Don't we all need a little more hope? Hope remembers all the promises of God are "Yes" in Christ (2 Corinthians 1:20). Hope tells us one bad day doesn't mean a bad life. Hope always whispers that more joy is around the corner.
We forget that Grace and Hope came to earth as a person.
Jesus Christ is our truest source of hope. John was talking about Jesus when he said this: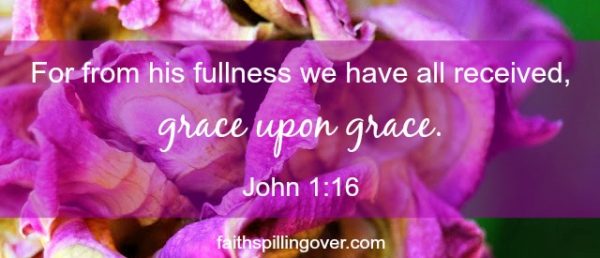 The truest path to more grace and more hope is more of Jesus.
He is the way, the truth and the life. He has everything we need. Let's draw nearer to Him, shall we?
I'm not always sure how to do that, are you? How can we have a relationship with Christ during our Monday through Friday lives? How do we maintain a meaningful connection Him when we're running like hamsters in a wheel?
Maybe we need to take baby steps towards Jesus throughout the day.
When we call on His name and invite Him into our lives, He comes with grace and hope. Need help for the task in front of you? He strengthens and enables. Need wisdom? He gives it. Do you need someone to listen to your disappointment or sorrow? He hears, and He comforts. All we need to do is pause for a moment to pray.
Maybe we need to return to Our First Love with a renewed commitment to set aside time for Him.
A small commitment of 15 minutes each day might be the most powerful step we can make towards opening our lives up to the transforming power and love of God. Spending time with Jesus in the morning improves our outlook, helps us hear His voice, and sets us up to walk with Him throughout the rest of the day.
I want to invite you to a 10 day journey to focus on Christ and get to know Him better.
I wrote 10 Days to More to encourage women to draw nearer to Jesus and to explore different ways of interacting with God's Word.
If you'd like to join me, add your email in the subscription box on the sidebar of this blog. I'll send you a free copy of 10 Days to More. I hope you find encouragement and ideas to spark renewal in your quiet time and relationship with Jesus. Together, we'll look at a different way to do devotional Bible study each day.
Let's take baby steps towards more of Jesus in our lives. God loves any small effort we make to draw near to Him.