I look in the mirror, and I don't look much like Jesus. I look like a homeschooling writer mom hanging on by a thread: rumpled clothes because I had no time to iron and graying hair that was brushed hours ago. Smile lines crinkle around my eyes. Middle age spread is spreading around my middle.  Looking at my spattered apron, you'd have no idea that Jesus lives in me.
Yet His Word says we're temples of His Holy Spirit.
We're His living letters.
Jesus in us might be the first our kids see of Him in the morning when we wake them up. (Scary thought!)
Jesus may prompt me to reach out and squeeze my husband's shoulder or give him a kiss.
Perhaps He'll call you to listen if a friend needs to talk or to pray for her when she's struggling.
Jesus reminds us to smile at our neighbors and stop to say hello
We're the only Jesus some of our friends may ever see.
That scares me because the Jesus I carry inside sometimes gets tarnished.
Some days I don't want to act like Jesus. I'm tired. I snap in irritation rather than speak words of life. I'm selfish instead of self-sacrificing. I want to retreat rather than talk with my teenager, listen to my husband, or teach Sunday school. I think about my own needs rather than try to understand my friend. I don't always reflect Jesus clearly.
The good news is we don't have to be perfect for people to see our Savior in us.
If we're transparent about our weaknesses, Jesus shines through us more brightly. If we confess our sins, God forgives and keeps using us. When we admit our failures and apologize to others, they see we're imperfect people who aren't pretending. Cracked vessels that let the light of Jesus shine through.
Maybe the secret to letting more of His light shine through us is letting more of that light get inside us. John said it this way: "He must become greater; I must become less." (John 3:30)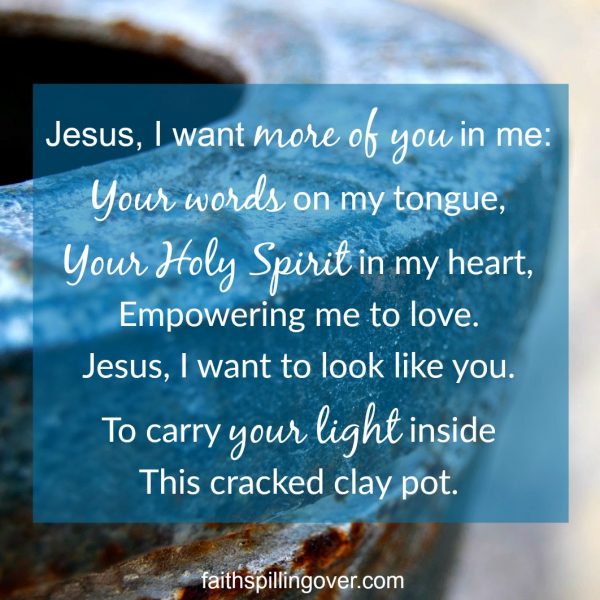 How do we let more of Jesus get inside us?
Maybe He becomes greater when we give His Holy Spirit more control and put His Word to work. We learn to let His Word renew our minds and be written on our hearts. As we invite the Holy Spirit in, we're empowered to:
Love more and criticize less.
Choose more forgiveness and less bitterness.
Show more kindness and less anger.
Serve more and judge less.
Say hello to God's way and good bye to my way.
Who can we be Jesus to today?
Who can we smile at? Who can we touch or hug? Who can we call or send a text to? Who can I help? Who can you be a friend to today? We're His living letter, the only letter from Jesus that some people may read.