The Christmas story is good news when we wonder if God hears our prayers. Celebrations, carols, and lights bring tidings of joy, but some of you might be battling discouragement. As the year comes to an end, we may see things in our lives we wish were different. Maybe we asked God to change them, but it doesn't look like He did.
We carry around inside the ache of unanswered prayer.
In the opening pages of Luke, we find an elderly couple familiar with that same ache.  Zechariah and Elizabeth had prayed for years that God would give them a child. They had no way of knowing the child they were praying for would play a key role in preparing the way for God's Son. They had no idea He was waiting for the perfect time to answer their prayer. Surely, they knew the heartache of prayer unanswered while they waited on God.
I know it too, and tucked in this story, I find a truth that encourages me.
Zechariah was gripped with fear when he saw the angel of the Lord in the temple. Some of us may be gripped with fear that our lives will never change, our hearts will never heal, or our prayers for loved ones will never be answered. We fear God will never come through.
That's why the angel's words to Zechariah are good news for us: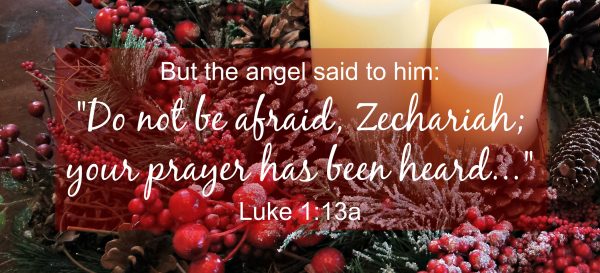 Can we just stop a minute and insert our own names into that verse?
"Do not be afraid,__________________; your prayer has been heard…"
Maybe you've been praying for a baby, like Zechariah and Elizabeth, yet God hasn't given the answer you hope for. Perhaps you're praying for a child you already have, yet you can't see God working. Maybe your marriage needs a miracle. Or your broken heart needs healing. Friend, I don't know what you're praying for, but rest assured, God hears and treasures every word you lift up to Him.
What good news! God hears our prayers. We may not have the answers we hope for yet, but God hears, and He cares. We can trust He is in control, and He is at work for our good.
If you're praying, yet don't see God at work, take heart:
Look for small answers.
Last week I fasted and prayed throughout the day for one of my children in a crisis moment. At the end of the day, I sensed no perceptible change. "Do my prayers make a difference?" I wondered. Yet a week later I received a small answer: a 6 word text message from my young adult child that let me know God is at work. He hasn't forgotten me or my children. He'll complete the good work He began.
Take courage and keep praying.
Remember. Light wins over darkness.
Love wins over fear.
Grace wins over guilt and shame.
God is on our side, and He will answer in His perfect timing. We are blessed as we believe.
Lord, I believe. Help my unbelief. Even when my heart aches with the pain of unanswered prayer, help me to believe you love me deeply. Strengthen my faith. Open my ears to hear and my eyes to see the quiet, small answers I may be missing. Help me to see more of your glory, power, and love at work in my life today. In Jesus' name. Amen.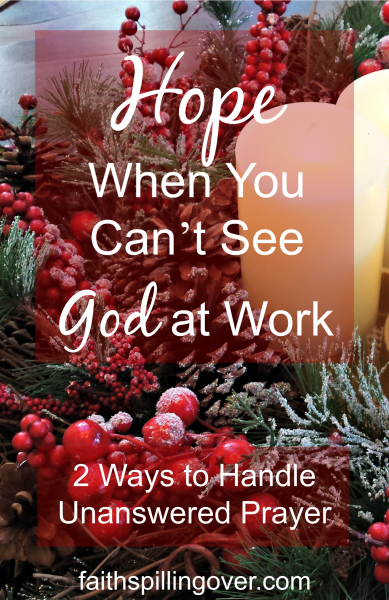 Now it's your turn: Can  you tell me about a time God answered your prayer or are you still waiting on God for something?
Are you facing the challenges of life on an empty tank? Need help renewing your relationship with God?