What do you do when you have a problem that is just too big?
My first reaction is to do what I can to solve it. I want to plan my way around it or make it disappear. I feel better when I'm trying as hard as I can to take care of it.
But sometimes the challenge in front of us is way too big for us.
The Israelites faced the impossible when they came up against the Red Sea with the Egyptians in hot pursuit behind them. They had the sea before them, and enemies with weapons and horses behind them. It was more than an obstacle. It was a sure recipe for 2,000,000 people to have panic attacks. Yet Moses told them not to be afraid.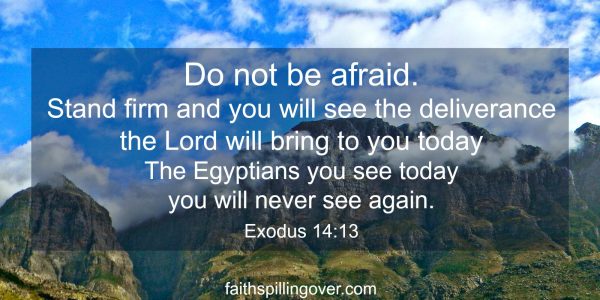 Exodus 14:13
God tells us the same things:
Do not be afraid.
Friend, no matter what kind of Red Sea you're facing today, God is big enough. Maybe your Red Sea is a doctor's diagnosis, a struggling child, or a strained marriage. Maybe it's loss through death or a divorce you never expected. The same God who told the Israelites not to be afraid is with you today. He goes before you and behind you.
Stand firm.
When that Red Sea stares you in the face, stand firm on what you know. Go back to your Bible. It contains the Word of God and the encouragement you need. Declare His truth. Choose to believe it. Remember God's power, love, and mercy. Stand firm on his promises.
You will see deliverance.
God will carve out a way to cross that sea before you, but He'll do it in His timing. He has the solution to your problem. God has the provision and the hope you need. He has the miracle you need. God will give you the strength, joy, and wisdom you need for each day.
Going back to our passage in Exodus, the next verse is downright astounding: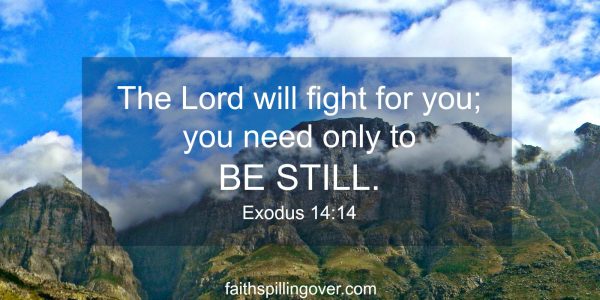 Be Still.
Be still? What?
When I have a problem, the last solution that comes to my mind is to "be still." I'd rather work on it. I'd rather think about it. I'd rather make a plan to solve it.
Yet "Be still" is exactly what God told the Israelites to do.
Of course we're responsible to obey God when He shows us steps to take through challenging times, but He calls us to a heart attitude of stillness and trust. Rather than relying on our own efforts, we can rest in God's power. When problems are too big for us to solve, we can rely on Him. When needs are too big for us to meet, we can rest in Him.
So if you're standing in front of a Red Sea Challenge today, remember God is big enough.
Don't be afraid. He goes before you. Stand Firm. Hold on to hope for deliverance, and when your efforts fall short, be still before the Almighty. His power is enough.
Now it's your turn. What are you trusting God for today? What comes to mind when you read the words, "The Lord will fight for you; you need only to be still?"
If you'd like fresh servings of Faith Spilling Over delivered weekly to your inbox, enter your e-mail address in the box in the sidebar. I'd love to send you my free guide, 10 Days to More. You'll find 10 ways to study and engage with God's Word.
I'm linking up with Holly Barrett's #TestimonyTuesday, Kelly Balarie's #RaRaLinkup, Holley Gerth's Coffee for your Heart, Crystal Storms' #HeartEncouragement, and Arabah Joy's Grace and Truth. Check out these communities for more encouragement.