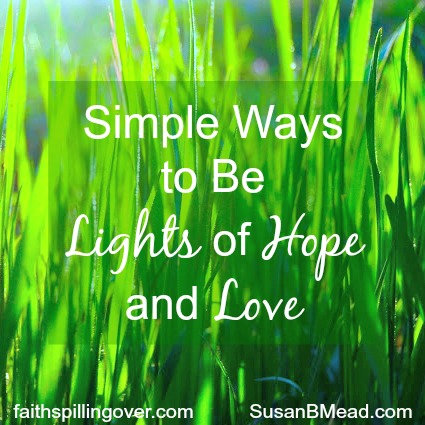 When was the last time you went to a prayer meeting in a public bathroom? Recently I found myself arm in arm with sisters I'd never met before in the women's room at church. We prayed blessings over the life of a woman who desperately needed Jesus. It started when a slender, silver-haired woman walked up to me while I waited in line. She beamed a smile.
"Hi, my name's Angie. Have you read this book yet?"
I was confused when she held up a copy of Rick Warren's A Purpose-Driven Life. I said I'd already read it, so she smiled and moved on to the next person.
"How sweet," I thought. "What a generous woman to give away a book she's already read."
Pretty soon, my new friend found a taker for her book. She started talking to a young Asian woman. Come to find out, this woman didn't know Jesus. Ana was newly-divorced and still hurting.
After they talked a few minutes, Angie said, "Can I pray for you?" I was standing nearby, so I got pulled in too. A fourth woman joined us. As we interceded for Ana right there in the women's room, tears welled up in her eyes. We hugged her, and one of the women gave Ana her phone number.
Then I followed Angie out the bathroom door to ask if she always gave books away like that.
Will you join me over at Susan B. Mead's place to read the rest of this post? Follow this link to find what Angie taught me and to read about 6 simple ways to be a light to the people around you. Right where you are.