After twenty years of marriage, my husband and I often laugh about our differences. When he feels burdened or pressured, he goes quiet. He needs time to think and pray. When I feel stressed, I talk about it.
I talk about what's bothering me. I tell my husband, I mention it to my kids, and I call my girlfriends to tell them about it too. Then I call my mom. Then I tell my poor husband about it again. Sometimes I just feel the need to vent, you know what I mean? When I'm worried, I fret aloud without realizing it.
If my husband's concerned about a decision, he asks one friend for advice. When I have an important decision, I ask ten people for their opinion.
Are you sensing a pattern here?
I process things verbally. I reduce my stress level by giving voice to my thoughts. But I'm learning I need to be careful.
My words influence the atmosphere of my marriage and home.
Ephesians 4:29 says: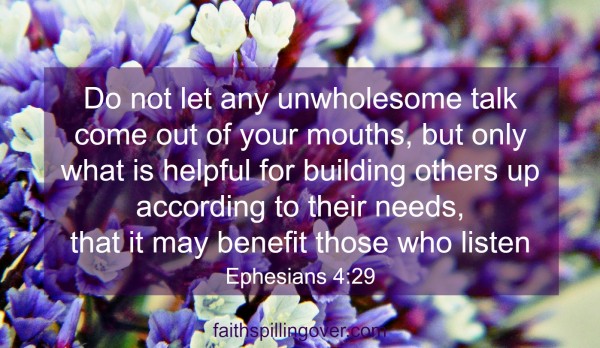 When I read this verse, I thought, "Unwholesome talk means profanity, right? Of course I don't use vulgar language."  However, a bit of study revealed interesting synonyms for "unwholesome talk": rotten words, foul, worthless, harmful, or polluting language.
Can you imagine rotten words spewing out of someone's mouth, polluting the atmosphere around them? Not very appealing, is it?
If I'm not careful, I can pollute the atmosphere around me with rotten words.
Recently I wrote how I want to be a Fresh Water Woman who speaks life rather than a Salt Water Woman who spews out negativity. In the same way, I want fresh words to come out of my mouth instead of rotten words.
Follow this link to join me over at Sweet to the Soul to read the rest of this post. You'll find 3 questions that help us think before we speak, so that our words will bless our listeners rather than weigh them down.