If you're a parent, you've probably lived this scenario many times. You push against an overflowing Lego bin or laundry basket to get the door of your child's room open. Fighting dust bunnies, dirty clothes, books, and empty glasses, you make your way into the deep recesses of the room to locate your offspring. You tell him to clean his room. He's looking straight at you and even says, "Um, yeah. Okay."
Five hours later, his room looks exactly the same. And the best part? He has no idea what you're talking about when you ask why he hasn't cleaned his room! NOT EVEN A RECOLLECTION of your asking him.
We get frustrated when our kids don't seem to listen, yet how often do we do the very same thing with God? Sometimes I read scripture, yet I'm just skimming along, not really paying attention. I say, "Um yeah. Okay, this is great truth." But later? I don't remember a thing. I face a challenge and blow my stack, snap back, or give up. Just as if I'd never seen a Bible in my life.
James compares this response to God's Word with someone who looks in a mirror, walks always, and forgets what he looks like. That sounds incredibly dumb, but I do it all the time.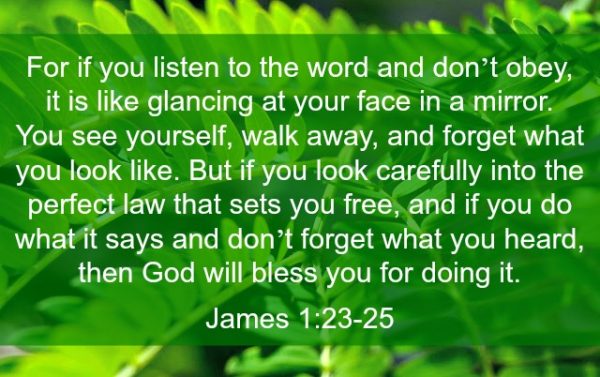 James 1:23-25
I don't know about you, but I don't want to have ho-hum devotionals day in and day out, yet stay the same. I want listen to God's voice and let it change me. I want to live a life marked by God's power and presence. I want a life marked by God's Spirit and His Word.
James gives us two keys to a life transformed:
1. Look carefully into the word.
2. Do what it says.
In order to avoid forgetful "listening" when we read the Bible, here are 4 things we can look for to put into practice. I like to highlight these as I find them, so I'm including the colors for you here:
COMMANDS (Orange):  Do I see a command I need to obey? Something God is calling me to? Something I can do or put into practice?
PROMISES (Pink):  Do I find a promise I need to stand on today? Something that encourages me where my faith is lagging? Something I need to declare out loud?
SINFUL ATTITUDES AND ACTIONS (Brown):  Do I see something I need to repent from or avoid? Where do I need God's power to change?
GODLY EXAMPLES (Green):  Do I find a man or woman in the Bible with characteristics I'd like to emulate? (I highlight the name and characteristics.)
As we seek to engage with God's Word, of course we need to do more than highlight our Bibles. We need to pray over the truth we find and ask for Holy Spirit power to put it into practice.
When we put the Word to work in our lives by doing what it says, we have a promise: "God will bless you for doing it." Unlike that person who even forgets what he looks like, we won't stay the same. We'll be marked by God, blessed by Him, and set apart for His purposes.
Now it's your turn: Have you read anything in the Bible lately that is making a difference in your life?
This post is part of a series: God's Word: Your Best Love Letter and Greatest Treasure. Join me each Tuesday in January for more tips and encouragement for digging deeper into scripture.
I'm excited to link up with Suzanne Eller's #livefreeThursday. Suzie's prompt was "marked." Also joining with Thought Provoking Thursday, Holly Brown and the Grace and Truth Community, and Susan B. Mead's Dance with Jesus.  Check out these communities for more encouragement.
Did you enjoy this post? Subscribe to get fresh servings of Faith Spilling Over delivered to your inbox. Enter your e-mail address in the box at the top of this page.