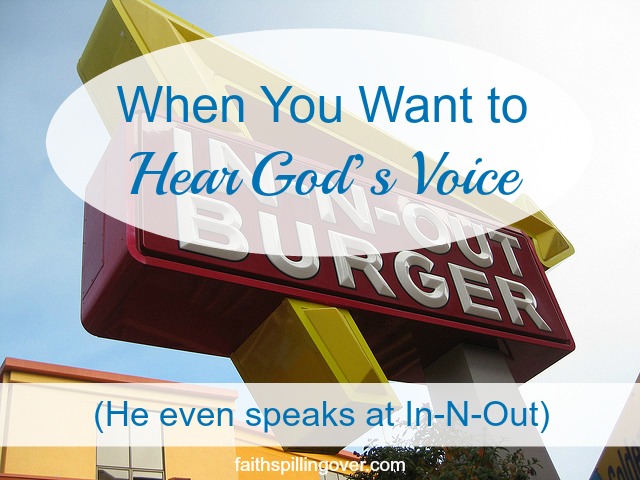 Jesus said his sheep would hear His voice, and He spoke to me loud and clear at In-N-Out Burger last Sunday. Only I didn't hear it because I was too wrapped up in trying animal fries for the first time.
Our family was taking a break from a dreary, rainy day road trip to get something quick to eat. Just as I doubtfully lifted an animal fry dripping with sauce and grilled onions, my son said, "Mom, look under your cup."  And there it was printed plain as day in red letters:
Revelations 3:20
Andres even read the verse out loud. Only I didn't pay attention because I wasn't expecting God to speak to me. I was busy thinking, "Hmm, these fries taste better than they look."
I'm kind of slow like that.
The next day I heard God speak.
During my quiet time, I remembered my word for December: Behold
The Facebook post I'd written before our road trip came to mind: "I want to behold Jesus, His glory, and His power throughout this Advent season."
And it hit me. In-N-Out Burger. Revelations 3:20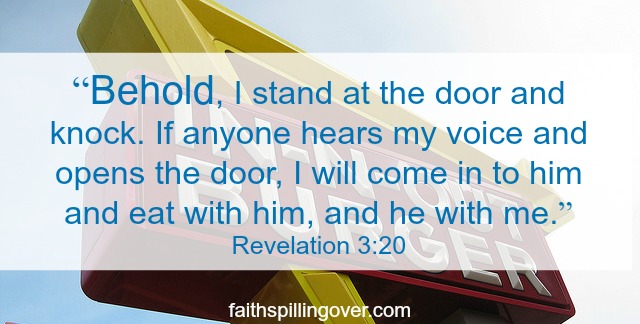 Crazy, huh? Anyone could say that it was just a paper cup, but I knew different. God was speaking to me. He was calling me to deeper fellowship and giving me more desire to behold His glory.
To behold Jesus, we must listen for His voice.
He longs to speak to us. Job 33:14 says, "For God speaks time and again, but a person may not notice it." I hadn't noticed His voice at In-N-Out because frankly, I wasn't expecting it.
God speaks in so many ways, and deep down inside we know His voice when we hear it. God speaks through:
The Words of Scripture
A Song
Nature
A Phone Call or Text Message
A Child's Smile
A Word of Counsel from a Friend
What if we really expected God to reveal Himself and speak to us?
Let's lean in close and listen up. Will you join me?
Let's pray that He'll open our ears to His voice during this season of Advent. Then let's expect Him to actually speak when we open our Bibles, tune into worship music, or go outside to enjoy His creation. When our spouses or friends have something to say, let's listen for His whisper. We're His sheep, and we'll know His voice when we hear it.
Now it's your turn: Has God spoken to you in a surprising way lately? How do you best hear His voice?