Jesus called us the light of the world, but sometimes I'm too busy or wrapped up in myself to think much about shining. I was definitely not thinking about it last Friday night while I set my alarm to get up early the following morning to go deliver Thanksgiving meals to needy families.
"Whose idea was it to sign up for this? Saturday is my only day to sleep in. I haven't had a free Saturday in weeks." My thoughts were spiraling downward when I sensed the Holy Spirit persuading me to pray instead:
"Lord, please help me have the right attitude in the morning. My time is yours, so help me to give it willingly."
By some miracle the next morning I actually headed out the door on time with my husband, daughter, and a decent attitude. We drove to church, where they gave us directions to a low-income apartment complex and 8 bags full of provisions. When we arrived at the complex, I couldn't help but notice peeling paint on the doors and graffiti on some walls. This was a step outside of my comfort zone.
I was nervous as we rang the first doorbell, but when the door opened, the anxious face peering out disarmed me. Most of the families we visited consisted of single moms with several kids. Their apartments were small and dark. One woman's eyes watered when she answered the door. Another asked for prayer. We prayed for several families and invited them to church. I felt good inside as we drove back home.
The blessing I received exceeded by far my investment of a few hours.
I felt ashamed of my attitude the evening before. Those women had great needs and little hope. I had so much, including a Savior who gave everything so I could have new life. How could I have begrudged a few hours of my time?
Jesus, the Light of the World, stepped down from his comfort zone in heaven to meet needs here on earth. He challenged his followers to visit the sick, clothe and feed the needy, and visit those in prison. Jesus demonstrated what love does. Love gives. He calls us to do the same when He says: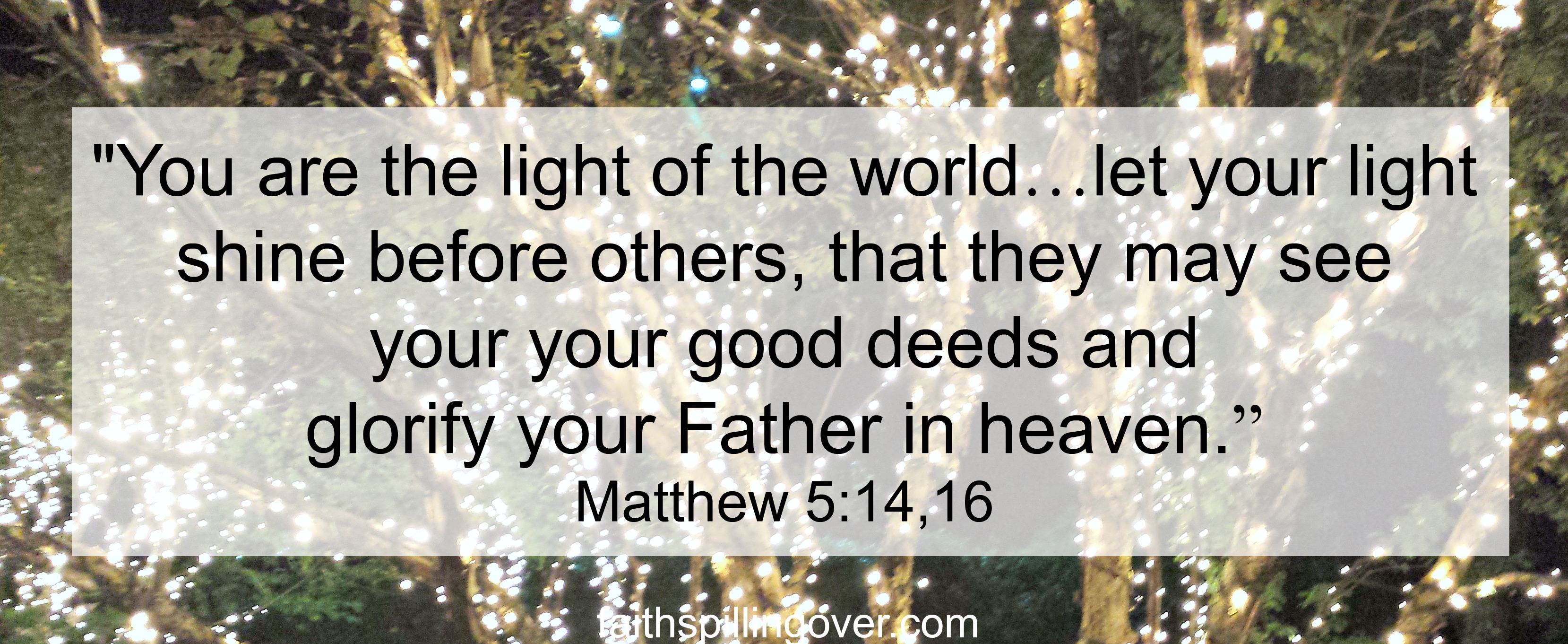 What if we let our light shine brighter by giving to someone who can't give back?
Sometimes the most precious commodity we can give is our time. Only when we give our time can we reach out and physically touch someone who needs it:
a sick child in the hospital
a scared woman living in a shelter
a desperate man on the street
Here are some ways to shine more brightly over the holiday season:
Visit someone who is sick or shut in at home.
Volunteer in a food kitchen.
Buy and deliver the fixings for a holiday meal to a needy family.
Invest some time serving sick children and their families at a hospital or Ronald McDonald House.
Give something to a homeless man or woman. Better yet, take them out for a meal.
These are a few ways that we can step out to be good news to our world. Let's let our lights shine a little brighter this holiday season. Let's switch our focus from ourselves to God and making His name famous.
Now it's your turn: Have you had the joy of serving someone in need recently? Does one of these ideas appeal to you?