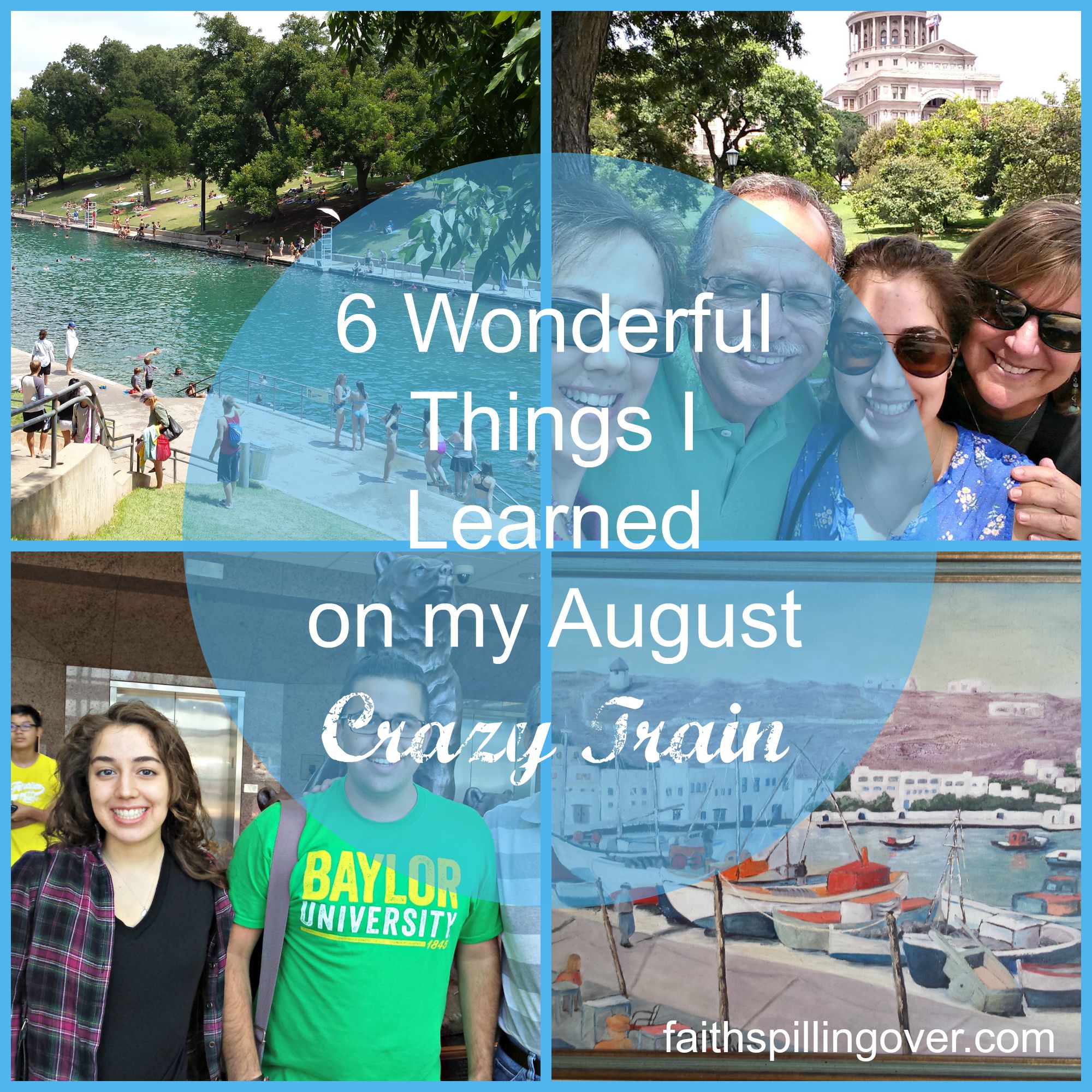 Even when life turns into a crazy train, God never leaves us for a moment. August was a whirlwind.  My husband went to El Salvador for 3 weeks to see his mother before she went to heaven. My kids and I emptied two bedrooms in our house in Izmir for the people who will rent it nine months. We packed our suitcases, said our goodbyes, and flew to Dallas, where we rejoined Jose. Then we spent two weeks on the road before finally landing in Mesquite, Texas.
August was topsy turvy, but I learned a few things:
1. We Really CAN Do All Things Through Christ
Life looked daunting on August 1st as I grieved for my mother-in-law and missed my husband's company and practical help during our move. But God reminded me to trust Him for grace and strength as I did the next task in front of me each day. The hardest thing was when my daughter's guinea pig, Robin, died.  I cried more than Camilla did as we drove to a nearby forest to bury him.  In 100 degree heat the two of us managed to dig a hole in rocky soil. Sweet Robin was gone, but we had one more reason to marvel at God's enabling grace.
2. No Treasure Outweighs Family and Friends.
I was gladder than glad to see my brother Richard at the Dallas airport. We spent a week laughing and having fun with my two brothers' families and my mom. Then we went to Austin to visit my home church, where I have friends who go back 30 years. Spending time with people you've known forever refreshes you like nothing else.
3. Attitude is Everything
Okay, so I wasn't looking forward to 2 weeks on the road, 4 suitcases, 3 driving days, and 4 different houses. But you know what? I remembered how my stinking attitude affected my whole family when we made a similar trip last year. I decided to try a fast from complaining and to choose gratitude each day.  I enjoyed our trip so much more this time around.
4. There's a Time for Everything
We took our oldest son Andres to Baylor University and got him settled in. He was so excited to start his new life that he hardly said goodbye when it was time to leave. I realized I'd miss my son terribly, and I cried when we drove off. The next morning, God spoke to me through Ecclesiastes 3:1, "There is a time for everything…" He reminded me that it's time for my 18 year old man child to start college, and it's time for me to embrace a new stage.
5. Family Heirlooms Connect You to Your Roots
When we arrived at our new home in Mesquite, where we'll spend 9 months, culture shock set in. The house, beautifully furnished, was a gift from God, but it was a long way off from Izmir, Turkey. What were we doing here? My parents gave us several family treasures for our new house. My daughter and I unpacked my grandmother's china together and hung several paintings. Those gifts reminded us that even in a new place, we have a history, and we know who we are.
6. It's Never Too Late
After years of being happy enough with our simple cell phones, thank you ma'am, my husband and I finally broke down and got smart phones. We had fun discovering all the whistles and bells. It feels like we finally joined the 21st century!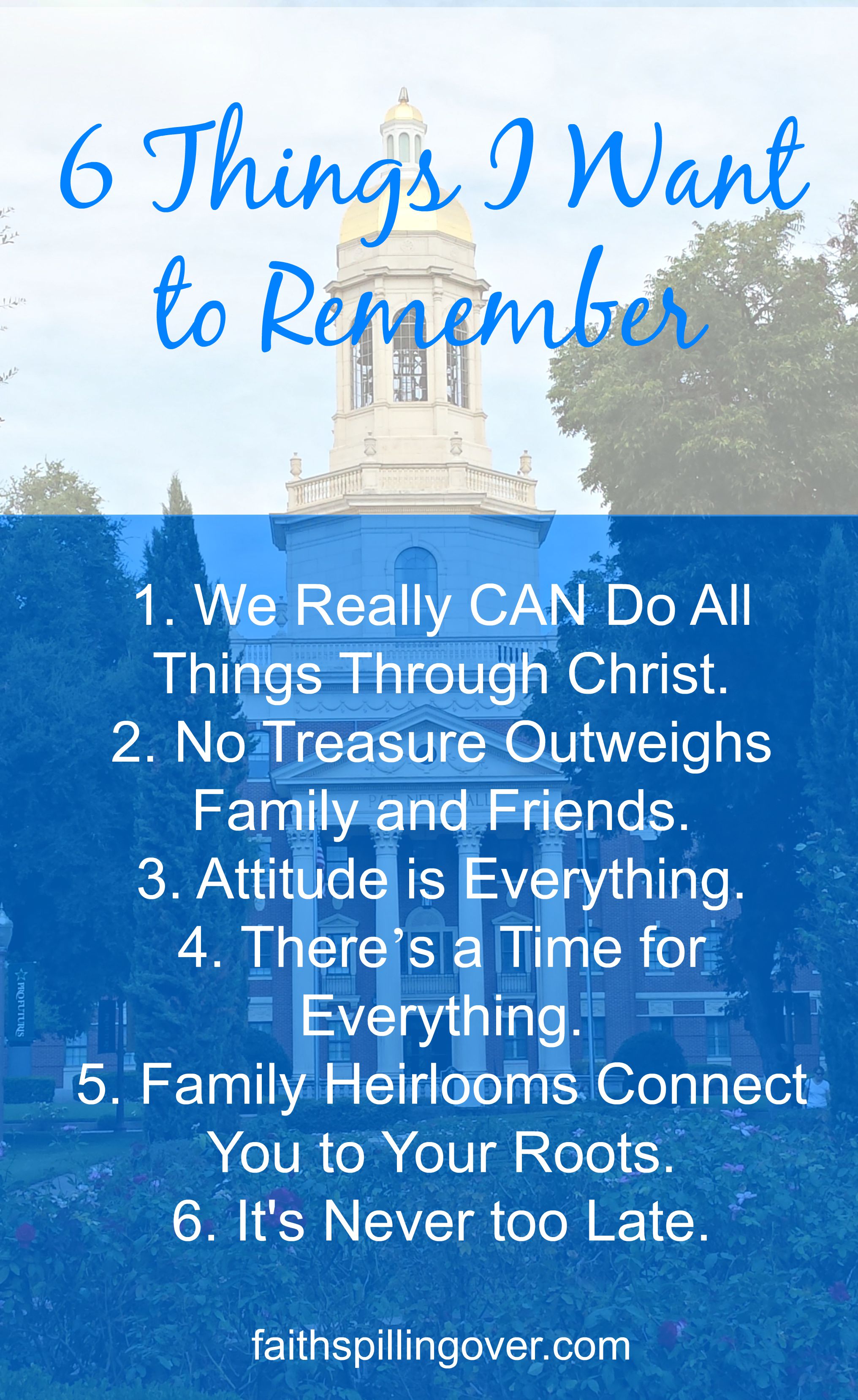 I hope September will be slower, but I'm grateful for the ways God blessed me last month even when life got crazy.

Now comes the best part of this post: What did you do or learn in August?