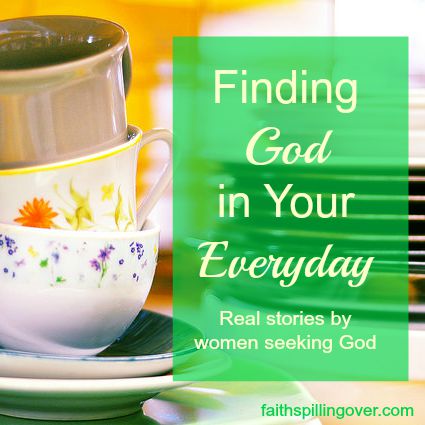 Welcome to "Finding God in Your Everyday," an August blog series. Each Tuesday a special guest will share a story highlighting how God shows himself to us in our everyday, messy lives. This week my talented friend Katie Reid shares her story about real-life "angels."
When Helping Hands Show Up
Sometimes angels come in the form of a sister-in-law with latex gloves, cleaning supplies and a willingness to help.
I wasn't planning on attending two writing conferences on back-to-back weekends. We weren't anticipating closing on our house while I was gone and then moving the week between the conferences. But that's what happened.
I was exhausted and frazzled—we all were. Coming off of a spiritual high and jumping back into motherhood, moving, and deadlines was a messy business.
I snapped, I yelled, and I barked orders at the offspring—which didn't help anything.
Hubby sent out an SOS to see if we could get help packing. And the angels came.
The first one came bringing food, for both lunch and dinner. Part of me wondered if I should feel guilty that she, a mother of four and pregnant, made us two meals in one day. But, she was glad to help and our tummies were glad too. We were fed by her kindness—body and soul.
The next angel came in the form of a high school graduate from our youth group. She diligently packed up our bathroom and the collection of sports jerseys that filled my husband's side of the closet. She worked quietly and willingly—filling the back of our van with hanging clothes and filling our hearts with gratitude.
And then my sister-in-law, the latex-wearing worker, packed up most of the kitchen and brought her kids along to keep mine on task, or at least occupied. She worked heartily for the Lord and used her time to help lift our burden (see Colossians 3:23). Her willingness to help brought joy amidst our mess of boxes, mice droppings and maggots—don't get me started on that.
Just when I thought we could not go on, these friends showed up.
Three angels, unaware of the depth of their ministry. Three sets of hands that inconvenienced themselves in order to relieve our stress. Their helping hands bolstered the faith of this weary woman. Their kind souls lifted our spirits and spurred us on, even when we felt we had nothing left to give.
We saw His hand as their hands packed, taped and lifted boxes
They moved us to worship the One from Whom we live, move and have our being (see Acts 17:28).
A simple act of service resulted in deep thankfulness as we were uplifted by their willingness to help.
Even when your everyday life turns upside down, attentive friends can turn it right-side up.
As trouble is shared, our outlook turns rosy, in hues of hope and overtones of love.
You find more strength when you lean into the strength of another. Let's lean into His strength and ask Him for help with the task at hand.
"For I, the Lord your God, hold your right hand;
it is I who say to you, 'Fear not, I am the one who helps you.'" Isaiah 41:13.
With Gratitude,
Katie
Now it's your turn: Has God helped you recently through the service or efforts of other people?
Katie M. Reid is a tightly wound woman, of the recovering perfectionist variety, who fumbles to receive and extend grace in everyday moments. She delights in her hubby, four children and their life in ministry. Through her writing, singing, speaking and photography she encourages others to find grace in the unraveling of life.
Connect with Katie at katiemreid.com and on Twitter and Facebook