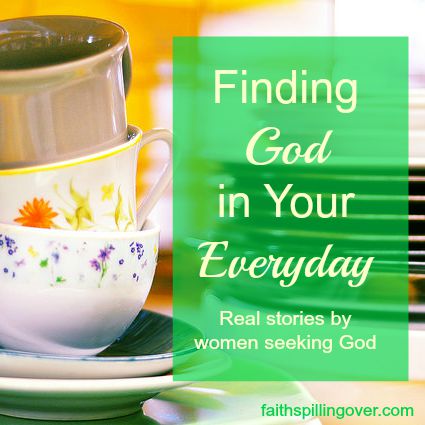 Welcome to "Finding God in Your Everyday." I believe God wants to show us more of himself in our everyday, messy life, not just on Sunday mornings. So each Tuesday in August, a different writer will share a story about God revealing himself to her through a life experience. I hope these stories by women seeking God will encourage you to look for more of Him in your life as well!
My first guest is Kristine Brown from morethanyourself.com. Kristine has a gift for devotional writing and for discerning God's voice.
God's Plans Include an Evacuation Route
Packing and preparing a teenage boy for youth camp presents quite a challenge. Especially when I'm attempting to spew out as many directives as possible while stuffing the suitcase full. "Is he even listening?" I ask myself as his eyes glaze over.
I try with last-minute desperation to remember every crucial piece of advice I can give for a week at camp. In another state, no less. This is the first time he will venture 16 hours away from home without his parents. That calls for a heaping load of you musts and you mustn'ts for sure. Here are a few that come out of my mouth:
Be sure to wear your sunscreen. Don't forget your neck and ears, too.
Be nice to everyone.
Set an example.
Be a leader, not a follower.
Make good choices.
Use good manners.
Don't spend all your money the first day.
Drink lots of water.
Don't let your athletic shoes get wet.
Text me when you get there.
After frantically finishing the preparations and dropping him off in the church parking lot with a big hug, I returned home. Whew! I then ventured out for my morning walk to clear my head of all the chaos. I suddenly realized I could not remember a single order I had given him before he left. If I couldn't remember, how on earth did I expect him to?
Just as panic began to work its way into my heart, I rounded the next corner and came upon a sign in our neighborhood that read, "Evacuation Route." The sign has been there for years, but I hadn't noticed it until today.
It occurred to me at that moment there was only one piece of advice I needed to give to my teenager before he left.
No matter what situation you find yourself in, God always provides a way out.
"No temptation has overtaken you except what is common to mankind. And God is faithful; he will not let you be tempted beyond what you can bear. But when you are tempted, he will also provide a way out so that you can endure it." 1 Corinthians 10:13 NIV
We may at times forget our Father's advice, and we may not always make the right choices. Like an eager teen heading off to camp, our lives are filled with unexpected situations and new experiences. Paul encourages believers in 1 Corinthians by sharing an unwavering promise from God. Even though sometimes we will fall into temptation, He is faithful. God's plans include an evacuation route.
My son will return from camp at the end of the week with a bag full of dirty clothes and fun memories. (And most likely a sunburn, too!) As he gets older, he will have even more opportunities to travel and spend time away from home. Committing this scripture to memory will prepare us well for the unexpected situations we will encounter on the road ahead.
Whatever plans God has for you, know this. Getting ready involves more than an over-stuffed suitcase or a list of orders. Our best preparation is carrying God's promise in our hearts. Now that we've packed our spirits full with His Word today, we're ready to set out on our next adventure!
Now it's your turn: What do you think is the best way to get ready for the plans God has for you? What's a favorite promise you like to carry with you?
Kristine is a writer, dramatist, and former English teacher. She desires to support women in their spiritual lives with practical teaching for real-life struggles. Kristine devotes her time to freelance writing and her non-profit ministry, More Than Yourself, Inc. You can read more from Kristine at www.morethanyourself.com or connect with her on Facebook, Twitter, or Pinterest.