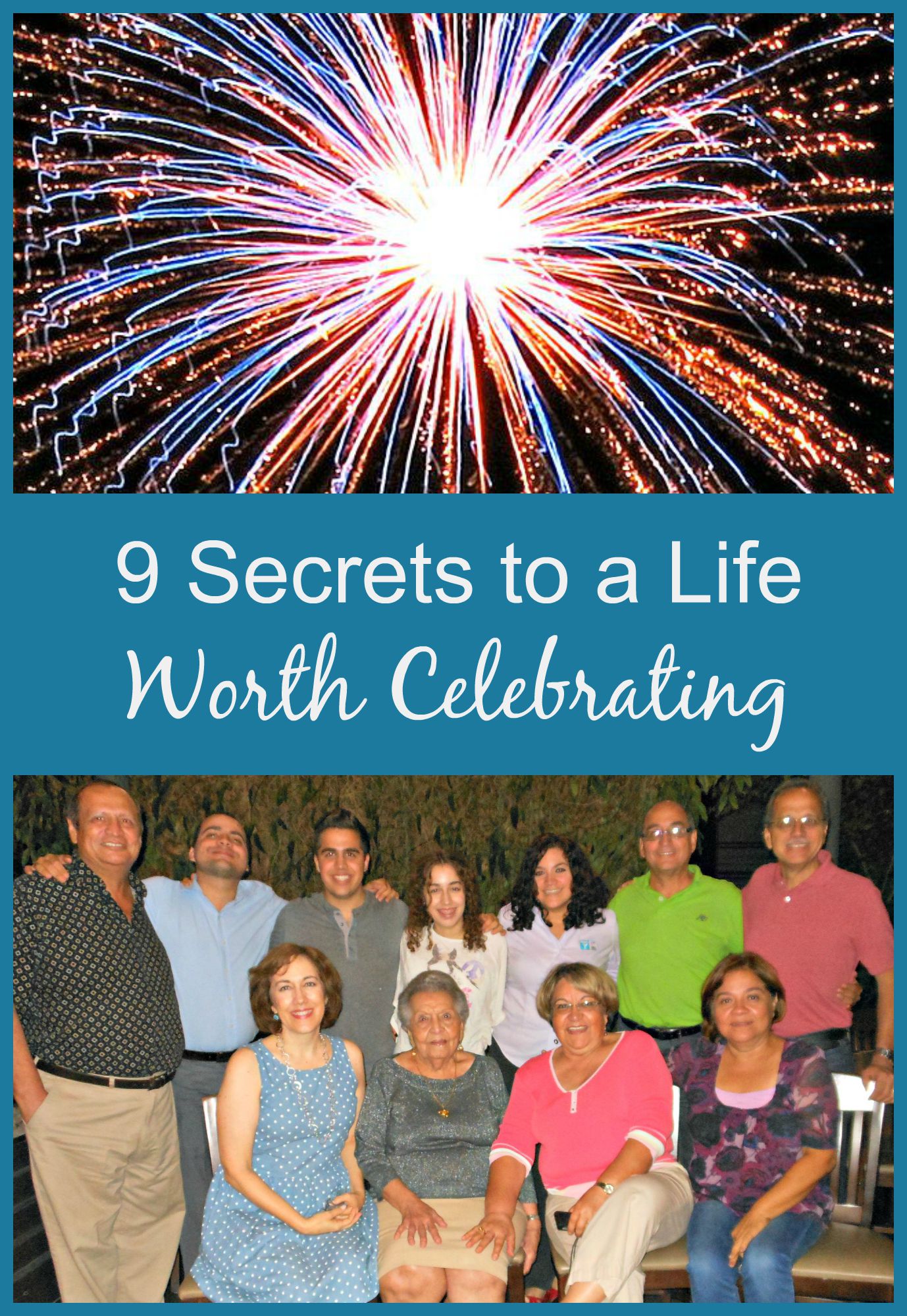 Our family's greatest treasure is a 90 year old stick of dynamite. Ofelia Cruz may look like a fragile, elderly lady, but my sweet mother-in-law is a powerhouse of faith and a testament to the overcoming grace of God. Spunky, witty, and wise, she's STILL sharp as a tack. She can roll off some one-liners that leave us all in stitches.
However, doctors tell us her frail body won't be with us much longer.  Our family's brightest light is fading, and my husband just flew home to El Salvador to spend three weeks with his mother. We can't imagine life without her. We're crying and rejoicing at the same time. Ninety years of glorious life and a glorious future with Jesus are worth celebrating.
Remembering her shining example of love and a positive attitude, I'm sharing 9 of my mother-in-law's Secrets to a Happy Life:
1. Keep your chin up
Ofelia's an overcomer. Hardship and sorrow didn't derail her when her husband died, leaving her with four boys to raise alone. She kept going and she kept those boys in line. With her family's help, she sent them to a good private school, and all four went on to college.
2. Keep Knocking
Back in 1963, no one wanted to give a job to 37 year old, inexperienced stay-at-home mom, so Ofelia went to the top. She wrote a letter to the President of El Salvador to ask for employment. It worked. The ministry of finance hired her, and she was able to provide for her family.
Rather than giving up when I face a challenge, I want to go to the top. I have a connection with the King of Kings.
3. Keep Praying
Several years after her two youngest sons met Jesus, my mother-in-law came to Christ in her early 50's. She prayed 30 years for her oldest son to enter the Kingdom. It worked. He finally gave his life to Jesus too.
4. Keep Serving
When I met my mother-in-law in her late 60's, she worked full-time and volunteered at a church health clinic on Saturday mornings. She taught Sunday school for 20 years.
5. Put on Makeup and Fix Your Hair
We always laughed that the employees at department store makeup counters recognized dona Ofelia.  In her late 80's Ofelia still went to the hair salon weekly and spent time each morning putting on makeup, skin cream, and perfume. She'd wear a pretty dress each day. As a result, she always looked fabulous and felt better too.
6. Keep your sense of humor
My mother-in-law loves to joke. Before a trip to Spain, one of her sons asked Mama Ofe what he could bring back for her. We still remember her answer: "A handsome Spaniard with plenty of money!"
7. Keep Moving
Arthritis slowed Ofelia down, but she surprised me when I took her to the supermarket last year. I was worried about how on earth I was going to help a woman who could barely walk navigate the store.
"Oh no, I don't need help," she insisted. She took off down the aisle with her shopping cart, leaning into it like a walker. I didn't see her until 30 minutes later at the check-out.
8. Keep Learning
At 88, my mother-in-law finished a two year Christian leadership study program.
9. Keep Affirming Others
Just last week, lying flat on her back, Ofelia told my husband on the phone, "You've been a good son." Tears welled up in his eyes, and I marveled to see that even a middle-aged man wants to hear he's a good son.
Am I speaking words of encouragement to the people I love?
Our family's stick of dynamite may leave earth quietly, but she'll enter heaven with a bang. I suspect the angels will set off fireworks to celebrate.
Now it's your turn: What kind of lessons have you learned from the role models in your life?