Welcome to the last post of Fresh Starts and New Mercies! We've enjoyed  guest posts by six beautiful women with inspiration and practical ideas for starting a new year.
Because God has a fresh start in grace for each of us.
Today's guest is Tarissa Helms from the Introvertedmama.com writing about how moms can refuel when they're running on empty:
Tarissa Helms is a wife and mother of three who believes most things in life are made better with a cup of tea. She shares her adventures in faith, parenting, and the introverted life on her personal blog, Introverted Mama. You can also connect with Tarissa on Facebook, Twitter, and Instagram.
3 Ways to Refuel When You're Running on Empty
I recently read a story about a man named Jim. Every day at noon Jim went to his church, sat down on the front row for 15 minutes, then slipped out. One day his pastor asked why he did this. Jim answered, "The world wears me down. So I sit here in church and bow my head and say, 'Jesus, this is Jim. I need your help today.' And he always pours new strength into me."
My eyes filled with tears as I read this story. I can relate to how Jim feels, and perhaps you can too.
Even in the best of circumstances, life can be exhausting. There are days I wake up and feel like I have nothing left to give – I'm running on empty.
At the beginning of this series, Betsy encouraged us to leave time each day to refuel as one of the practical ways we can take the easy yoke.
So, what does refueling look like and how can we incorporate it in our own lives?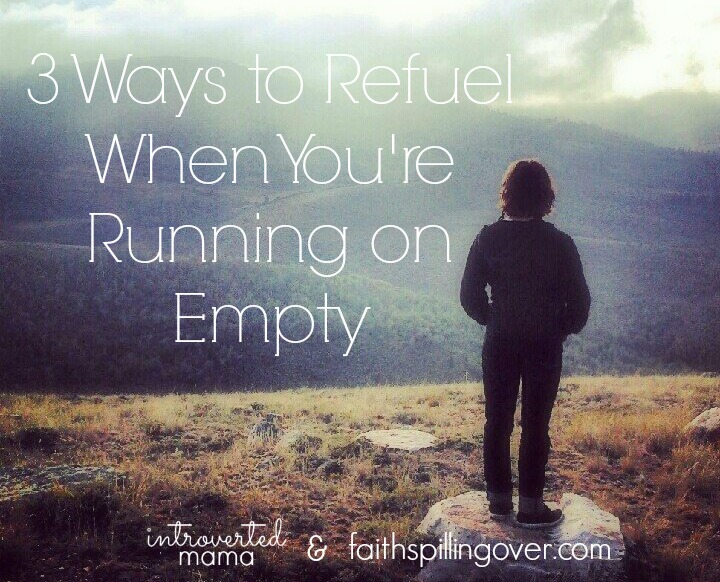 We Can Refuel Through Prayer
As busy as I feel at times, I can't imagine what it was like to be Jesus. When news of his miracles and wonders traveled from town to town, "people came to hear him and to be healed of their sicknesses." (Luke 5:15) Everywhere he went, large crowds followed him.
"But Jesus often withdrew to lonely places and prayed." (Luke 5:16)
When our lives are at their busiest, our need for prayer is at its greatest.
One part of Jim's story that spoke to me was that he prayed for only 15 minutes a day, but he did it consistently. He committed to a daily habit of prayer and God met him there.
We Can Refuel Through Quiet
King David understood the importance of quiet when he wrote these well-known words from Psalm 23:1-3.
The Lord is my shepherd, I lack nothing.
He makes me lie down in green pastures,
He leads me beside quiet waters,
He refreshes my soul.
Finding quiet isn't easy in our noisy world. Sometimes we have to be creative like Jim, who found a time and place that worked in his schedule. Where is your green pasture? Is there a time and place you could spend a few minutes alone with God each day?
We Can Refuel Through Rest
From the very beginning, God has been clear about the importance of rest. Following the creation of the world, he "blessed the seventh day and made it holy, because on it he rested from all the work of creating that he had done." (Genesis 2:3)
Certain seasons of our lives will require more rest than others and Jesus extends the most beautiful invitation of all:
"Come to me, all you who are weary and burdened, and I will give you rest." (Matthew 11:28)
My hope this year is that when the world wears us down – when we're running on empty – we'll accept Christ's invitation. That we'll find a quiet place to bow our heads, and say, "Jesus, I need your help," trusting he'll pour new strength into our lives.
Because he is faithful, friends.
He is faithful.
Now it's your turn. What other ways do you stop and refuel when you're running on empty? How could you make refueling part of your daily routine?
Linking up today with Brittany's #FellowshipFridays and Barbie Swihart's Weekend Brew to encourage and be encouraged. Join us.