Back in the day when my children were small, an urgent voice would often wake me out of a dead sleep at night:
"Mom!"
I'd jolt up, wondering what emergency brought my five year old daughter into the room to wake up her poor, exhausted mother. Was she sick? Was the house on fire?
"I have to go to the bathroom."
Instead of saying, "You woke me up for this?" I'd zip my lip. Then I'd crowbar myself out of bed to stagger down the hall and turn on the bathroom light. I knew Camilla wanted the security of my presence. She also wanted me to turn on that light because she was scared of the dark.
I don't like the darkness either.
We had a gloomy rain week recently. The sun didn't come out even once, and by the third day, I was longing for light. Even without rain, dark days come. Days when depression overwhelms, insecurity knocks, or doubt trips us up.
But Jesus gives us a promise of hope for dark days: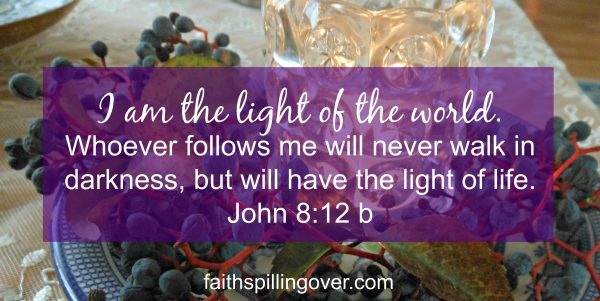 Our Savior brings the blessings of light:
Light dispels darkness: John explained it like this: "The light shines in the darkness, and the darkness has not overcome it." (John 1:5)  In the physical world, light always triumphs. Flip on a light switch at night, and darkness disappears.
Light brings joy: Don't you feel a small surge of delight when you light a candle or see pretty Christmas lights?
Light illumines our path: No one drives a car on a dark night without turning headlights on. We need light to show us our way.
We have the promise of light as long as we stick to our Savior.
Tight finances, sick kids, and job stress can bring on the clouds and make us feel like we're in the dark. The holidays can be hard for those who experienced loss this year. Yet we have a sure promise from our Savior: "Whoever follows me will never walk in darkness, but will have the light of life."
Let's stay close to the Light with these simple steps:
1. Call on Jesus
Nothing delights Him more than hearing our simplest prayer:  "Jesus, come and be my light."
2. Trust in Him
Sometimes the darkness seems overwhelming, yet Jesus always shines enough light on our path to show us the next step. If you're discouraged, your next step might be to get out of bed, or to step out into the sunshine, or to reach for your bible to see what God will speak to your heart.  Trust Jesus and take that step.
3. Rest in Him
What about the times when darkness and discouragement don't seem to lift? As we keep resting in Jesus, He'll keep our lamp burning, and sooner or later He'll turn our darkness into light. (Psalm 18:28)
4. Stay close to Him
As we go about our day, let's remember that Jesus is close by. Let's lift up quick prayers to Him as we work. When problems come up, we can ask Him for help, and when we see small blessings, we can give Him thanks.
Even on dark days, Jesus renews our hope when we stick close to Him. The Light of the World dispels our darkness, brings joy, and illumines our path.
Now it's your turn: What does the "Light of the World" mean to you?
Join me in treasuring the names of Jesus with my "Treasuring Christ" Advent reading plan.
"Treasuring Christ" highlights a name for Jesus each day with a Scripture passage, as well as suggestions for observing Advent with your family. Click on the image below to subscribe now if you'd like to receive your copy:


Note: This post was re-edited from my archives.