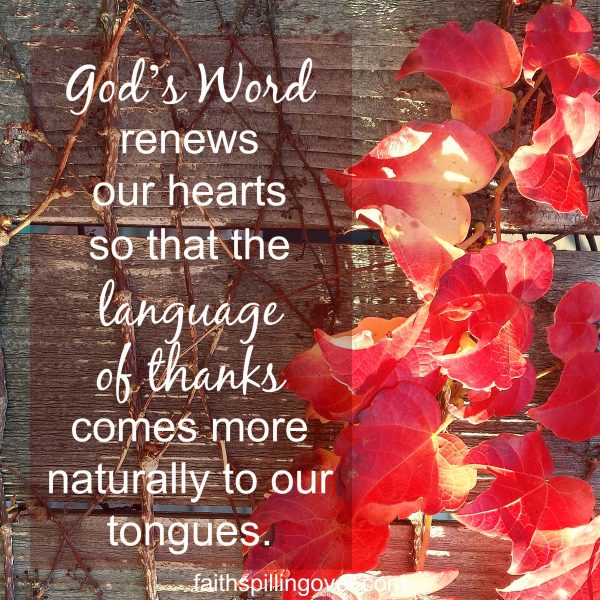 Sometimes the glitches in life make us forget to give thanks.
Like at 11:30 pm, when I was in the middle of making a cake, and no one should be making a cake at that hour, but I was because of ridiculous procrastination. With cake batter all over my apron and hands, I went into the living room and saw a big, long streak of light gray paint over creamy blush.
Only this was not art.
This was my dear husband trying to help me by covering a long black scratch etched into the wall by a chair. Only he hadn't noticed that he grabbed the bucket of gray paint for my daughter's room instead of the "Vanilla Flower" living room bucket.
In one moment, 21 years of Jose's love, faithfulness, and service went out the window. I thought, "What? He just wrecked my living room wall. What's up with him?" And I made that one little mistake big in my mind.
Actually my mistake was bigger than his.
Because my man may not be a painter, but he IS a keeper.
He loves God, and he loves me and our kids. He's sensitive, funny, kind, and merciful. He's intelligent, discerning, and wise. He fills the car with gas, pays the bills, and does the dishes every night. He makes great conversation. Moreover, he's made me the happiest woman in the world. (And he did fix the gray streak on that wall!)
Sometimes I need to remind myself to give thanks.
Maybe that's something we all need to remember.
When elections and politics make us wonder if God really rules and reigns.
When traffic, long bus rides, and supermarket lines send our peace out the window.
When we're tired and irritation grows.
When we don't see answers to our prayers for healing, for finances, or for a baby.
When holding on to hope gets too hard.
When we need to remember how to give thanks, God's Word reminds us.
Friend, if the challenges and glitches of life have stolen the thanks and praise from your heart, may I encourage you to go to Scripture for encouragement? Reading verses like these out loud can put Thanksgiving on our lips again when it feels like we've forgotten the language of thanks.
5 Scriptures to Prepare our Hearts to Give Thanks
1. Give thanks to the Lord, for He is good; His love endures forever. (Psalm 107:1, NIV)
2. Rejoice always, pray without ceasing, give thanks in all circumstances; for this is the will of God in Christ Jesus for you. (1 Thessalonians 5:16-18, ESV)
3. Giving thanks is a sacrifice that truly honors me. (Psalm 50:23a, NLT)
4. Don't worry about anything; instead, pray about everything. Tell God what you need, and thank him for all he has done. (Philippians 4:6 NLT)
5. Yours, Lord, is the greatness and the power
and the glory and the majesty and the splendor,
for everything in heaven and earth is yours.
Yours, Lord, is the kingdom;
you are exalted as head over all…
 Now, our God, we give you thanks,
and praise your glorious name. (1 Chronicles 29:11,13 NIV)
When I don't quite have all the Thanksgiving feels, words like these inspire me and spark gratitude in my heart again. As you read these verses, what comes to mind for you? How about taking a minute to praise God for his faithful love and give Him thanks today?
Join me in treasuring the names of Jesus with my "Treasuring Christ" Advent reading plan.
"Treasuring Christ" highlights a name for Jesus each day with a Scripture passage, as well as suggestions for observing Advent with your family. Click on the image below to subscribe now if you'd like to receive your copy: