Do you ever get yourself into socially awkward situations because you just weren't listening? Or do you ever miss what God wants to tell you because you're caught up in your own thoughts, worries, or even social media updates? Distraction can lower our ability to hear.
Like the day I embarrassed myself and my daughter at the pharmacy.
Back when we were living in the Middle East, we had an old-fashioned pharmacy down the street. Everything was behind the counter and you told the pharmacist what you needed. When we walked in the door, I couldn't for the life of me remember what I'd gone in there for.
While Karin waited on the other customers, I stood in the middle of the shop with eyes narrowed, mentally going through all my lists. Suddenly I remembered and blurted out loudly: "Contact Lens Solution!"
It came out sounding really weird, and every eye in that shop turned to look straight at me. Talk about socially awkward.
When we came out of the store, my daughter said, "Mom, didn't you even hear Karin say, 'Hello, how are you?' You just yelled out 'Contact Lens Solution!' Who does that?"
In that moment I felt like a total social misfit. Caught up in my own thoughts, I had been oblivious to that the fact that the pharmacist was talking to me.
Perhaps we do this same thing with God. He longs to speak to us, but we're distracted by our worries and our to-do list. He yearns to draw us to Himself and reveal His love for us, but we keep going a hundred miles a minute, stopping just to blurt out a desperate prayer once in a while.
God longs to speak to us, and we need to hear His voice.
Maybe today you need a word of encouragement or reassurance from God. Perhaps you need Jesus to come alongside with a strengthening word of grace. Or you need God's guidance for an important decision.
The good news is hearing God's voice isn't rocket science.
If we are followers of Christ, we have the ability to hear His voice. Jesus offers us reassurance: He says His sheep know His voice. We may live distracted, but we can learn to hear God's voice one step, one prayer at a time.
These steps will help us learn to hear the voice of our Shepherd.
1. Read Scripture Each Day
God's voice speaks through Scripture. For thousands of years, God has been speaking through the Bible, starting with Genesis and ending with Revelation. Taking a few minutes each day to read what God already wants to tell us gives us the opportunity to practice hearing His voice
2. Ask God to Speak
As you open the pages of your Bible, pray that God will speak to you. As you go about your day, pray that God will help you discern His voice.
3. Ask God Your Question
Have a question? Don't know what to do? God is waiting for you to ask Him, "Lord, what is my next step? What is your path for me in this situation?"
He speaks to us the same words He spoke to Jeremiah: "Call to me and I will answer you, and will tell you great and hidden things that you have not known" (Jeremiah 33:3).
4. Be prepared to Wait for His Answer
God's answer may come in the form of a thought that comes to our mind right after we asked Him a question. Or it may come through the words of a friend a week later. Let's wait patiently and keep asking Him until we hear His answer.
As we wait, let's ask ourselves, "Am I seeking to obey what God has already spoken to me through Scripture?"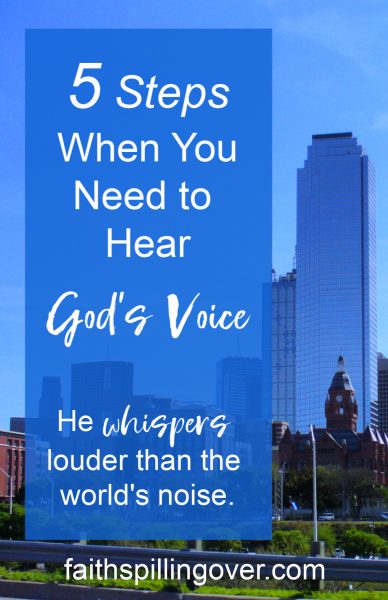 5. Respond When God Speaks
Usually, we're not %100 percent sure we heard God, but it's important we step out in faith based on what we believe He's saying. We can walk in faith, trusting that God is in control. He will change our path if we get it wrong.
If we stop to listen, God whispers louder than the world's noise.
Some days it feels like a thousand voices are coming at us, through our circumstances, the people around us, and even our phones. But if we stop to listen, God's voice whispers louder than the world's noise. Step by step, we can learn to hear that still, small Voice.
Note: I wrote the book, More of God: A Distracted Woman's Guide to More Meaningful Quiet Times, to help overwhelmed and distracted women recover a fresh sense of God's presence, learn to hear His voice, and grow their prayer lives. To find it on Amazon, click on the image below:

Note: This post contains an affiliate link. If you purchase, I earn a small commission towards the maintenance of this site at no extra cost to you.