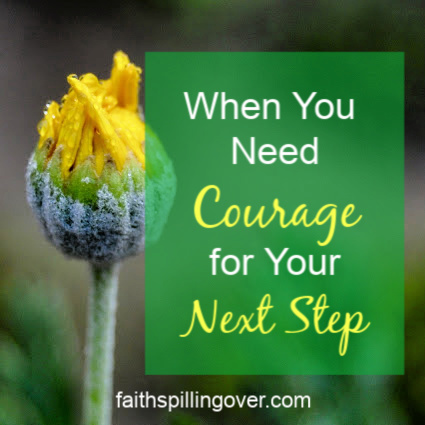 Has God ever called you to do something that scared the daylights out of you? Something there was no way you could do unless God came through for you in miraculous ways?
We need God to give us fresh courage when we feel scared, don't we? A new responsibility at work can make you feel unqualified. Starting a new ministry or project requires you to trust God in new ways. And parenting. Just when you think you have it down, a new stage begins, and you feel unequipped all over again.
Some days we need courage just to get out of bed and face the day.
Sometimes God calls us to be warriors even when we feel weak.
Two things in my life made me scared I'd fall flat on my face.
One was to plant a church with my husband in the Middle East. We'd been serving at another church in our city for 8 years when the Lord called us to leave behind what had become a comfortable ministry. I was almost afraid to tell anyone we felt called to plant a church. I imagined they'd think, "Plant a church? Them? Who do they think they are?"
After 5 years of discouraging labor with little fruit, God turned the tide, and our little church turned a corner. Just when I felt like giving up, our tiny fellowship miraculously gained momentum and started growing.
You never know when breakthrough will come.
The second scary thing was to write a book.
Yes, you heard that right. Writing a book challenged and scared the daylights out of me. I knew God wanted me to put into writing my passion to encourage women to find fresh ways of experiencing more of Him in their lives, but that didn't make it easy. I imagined people thinking, "Who does she think she is, anyway? What would she even have to say?"
But I started anyway. Pushing past fear and taking small steps, I balanced writing with full-time ministry and parenting. Then I had to lay my project aside multiple times during our move from the Middle East back to Texas last year. But I kept coming back to it.
I learned to step up to the plate and step past my fear. One small step at a time.
Last month I finished my book. (More about that later.)
What about you? What next courageous step might God be calling you to?
Scripture is full of stories and promises to encourage us.
I wonder how Joshua felt when he had to cross the Jordan without Moses and lead the Israelites to take the Promised Land from the Canaanites city by city? Moses gave him a promise and a command:
Can you imagine how Solomon felt when he learned he'd have to build the temple himself, without his father? At the end of his life, David commissioned his son to complete the dream. He gave Solomon the same command and promise:
"Be strong and courageous, and do the work. Do not be afraid or discouraged, for the LORD God, my God, is with you. He will not fail you or forsake you until all the work for the service of the temple of the LORD is finished." (1 Chronicles 28:20)
God says the same thing to you and me today: "Take courage. I am with you."
Friend, what is your Jericho? What is your impossible task?
Are you looking at a new endeavor or pursuit that makes you feel unqualified?
Need bravery to start looking for a new job?
Courage to go to one more chemotherapy infusion?
Feeling a bit scared to say hello to the person next to you and make a new friend?
Perhaps you need spunk just to keep showing up and saying yes to your life. Perseverance for your marriage. Grit to keep parenting that problem child.
Can you hear God telling you the same thing He told Joshua and Solomon? "Do not fear. I am with you. I will not fail you."
Fear makes us feel we're on shaky ground, but with God we're on holy ground. So take courage for your next step, my friend. God will never leave you, and He will not fail you.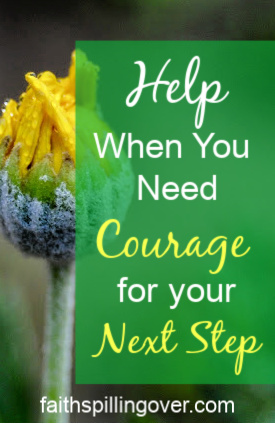 I'm so excited to tell you about my book! I wrote it for the woman who longs to experience more of God's presence and power in her life but feels too distracted by her busy schedule, her own anxious thoughts, and even social media. Look for More of God February 26th on Amazon!