Have you ever noticed how God often works totally differently than we expect?
When my husband, and I moved back to America after 17 years in the Middle East, I dreamed of how in my new life, I'd decorate my home in shades of gray, blue, and white. I carefully packed my blue and white Turkish ceramics because I knew they'd be perfect for the living room I envisioned.
The only problem was we didn't have any furniture back in Texas.
We started from scratch as we set up house, and friends rallied around us, gifting us with some furniture and household items. My heart skipped a beat when a dear friend showed up at my doorstep to deliver her beautiful dining room table and chairs. Then I cried when an old friend gave us a lovely sofa, arm chair, Persian carpet, and end table that had belonged to his wife, my spiritual mentor who died two years ago.
God's generosity through these friends amazed me, and He orchestrated a splendid match: everything went together perfectly!
The only hitch? Instead, of the blue, white, and gray tones I dreamed about, warm shades of rust, peach, cream and green grace my living room.
Too green and peachy for all my blue and white ceramics. But still a beautiful witness of God's faithfulness.
God often works differently than we expect.
Bethlehem was too little to be among the clans of Judah. No one expected anything great to come from Bethlehem, yet God planned for Jesus, the long-expected Messiah to be born there: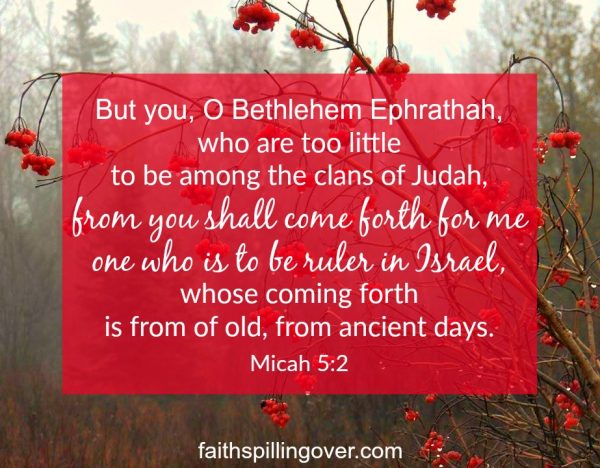 Today, we honor Bethlehem, the town that was "too little," as the birthplace of the Greatest Ruler who ever walked the earth.
The Jews expected an earthly King of Israel, yet God planned to make Jesus Lord of all the nations. The King of kings was born in a town too small to be on the map, and God's people had a Savior they weren't expecting.
Maybe you, too, are facing unexpected circumstances you don't understand.
Bethlehem was too little.
Maybe you have a paycheck that's too little.
Or a child that's too loud or to gets into too much trouble.
Perhaps life seems too overwhelming or your marriage seems too hard.
We can surrender to God's faithful care even when we don't understand our circumstances.
If you are struggling to trust God this December, may I encourage you to turn your eyes towards His faithfulness? Even when we cannot understand the circumstances God allows in our lives, we can rest securely because we have a Shepherd who cares for us.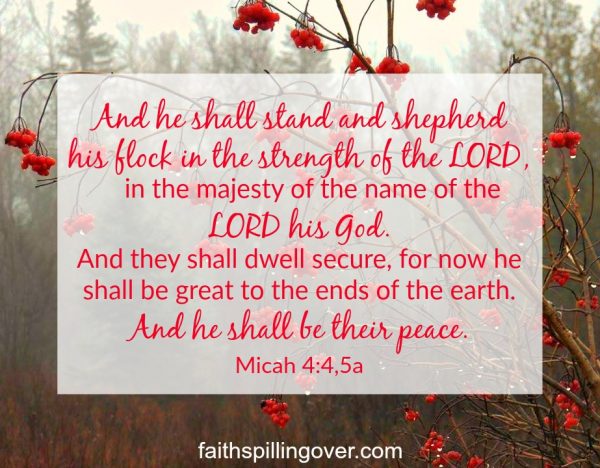 Even when God works differently than we expect, we can entrust ourselves to the Shepherd who works for our good.
The people of Israel had no idea God's plan went beyond sending an earthly ruler to save one small nation. The Prince of Peace came to save the whole planet. In our lives as well, God has plans that go beyond what we imagine. We can trust the Shepherd who redeems every circumstance and works all things for our good.
And about the blue and white ceramics, I still have no idea what to do with them. Yet I marvel at how God provided our every need in ways I didn't expect. He will do the same for you, my friend.
Note: This post is part of an Advent series, Treasuring Christ. Today's name for Jesus is "Ruler of Israel."
Want to follow along and receive my December Scripture reading plan? Treasuring Christ is a printable two-page leaflet to fold and keep in your Bible. To receive it, click on the image below and subscribe to my blog. You'll find a Bible passage and a name of Jesus for each day December 1st – 26th, as well as suggestions for observing Advent with your family.  {If you've already subscribed, you received it in my last newsletter.}