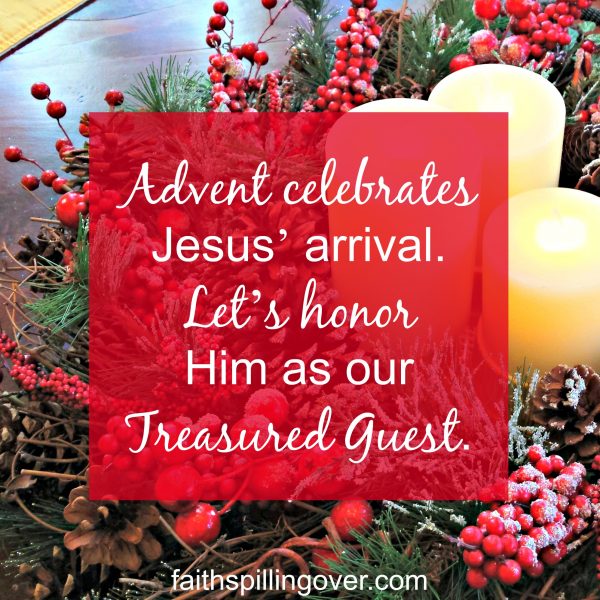 Can you remember a time you got excited about the arrival of a special guest? When my son Andres was eight, I invited a dear family friend to dinner one evening. Andres adored our friend and wanted to make sure he was the one to open the door for her, so several hours before her arrival, he pulled up a chair to the door to sit and wait.
What if we were that intent on welcoming and honoring our Savior during this Christmas season?
When an honored guest comes into our home, we stop what we're doing to give him our full attention. All our work, cooking and cleaning, is done with an intent to honor our guest. We give him the best we have.
Advent means "arrival." It's a special time to celebrate the arrival of Jesus Christ into the World. What if we slow down to celebrate and treasure His arrival into our hearts and lives?
Let's treasure Jesus as our honored guest.
Treasure time with Jesus
How about stopping a few minutes each day to give Jesus our full attention? Whether we linger over morning coffee, or set aside ten minutes before bed, we honor Jesus by setting aside time for Him, even in busy December. As we slip into His presence, we find rest.
Honor Him with our Worship
Our Savior longs to receive our worship, so let's honor Him this season by praising Him for who He is and thanking Him for what He has done. Jesus came into this world to die for our sins. Offer Him words of worship or a song of adoration during your time with Him. Slow down at the mall or in the car to really listen to the words of a Christmas carol; let those words be your praise to Him.
Treasure and Keep His Word
God has given us an amazing gift of His written Word; when we read it, we hear His voice. We honor God's gift when we read the Scriptures, meditate on them, and obey them. Let's keep God's Word close to our hearts this season.
To help us find joy in Jesus and honor Him in our hearts, I've created a simple Scripture reading plan for the season of Advent. Treasuring Christ has a reading and a name for Jesus to meditate on each day. (Subscribers to my blog will receive the guide on November 29th.)
Honor Him with Gifts of Obedience and Service
When we read His Word and obey it, we honor God. Let's ask Him each day, "Lord, how can I live out your Word today? What can I do for you?"
And all that holiday prep work, which is mostly fun but also gets a little crazy? Let's do it with a heart to serve Jesus, our family, and our friends.
Will you join me in slowing down to treasure Jesus this December? Let's celebrate His arrival into the world and into our hearts by honoring Him as our treasured Guest.
Each Tuesday in December, I'll post a devotional based on that day's reading from Treasuring Christ. Let's honor and treasure Him together!
Want to follow along and receive my December Scripture reading plan? Treasuring Christ is a printable two-page leaflet to fold and keep in your Bible. To receive it, click on the image below and subscribe to my blog. You'll find a Bible passage and a name of Jesus for each day December 1st – 26th, as well as suggestions for observing Advent with your family.  {If you've already subscribed, you received it in my last newsletter.}