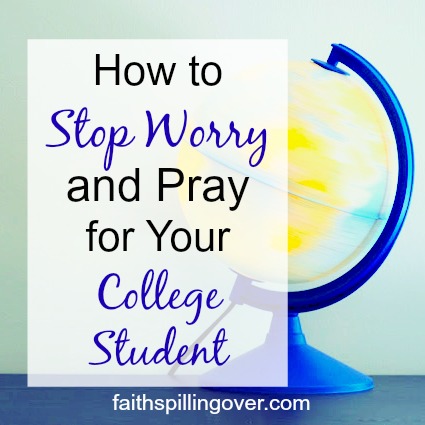 The text read, "Mom, don't worry. I'm in a safe place."
I hadn't been worried at all. In fact, it was 11 pm, and I was getting ready for bed. Until I received that text. What could be happening? We lived on the other side of the world, eight time zones away from my son at university back in Texas.
A quick Google search revealed that a gunman had killed one person and was walking towards my son's school. In broad daylight. As you can imagine, sleep eluded me, and in a quick volley of texts, I learned that my son had been at work and was now safely locked in a basement shelter. My husband and I began praying, and 20 minutes later we were relieved to read that police had captured the gunman. Our son and 15,000 other students were safe.
While they are in college, our kids will encounter many crisis moments that will challenge them and worry us to death.  As parents, we can feel powerless to help our kids from so far away. Yet all the worry in the world won't help them one bit, and it destroys our peace of mind.
One thing we can do will actually help them and alleviate our worries.
Pray.
James tells us, "The heartfelt and persistent prayer of a righteous man (believer) can accomplish much [when put into action and made effective by God—it is dynamic and can have tremendous power]" (James 5:16b, AMP).
Through prayer, we can partner with what God is doing in our children's lives.
As parents, we have the tremendous privilege to participate in the Lord's work in their lives by interceding for them. Even from far away.
Here are 8 short prayers for our children, along with scriptures we can also pray through.
Lord, give my child a great love for you and a close relationship to Christ.
"And you shall love the Lord your God with all your heart and with all your soul and with all your mind and with all your strength." (Mark 12:30, ESV)
"I am the vine; you are the branches. If you remain in me and I in you, you will bear much fruit; apart from me you can do nothing." (Romans 15:5, NIV)
Father, strengthen my child's faith in You.
"Faith comes through hearing, and hearing through the word of Christ." (Romans 10:17, ESV)
Keep him/her healthy in body, mind, and spirit.
"Dear friend, I pray that you may enjoy good health and that all may go well with you, even as your soul is getting along well." (3 John 1:2)
Lord, lead my child to a good church home, and help him to stay faithful to meeting with other believers.
"And let us consider how to stir up one another to love and good works, not neglecting to meet together, as is the habit of some, but encouraging one another, and all the more as you see the Day drawing near." (Hebrews 10: 24, 25, ESV)
Give my child friends who are a positive influence, and help her to influence others positively for Christ.
"Don't let anyone look down on you because you are young, but set an example for the believers in speech, in conduct, in love, in faith and in purity." (1 Timothy 4:12, NIV)
Help him to grow in the areas of personal responsibility and academics.
"Whatever you find to do with your hands, do it with all your might…" (Ecclesiastes 9:10, NIV)
"Do you see a man skillful in his work? He will stand before kings; he will not stand before obscure men." (Proverbs 22:29, NIV)
Lord, I pray you will bring a committed believer into my child's life for him/her to marry at the right time.
"An excellent wife who can find? She is far more precious than jewels. The heart of her husband trusts in her, and he will have no lack of gain. She does him good, and not harm, all the days of her life." (Proverbs 31:10-12, ESV. Surely this applies to finding an excellent husband as well!)
Lord, equip my child to serve you and show him the path to the future you have for him.
"Now may the God of peace…equip you with everything good that you may do his will, working in us that which is pleasing in his sight, through Jesus Christ, to whom be glory forever and ever. Amen." (Hebrews 13:20a,21, ESV)
"Make me to know your ways, O Lord; teach me your paths." (Psalm 25:4, ESV)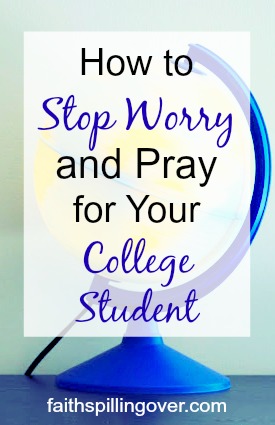 So rather than worrying about your child, how about praying for him today?
Although we may not know the daily details of our children's lives, we have the truth of Scripture to guide us. When we pray Scripture over our kids, we know we're praying God's will over them. Let's do the thing that helps them most and lightens our worries as well.
Note: This post is the third in a series, Sending Your Child to College. 
You can find the first three here:
"How to Encourage Your Teen as She Starts College."
"How to Support and Encourage Your New College Student"
"How to Recover Joy at the Start of Your Empty Nest"