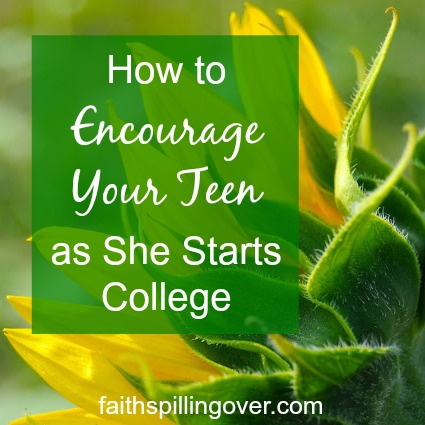 Sending your child off to college can wreck even the most steady, seasoned parents. Somehow nothing in your parenting repertoire prepares you for this. One minute you're happy your child finally graduated high school and got into a university, and the next you're trying not to sob at the thought of goodbye. One day you feel strong—hallelujah, you're one step closer to an empty nest—then later you're a crumpled mess.
Your teen probably feels anticipation ("I'll finally be free of mom and dad!") as well as uncertainty ("Will I be able to make it on my own?").
How can you support and encourage your new college student when you're a bona fide mess yourself?
My husband and I are doing this for the second time as we prepare to take our youngest to college in two weeks, but even on the second go-round, it feels like new territory. Helping our children take their first steps into independent adulthood can feel scary, yet we can trust the same God who led us during their growing-up years will continue to guide us now.
These 5 steps can help us keep ourselves intact and encourage our college student at the same time:
1. Entrust Her into God's Care.
Remember God cares for your child infinitely more than you do; even after your teen leaves home, God will watch over her. Pray intentionally each day to entrust your new college student into God's loving hands. Ask the Lord to prepare her for her new adventure.
These verses from Psalm139 give me words to pray and put my worried mom heart to rest: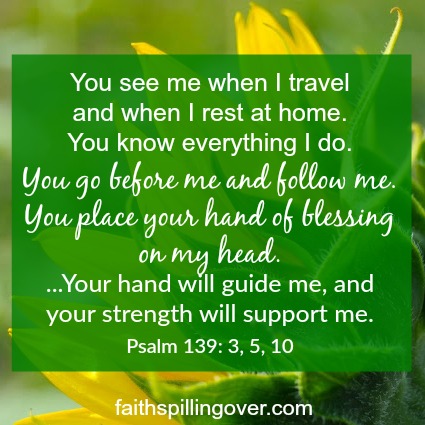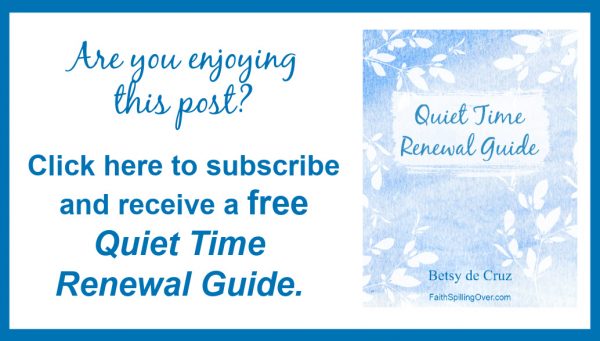 2. Grab Quality Time When You Can
The weeks before your child leaves for school, errands, shopping, and maybe last minute medical appointments will keep you busy. Your teen might have a full social schedule as he says goodbye to her friends. Quality time together might take effort, but make time to stop for a coffee break together between errands, or make family dinner a high priority several nights a week.
Interruptions are easier to reframe into opportunities when you know your days together are numbered. Last night when my daughter said, "Mom, can I talk to you?" at 10:30 pm, remembering she leaves for school in two weeks helped me see a late-night chat in a positive light.
3. Help Him Develop a Personal Plan
When I read Sticky Faith by Kara Powell, I learned that often the choices teens make their first two weeks of college will set the tone for the rest of their college career. My husband and I had a special meeting with our son before he left for school three years ago to help him plan his choices during his first two weeks based on his answers to these questions:
How do you think having a strong faith will help you during college?
How do you plan on connecting with God the first two weeks of school?
How will you find a church or Christian student group?
When will you plan on studying?
How will you handle your finances?
Sometimes our kids' answers may be different than we'd expect, but we need to listen. The more ownership they have of their goals, the more effective the plan will be.
4. Set Up a Time to Check In
If possible, make a quick visit to your child two weeks after school starts to check in and see how his plan is going. My husband and I drove down for lunch with my son, but we'll have to use Skype to check in with our girl. Of course, monitoring our kids throughout their college careers would be unhealthy, but offering a special check-in time after the first few weeks might offer the reassurance and accountability they need.
5. Celebrate this Rite of Passage
Rejoice in this new stage of your child's life, and make time to celebrate. Do what you can to make your young adult feel special before she leaves home. Take a family outing, do something she particularly enjoys, or go to a movie together. Plan a special celebration dinner before your teen leaves home and give her a special memento to take with her to college.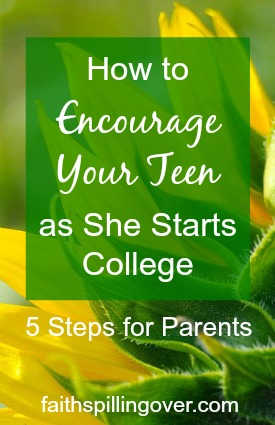 While sending our kids off to start college can cause emotional upheaval, we can rest knowing this is just one more step in God's plan for them. He has perfect timing for each stage in our lives.
"For everything there is a season, a time for every activity under heaven." (Ecclesiastes 3:1)
Now it's your turn: what tips do you have for a parent sending their child off to college?
Note: This post is the first in a series, Sending Your Child to College. Come back the next 3 weeks for:
More Ways to Encourage your New College Student.
How to Survive the Empty Nest
How to Trust God and Pray for Your College Student
Resources to help you launch your college student:
Sticky Faith: Everyday Ideas to Build Lasting Faith in Your Kids by Kara Powell and Chap Clark.

This book is full real-life ideas to help your children start a life-long faith walk. The closing chapters on preparation for college helped our family immensely.
Fledge: Launching Your Kids Without Losing Your Mind by Brenda Yoder
I haven't read this yet, but the title and table of contents intrigue me. A good friend recommended it, and it's on my list to read next!
Are you facing the challenges of life on an empty tank? Need help renewing your relationship with God?

This post contains Amazon affiliate links. Purchasing one of the resources through my link on Amazon earns me a small commission towards the maintenance of my site at no extra cost to you.