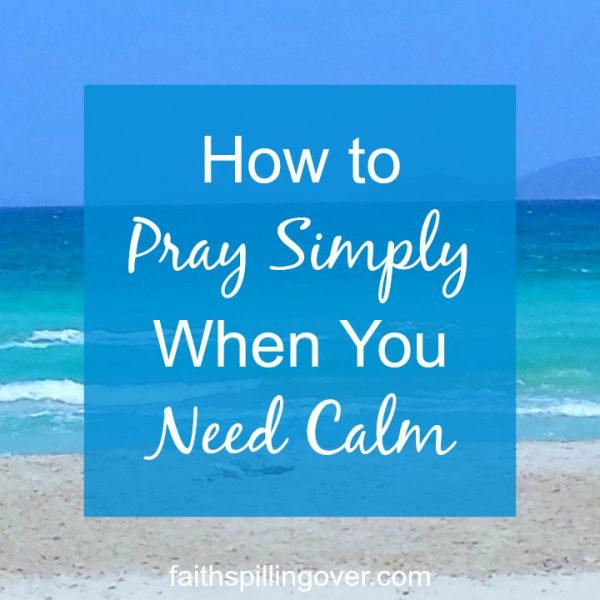 When your life drives you crazy, do you have a hard time calming your thoughts to pray? Just when life gets complicated and we need God most, is also when we have the hardest time slowing down our souls to connect with Him. How can we learn to pray simply when our thoughts are racing?
When we need to pray most is when we have the hardest time doing it.
Just the other morning I sat down to my Scripture reading and prayer time, but instead of centering on God, my thoughts scattered with details of what I needed to do. Rather than finding focus, my mind took off in a thousand directions.
My life has turned crazy as our move back to America draws near: we're sorting through our belongings, trying to solve a bureaucratic glitch to sell our car, and doing paperwork for my daughter to start college this fall. Then we have medical checkups and dentist visits before we go. Yet we also need time to visit our favorite hangouts one last time and say goodbye to dear friends.
Your life probably has its own brand of crazy this summer.
Changing seasons mean changing routines, and those can mess with our mojo and throw our spiritual lives off kilter. Just the other day a friend commented on social media that her kids were already driving her crazy on the first day of vacation. New seasons and routines can make prayer hard while we seek to adjust.
Maybe for you this summer represents a season of loss or trial that goes way beyond a different routine.
No matter what's causing your crazy, God's Word works like a healing balm on stressed hearts and minds.
But it's hard to calm your soul and find focus when you're struggling to survive the crazy. Those long and leisurely prayer times don't happen. But that doesn't mean you can't pray briefly.
I'm learning to pray short and simple, using Scripture as my guide.
When your mind is muddled and you don't know even know what you need, much less how to pray for it, the words of Scripture offer reassuring guidance.
Try these 4 steps to pray Scripture when you need calm:
 Go to a familiar verse or passage.
2.  Depending on your preference, read it aloud or silently with a prayerful attitude.
3.  Then try praying it once more, using your own words.
4.  Throughout the day, whenever you feel stressed, try to go back to that verse or prayer in your own words.
Let's look at how we can pray Psalm 42:8 as an example: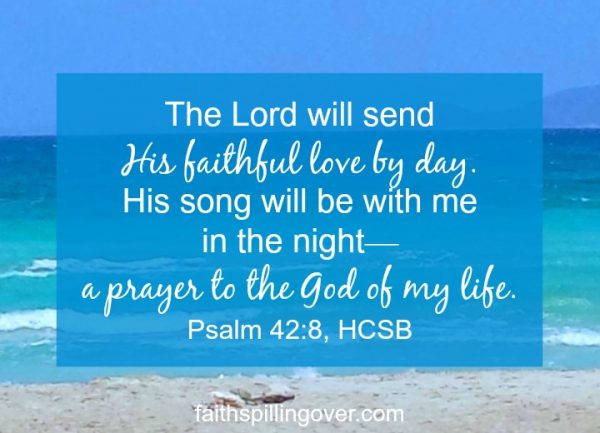 Lord, I thank you because your faithful love is with me each day. Your song is with me each night. You are the God of my life, Help me to sense your nearness today.
When calm is hard to come by, you can pray simply using words like these:
"I cling to You; your right hand upholds me." (Psalm 63:8)
"I love you, O Lord My Strength." (Psalm 18:1)
"I know my Redeemer Lives." (Job 19:25)
"Do not fear; I am with you." (Isaiah 41:10)
"The Lord is my Shepherd. I lack nothing." (Psalm 23:1)
A short, simple prayer is all it takes to open a window for God to come in. No matter how small the window we open, He always comes when we call. And He brings us a little more light, peace, and joy than we had before. Why not try one of these short prayers from Scripture today?
Note to my readers and friends: Although I may post sporadically, I will take a blog break until July 17th, so I can be more fully present to God, the people I love, and the tasks in front of me during this time of transition. Subscribe to my blog for my newsletter updates and free printables.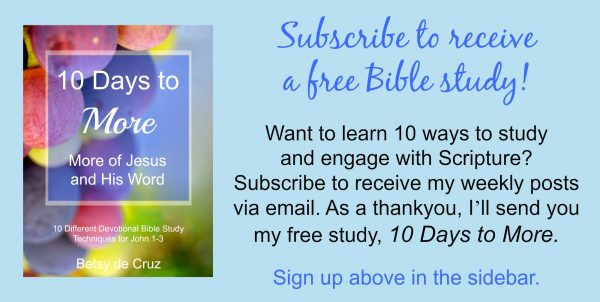 Photo Credit: Melika