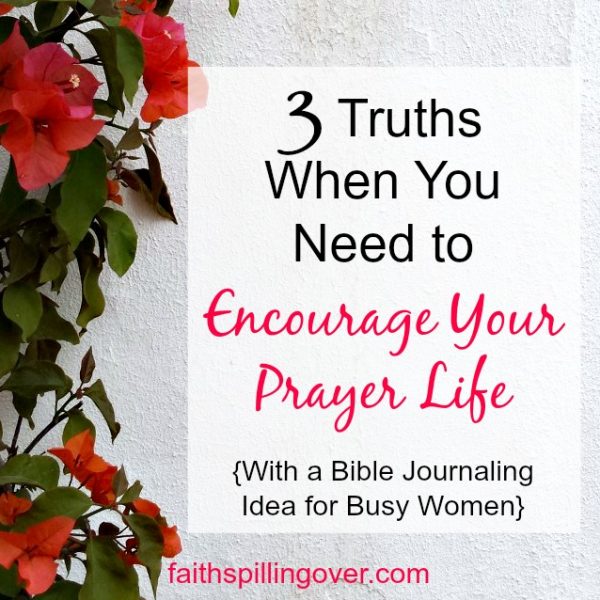 My prayer life gets derailed often, so I need all the encouragement I can get. My busy schedule can turn prayer into a quick, routine whisper asking God to bless my day, and sometimes not seeing the answers I long for discourages me. Yet recently I experienced a mini-revolution in my prayer life, and it wasn't because my schedule opened up for longer prayer times or because I received a miraculous answer I hoped for.
Instead my mini-revolution came straight from reading Scripture.
I had an "aha" moment while reading the book of Mark, an excellent book for busy, distracted women who want more of Jesus. Because it's the shortest gospel. Just 16 chapters, Mark is short, sweet, and powerful, just like I need it to be.
In Mark 1:40-42, a man with leprosy gets on his knees and begs Jesus for healing. Six words catch my eye: "If you are willing, you can…" The leper, of course, wants Jesus to make him clean, and Jesus, moved with compassion, reaches out to him, touches him, and heals him.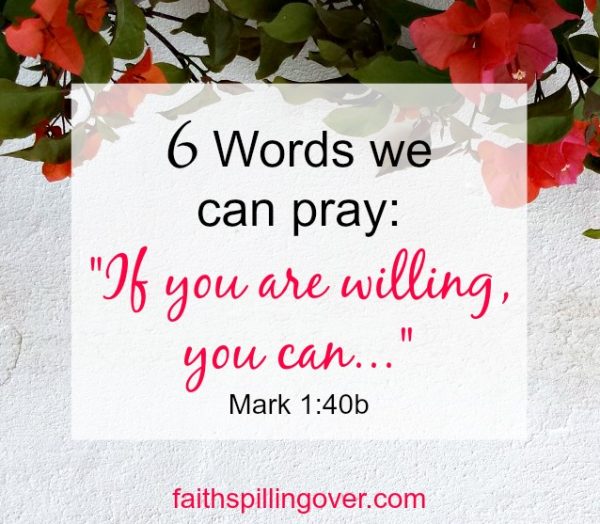 I don't have leprosy, but these six words give a new shape to my prayers:
If you are willing, you can open the right doors for our future.
If you are willing, you can provide my daughter with a scholarship.
If you are willing, you can reveal yourself to my dear Lost Girl.
This man's petition and Jesus' response show me three things that encourage my prayer life.
We Can Trust the Perfect Will of God
With the words, "if you are willing," the leper offers us a valuable lesson about trusting the will of God. He doesn't presume to know exactly what God wants to do, yet he's bold in his specific request.  You and I both know sometimes we don't receive quite the answers we hope for when we pray, but this phrase expresses trust in God who knows so much better than we do whether or not what we're praying for is His perfect plan.
The ESV version says, "If you will," reminding me of how Jesus taught us to pray, "Your will be done" (Matthew 6:10).
Our All-Powerful God Can Do Anything
The two words "You can" remind us that nothing is impossible with God. The God who created the earth and set the stars in place can do anything. He can "do immeasurably more than all we ask or imagine, according to His power that is at work within us" (Ephesians 3:20).
This speaks encouragement when it seems like our prayers are going unanswered. God is indeed at work, and He is ultimately doing something far greater than we could imagine.
Our Father Feels Compassion for Us
Jesus' response to the man shows us the heart of the father towards us: "Moved with compassion, Jesus reached out and touched him" (Mark 1:42, NLT). Whether God answers our prayer immediately like He did for the leper, or whether He has a better plan that will take longer than we'd like, compassion for us is what moves His heart. Either way, we can trust God's love for us.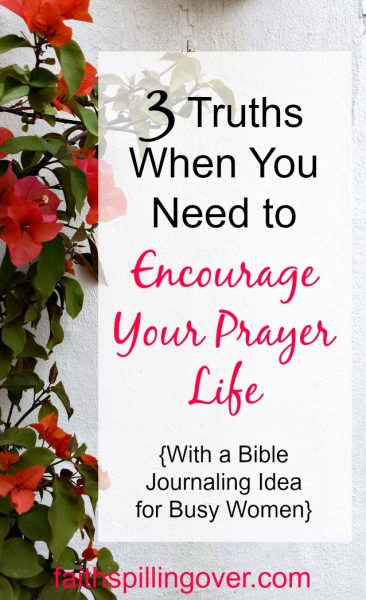 If you need encouragement for your prayer life, remember the leper's plea, "If you are willing, you can—."
Your Heavenly Father can do anything, and you can trust His perfect will. And whether you receive the answer quickly or have to wait, how about sitting still for a moment in God's presence and receiving His compassion? He longs to reach out and touch you today.
Bible Journaling Idea for Distracted and Discouraged Prayer Warriors:
Read Mark 1:40-45
Write Mark 1:40,41
Write a few of your own "If you are willing, you can___________" prayers.
Take a moment to imagine Jesus reaching down to touch you. Thank Him for His compassion and love for you.
If  you'd like more encouragement for your prayer life, you may enjoy this post: When You Need More Inspiration for your Prayer Life