Have you ever noticed just when you think you finally have everything under control, a new storm comes up in your life? Call it a tempest, a tornado, or a twister. It crops up just when you think you've reached the point of smooth sailing, and it reminds you how badly you need Jesus in your boat.
I remember my first time rafting at summer camp in Colorado. Having grown up in the West Texas desert, I had limited experience with water, and I swallowed hard when I saw the rapids of the Colorado river. Apparently nine of us were going to board a raft to navigate the river. We snapped on our orange life vests and grabbed the oars as our coach explained that obeying his orders would help us keep control of the raft. Seeing everyone else's bravado helped me pretend I felt just fine about the whole thing, but secret dread filled my heart.
Sure enough, our raft capsized on the first rocks, not thirty feet from our starting point. So much for controlling the raft. Shivering in the water, I waited while the coach turned the raft right side up and began to help people back in. The rest of the trip alternated between smooth sailing and rocky rapids. Just when I got to enjoying the smooth ride, more rapids would lurch our boat.
Life is kind of like that river rafting. Calm waters don't last long.
Your new puppy is finally housetrained, but then he gets an intestinal parasite. So "housetrained" is no longer a thing. Your kids finally get adjusted to life in a new city when you get word of another job transfer. You think your family deserves some smooth sailing, but then someone gets really sick. Or makes a really bad decision. Fear blasts into your life like a windstorm.
We need someone to smooth out our storms and help us navigate, don't we? How about inviting Jesus in to come in and calm the waters?
What's rocking your boat today?
Let's remember the story of Jesus walking out to the disciples' boat in the middle of a windstorm. In Mark 6:45-52, Jesus sent the disciples ahead to cross the lake while He went up on a mountain to pray. Strong winds came up, and the disciples strained to row the boat. But Jesus saw them from afar. Walking on water, He drew near to calm their fears, and when Jesus climbed into the boat with them, the wind died down (v 51).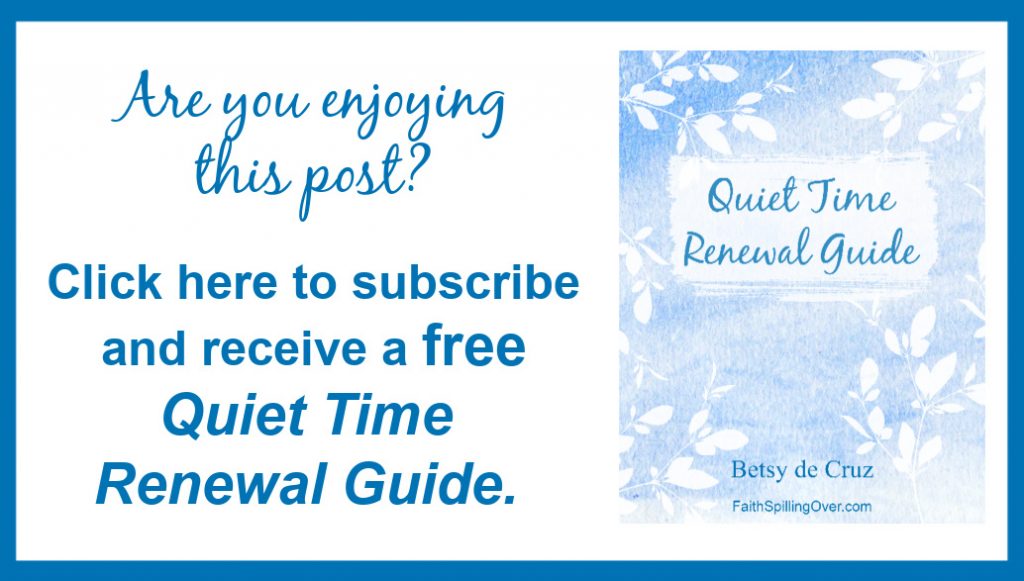 What winds are coming against you today, friend? You're probably not trying to row a boat to the other side of a lake, but if you're like the rest of us, you may be dealing with stress, struggle, and even suffering in your life. Winds of worry may blast you, but Jesus never leaves you.
Maybe you need to hear His words again:
Let's take a moment today to look at Jesus.
Not only is He standing right there, He's coming our way with help, hope, and provision. Let's call out to Jesus and invite Him into our boat. Let's surrender each trouble, each challenge and worry to Him. Every fretful thought.
Will you pray with me now? "Jesus, I invite you to come into my boat today. Please stay with me so that the wind in my life will calm down."
Simple Scripture Journaling Idea for Distracted Women:
Read Mark 6:45-52
Write down v. 51
Jot down a list of what's rocking your boat today and lift up each concern to Jesus.
Write your own one sentence prayer to invite Jesus into your boat.
Are you facing the challenges of life on an empty tank? Need help renewing your relationship with God?