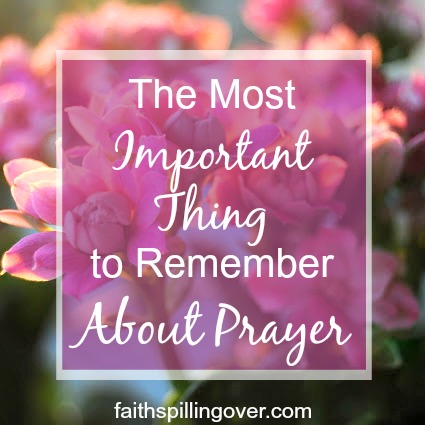 I'm ashamed to admit it, but most of the time I make prayer all about me. I come to God with a list of my hopes, my desires and my desperate longings. Then later I may or may not get discouraged when He doesn't do quite what I'm asking as fast as I want Him to.
I make it all about me.
Just like I used to do with that Matt Redman song, "The Heart of Worship." My family and I laugh because I'd accidentally sing, "I'm coming back to the heart of worship, and it's all about ME." No joke. Without thinking, I'd belt out, "All about ME."
Something tells me it was more than a slip of the tongue. It was my mouth singing out what was in my heart: It's all about me. Often that's my attitude when it comes to prayer. I make it into a one-way street named "Betsy gets what she wants from God. Hopefully."
I forget prayer starts with God. Not with me.
When we start our prayer by praising God for Who He is, we start off on the right foot. Praise helps center our prayer on our Father and his faithfulness, instead of on ourselves and our feelings. We put our focus on God's greatness and love, not on our own wants and needs.
The most important thing to remember about prayer is Who we are praying to.
Jesus taught his disciples to pray by starting out like this: "Our Father in heaven. Hallowed be your name." When I come to God, however, often the first line out of my mouth sounds a little different:
Oh Lord, help me get this done on time.
Father, please provide a scholarship for my daughter.
Lord, my son needs grace for his test.
Nehemiah is a good example of starting prayer with God. He had plenty of reason to wring his hands and beg God to act. When the book opens, he receives news so terrible that he sits down and weeps: "The wall of Jerusalem is broken down, and its gates have been burned with fire" (Nehemiah 1:3).
You and I have gotten news that makes us want to sit down and cry too.
That's why Nehemiah's prayer is worth looking at. When he prays, he leaves aside his desperation for a moment to focus on the Lord of heaven:
When we start off our prayer with praise, two things happen:
1. The focus of our prayer changes.
Instead of focusing on what we want from Him, we focus first on God Himself. The God of the universe created us to worship, and when we take a few minutes to praise Him for His glory and greatness, we honor Him and put ourselves in right relationship to Him.
2. Our faith is built up and strengthened.
When we start our prayers with declarations of God's eternal greatness, power, and wisdom, our faith grows. As we call to mind His love and faithfulness, we begin believe He'll work for our good. He'll provide, strengthen, and give grace. As we worship, our hearts begin to trust.
Friend, I don't know what your prayer life is like, but I need to grow. Just for today, each time we pray, let's start by praising God for His goodness and love. Even one brief sentence honors God and changes the focus of our hearts. Let's remember Who we're praying to and honor Him with praise today.
Note: Prayer is one of my favorite topics. Here are more posts to help us grow:
How to Use the Bible to Grow Your Prayer Life
How to Strengthen Your Prayer Life
When You Need More Inspiration for Your Prayer Life
If you'd like fresh servings of Faith Spilling Over dealivered weekly to your inbox, enter your e-mail address in the box in the sidebar. I'd love to send you my free guide, 10 Days to More. You'll find 10 ways to study and engage with God's Word.
Linking up with Kelly Balarie's #RaRaLinkup, Holley Gerth's Coffee for your Heart, Crystal Storms' #HeartEncouragement,  Brenda Bradford Ottinger's #ChasingCommunity, Lyli Dunbar's #FaithonFire, and Arabah Joy's Grace and Truth. Check out these communities for more encouragement.