I'm pretty sure God did not have low-carb in mind when He created me. He certainly didn't have it in mind when He sent me to the Middle East. With numerous bakeries in each neighborhood and a bread cabinet at every corner store in our city, bread is literally all around us. Most people eat it with every meal. The bakery is often their first stop on the way to work and their last stop on the way home.
This year I tried LOWER-carb eating—instead of low-carb, because progress is what counts, right? My biggest problem is that the bread here, in all its glory, is SO GOOD. Flatbread with sesame seeds, multi-grain bread with flaxseed, even basic Turkish white bread is delicious.
So it's easy for me to relate to Jesus' words, "I am the Bread of Life," because for many people here bread is life.
This Advent season, let's celebrate the Bread of Life who came down from heaven.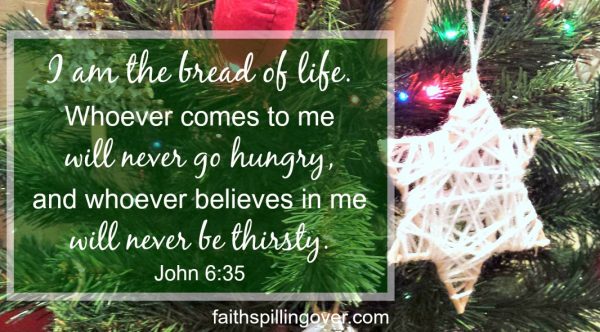 Bread is life because it feeds, energizes, and sustains us. It satisfies hunger. Where I live, it's cheap and readily available. Especially for the poor, bread is literally life.
Jesus is the Bread of Life who feeds, empowers, and sustains us.
Jesus satisfies. He satisfied our need for a savior when He shed His blood to pay for our sins.
He satisfies our needs for love and significance. And He was so sure of this that He gave us a promise: "Whoever comes to me will never go hungry, and whoever believes in me will never be thirsty" (John 6:35b).
Jesus empowers and sustains. Where we're weak and wanting, His Holy Spirit supplies the strength and resources we need. When we doubt, His Word sustains our faith.
The disciples were hungry when they said, "Sir, always give us this bread" (John 6:34). The woman at the well was thirsty, so she said, "Sir, give me this water." (John 4:15a). We're not so different from them, are we? We have needs only Jesus can fill.
But He calls us to do two things: "Come…and Believe."
Come to Me
When we come to Jesus each day, He feeds our faith and strengthens our souls. We encounter the Living Word in His Written Word as we read scripture. When we draw near to Him in prayer, He draws near to us.
Morning or evening, we can come. And throughout the day we can come again and again:
As we listen to a favorite worship song on the way to work.
When we stop to pray one sentence at a traffic light.
If we give thanks for the beauty of a tree, flower, or snow on the ground.
When we pray, "Jesus, help!" during a moment of overwhelm.
Believe:
I believe Immanuel has come, but do I really believe He's here with me now? Even when I don't, I choose to pray, "I believe! Help my unbelief!" (Mark 9:24 ) I choose to believe He hears and sees me. I choose to trust He loves me. And even when things don't look good, I believe He's working them together for my good. I choose to trust and stand on His promises.
How about taking a few moments each day during Advent to draw near to the Bread of Life? Will you stop and pray with me? Lord Jesus, I come to You and I believe.
This post is part of an Advent series on the "I am" statements of Jesus. Here are other posts you may have missed:
When You Want More of Jesus in December – Intro to series
When You Hope for More Light in Your Life – "I am the Light of the World"
If you'd like fresh servings of Faith Spilling Over delivered weekly to your inbox, enter your e-mail address in the box in the sidebar. I'd love to send you my free guide, 10 Days to More. You'll find 10 ways to study and engage with God's Word.
Linking up with Kelly Balarie's #RaRaLinkup, Holley Gerth's Coffee for your Heart, Crystal Storms' #HeartEncouragement, Salt and Light with Alisa Nicaud, Lyli Dunbar's #FaithonFire, and Arabah Joy's Grace and Truth. Check out these communities for more encouragement.