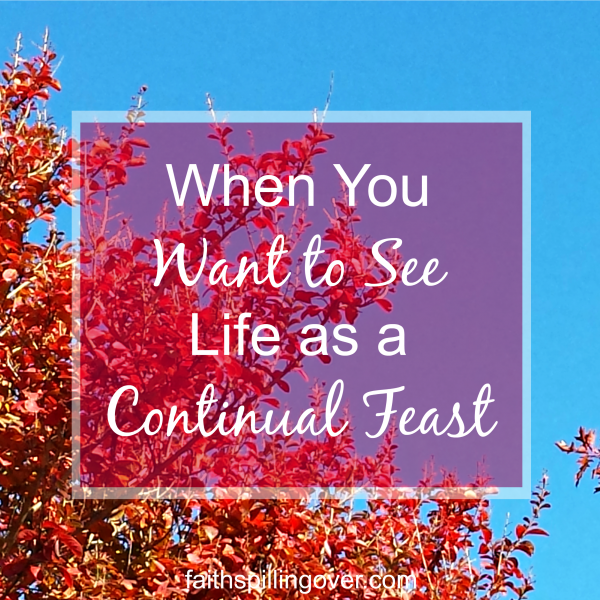 Martha Stewart definitely does not live at my house, and neither does Miss Pinterest. We don't have any picture-perfect fall decorations around here. In fact, I dragged Bob, our half-dead ficus, in from the balcony to my living room to be this year's Thanksgiving tree. I figure Bob may not make it through the winter, but at least he'll have his moment of glory at Thanksgiving.
Each November, I take joy in remembering God's blessings and counting His gifts.
Have you ever noticed that every day brings both blessings and trials? Your heart sings as you listen to worship music on the early morning walking trail, but then your car breaks down on the way to work. You smile when your daughter brings you a peanut butter cookie she baked, but then you notice the sticky mess on the kitchen floor.
Proverbs has a good word about this: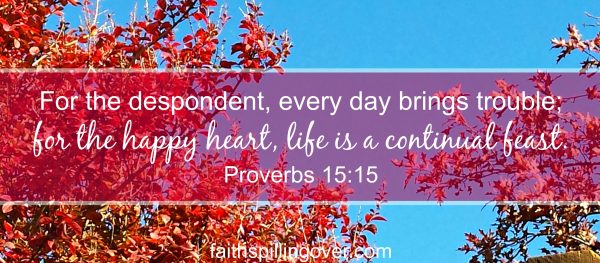 Timeline of Trouble or Feast of Blessing?
What determines whether we experience life as a timeline of trouble or a feast of blessing? Maybe more than anything it's our focus? Trials always abound: that snarky memorandum at work, the dog mess you step in at the park, or the phone call bringing bad news. Most days also bring bountiful blessings: morning coffee, a good book, a kiss, or the satisfaction of a job well done.
But maybe I pay less attention to small miracles because I'm too busy griping, fretting, and magnifying in my mind the worst parts of my day.
I don't mean to sound like Pollyanna, but I've noticed constantly focusing on my trials makes them weigh even more heavily. Yet choosing to count my blessings creates a greater sense of abundance. If I wait for troubles to end so I can learn contentment, I might as well give up.
Adversity seems to stick around. I bet you've noticed it hanging around you too?
In recent years, it seems that by November, I need Thanksgiving more than ever because by then often the challenges of the year have knocked the gratitude right out of me. I let distressing circumstances poison my perspective and prevent me from seeing God's goodness, which really does abound far beyond my light and momentary troubles.
But Come November, I come back to gratitude.
I repent for my lack of thanks, and I ask for open eyes to see my life as a continual feast of blessings. I ask for grace to count His kindnesses.
To cultivate a more joyful perspective, I've taken up my 1000 Gifts list again. Every day in November I'm listing five things I'm grateful for. Intentionally giving thanks for gifts like these lifts my spirit:
A sunny November morning
Lentil soup with fresh mint for lunch
Hysterical laughter while belting out "Respect" along with my kids and Aretha Franklin.
Family game of Monopoly
Will you join me from now until Thanksgiving? How about giving thanks for five things each day?
Let's glory in God's grace and count His kindnesses rather than meditate on our misfortunes.
Now it's your turn. How do you cultivate a thankful attitude? What's one thing you're grateful for?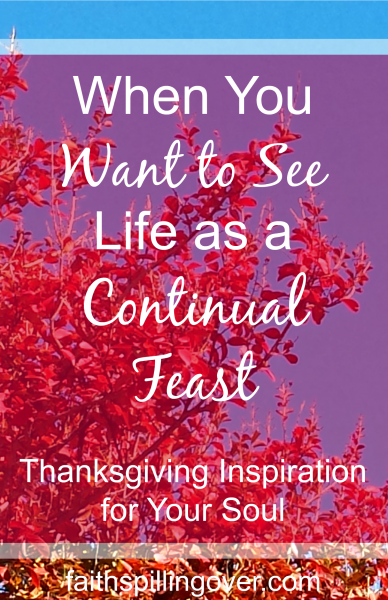 Re-edited from my archives.
If you'd like fresh servings of Faith Spilling Over delivered weekly to your inbox, enter your e-mail address in the box in the sidebar. I'd love to send you my free guide, 10 Days to More. You'll find 10 ways to study and engage with God's Word.
Linking up with Kelly Balarie's #RaRaLinkup, Holley Gerth's Coffee for your Heart, Crystal Storms' #HeartEncouragement, Salt and Light with Alisa Nicaud, Lyli Dunbar's #FaithonFire, and Arabah Joy's Grace and Truth. Check out these communities for more encouragement.