"Stop the car!" I said. My teen daughter had managed to hit the gas and make the car lurch forward in first gear, but we were going a lot faster than I'd anticipated. It was her first driving lesson. We were in an almost empty parking lot at 8:00 a.m., but there were a few other vehicles around and I didn't trust her steering skills.
"How do you stop?" she responded. "I don't know what to do!'
"Hit the brake! Push down on the brake! With your foot!" I may or may not have been yelling.
The car finally jerked to a stop as the motor died. We both doubled over laughing with relief. Before explaining how to get the car into first gear, I'd shown her where the brake was, but it hadn't occurred to me to demonstrate how to press down on it to stop the vehicle. Something second nature to me was not so obvious to her in a moment of panic.
Teaching kids to drive brings new meaning to the word "stress." You're trying desperately to remain calm, look calm, and speak calmly, while on the inside you're screaming, "Help me, Jesus! If You don't take the wheel, we may not make it!"
On the road, knowing how to hit the brakes at the right moment can save you.
Come to think of it, my mind can lurch out of control just like that runaway car.
My teen is out late, bills pile up, my to-do list overwhelms, and my mind gets into gear and takes off towards fear and worry faster than nobody's business.
You probably have your own circumstances that send your mind down the worry trail.
Your friend didn't return your text, so you think she doesn't care.
The doctor's office left a message, and you're scared to call back.
Your boss calls you to her office, and you wonder what's up.
Trusting God flies out the window as your mind rushes down the track of doubt, dismay, and dread.
Sometimes we just need to put the brake on our thoughts to save ourselves.
For me, Isaiah 26:3-4 provides a good set of brakes. It shows me four steps to steer my runaway thoughts toward peace and trust.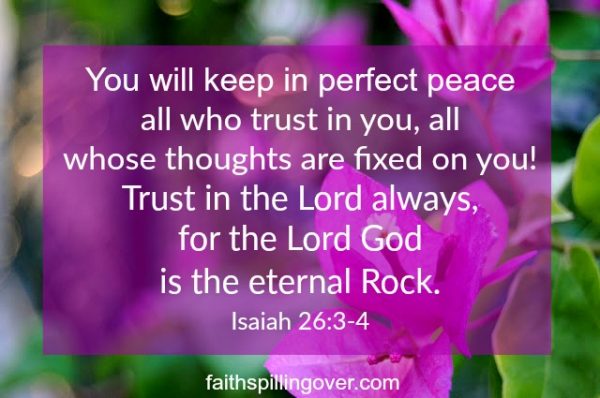 1. Choose Trust.
The minute I find my mind going off on a bunny trail of worry, I can stop in my tracks and choose trust. I try to rehearse in my mind all the good reasons I have to trust God, both the truth I see in scripture, as well as the things He's done for me in the past.
2. Fix your thoughts on God.
When we go to God's Word, it renews our minds. Scripture will remind us of God's faithfulness, wisdom, power, and love. God sees our situation, and He works all things for our good.
3. Choose Trust Again.
If you're like me, the worry will come back. Turn that worry into a prayer and make a declaration of trust. Say it out loud to God: "Today, I will let go of worry, and I will trust that You are caring for me and my loved ones."
4. Speak (or Sing) God's Praise.
Isaiah speaks an affirmation of God's trustworthiness: "The Lord God is the eternal Rock." When we speak out God's praise, we're choosing belief and making an affirmation of His goodness.
Just like my daughter is learning how to use the brakes in a car, I'm learning how to put the brakes on runaway thoughts at the right time. Usually the quicker I stop worry and choose trust, the easier it is to get my thoughts back on the right track. Let's put the brakes on worry and fear today.
Now it's your turn: Do you ever have runaway thoughts that take you down the worry track? Which of these steps is most helpful for you?
If you'd like fresh servings of Faith Spilling Over delivered weekly to your inbox, enter your e-mail address in the box in the sidebar. I'd love to send you my free guide, 10 Days to More. You'll find 10 ways to study and engage with God's Word.
Linking up with Kelly Balarie's #RaRaLinkup, Jennifer Dukes Lee's #TellHisStory, Holley Gerth's Coffee for your Heart, Crystal Storms' #HeartEncouragement, Salt and Light with Alisa Nicaud, and Arabah Joy's Grace and Truth. Check out these communities for more encouragement.