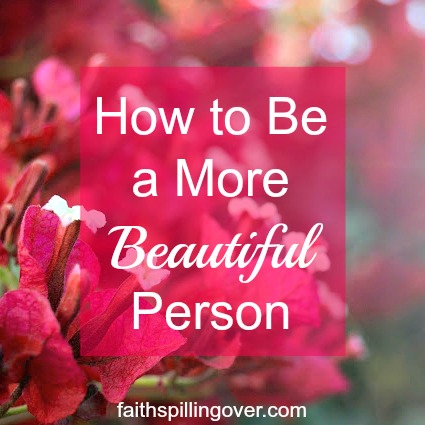 Some days I feel more like Godzilla than like a beautiful woman. Scripture tells us gracious character makes a woman shine, but all too often I let life's glitches turn me into a grumpy momster no one wants to be around.
One afternoon when both kids still lived at home, I had a Godzilla moment when I realized I'd left my passport at my daughter's skating center.
Panicked, I rushed the kids back to the car, desperately hoping to retrieve it before my husband found out. I fretted aloud the whole way there; my kids' faces mirrored my anxiety.  As we got out of the car, I dropped my sun glasses in Camilla's path.
"Don't walk on my glasses!"  I barked. She walked ahead and pretended not to know me.
An employee had found my passport, but even that didn't calm me down.  Back in the parking lot, my frustration grew when I couldn't get the car door open despite jiggling the key every way I could think of.
"Uh, Mom," my son said.  "That's not our car." 
Next we stopped at the pet shop. After I walked out of the store with our guinea pig supplies, the shop keeper came running. "Ma'am, you left your credit card!"
That's when I finally started laughing.
I mean, it was funny. What else could go wrong that day? The kids laughed too. We got in the car, turned up the music and laughed all the way home.
Laughter turned a bad afternoon around for us. It softened the edges of my Momster self and made me into someone my kids actually wanted to be around.
I want to be a delight rather than a drag for the people I love.
That's why I want to be a more joyful person. Especially when things go wrong. On challenging days I want to take a deep breath and remind myself:
Joy makes a woman more beautiful.
Joy is not just an extra, like frosting flowers on a cake. It's a crucial ingredient to a happy life. Joy gives us renewed strength and perspective. It makes us more winsome, attractive people, but I can't just wait for it to show up in my life.
I want to cultivate joy now, even before all my problems are solved. Otherwise, my grumpy Godzilla tendencies will overtake me.
Here are things I'm trying:
Stick closer to the Source of Joy
God invented joy. Surely He's the most joyful being in the universe, and He wants to give us joy as a gift. When we spend a few minutes to pray and read our Bibles, or when we call on Him during the day, He gives us His gifts of love, joy, and peace.
 Ask for More
For the past months, I've been praying for more joy. And although I still tend to get stressed out and scattered, I'm growing. Each morning, I ask God to fill my tank with His joy. He does. Lots of days, I let that joy run out by 10 am, but I'm learning.
Enjoy the Life You Have
Let's face it. A lot of life is ho-hum. Sometimes it's downright difficult. I pray often, "God, help me enjoy what I have to do today and the life You've given me."  I want to enjoy my work, and I want to savor simple pleasures like conversation with my family around the dinner table.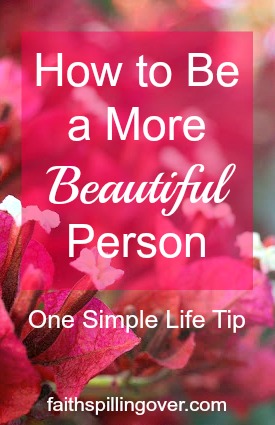 Maybe the simplest way I know to cultivate a more joyful, beautiful spirit is to smile and laugh more. After all, it's hard to act like a stress-crazed Godzilla and smile at the same time.
Now it's your turn: Do you think joy makes a person more beautiful? How do you manage to stay positive?
If you'd like fresh servings of Faith Spilling Over delivered weekly to your inbox, enter your e-mail address in the box in the sidebar. I'd love to send you my free guide, 10 Days to More. You'll find 10 ways to study and engage with God's Word.
I link up with Kelly Balarie's #RaRaLinkup, Holley Gerth's Coffee for your Heart, Crystal Storms' #HeartEncouragement, Salt and Light with Shannon Guerin, and Arabah Joy's Grace and Truth. Check out these communities for more encouragement.