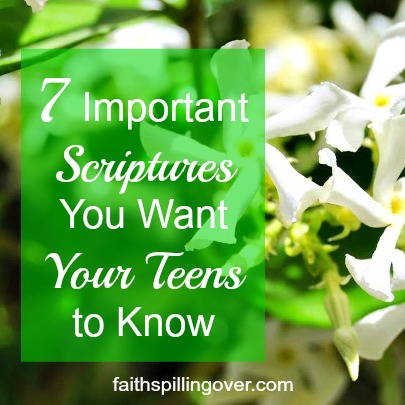 I wish I could say I was the perfect parent, but I'm not. I say the wrong things and embarrass my kids. Sometimes I pull the mom card and want my way, just "because I'm the MOM!" I try to get my kids to see how not smacking your lips while eating is paramount to the continuance of Western civilization as we know it. I want to help them understand that making your bed is the first step to success in life and picking up your towel up off the floor goes a long way towards not driving your mom insane.
As a parent, I can spin my wheels majoring on the minors.
However, as my 17 year old graduates high school, and my son finishes his sophomore year of college, I realize I need to think more carefully. Our time with our kids is so short. What do we really want to pass on to them? Surely my kids need to know things more important than the magical art of tidying up and the correct placement of silverware on a dinner table.
 What do I really want my teens to know?
More than anything I want my kids to know who they are, who God is, and what He does. They need to know what God has already done and what He promises to do for them.
Here are basic truths and 7 scriptures we want our teens to know:
Who You Are:
You are the crown of God's creation:
1. "I praise you because I am fearfully and wonderfully made; your works are wonderful, I know that full well. My frame was not hidden from you when I was made in the secret place, when I was woven together in the depths of the earth."   Psalm 139:14-15
God created you with a purpose in mind:
2.  "For we are God's handiwork, created in Christ Jesus to do good works, which God prepared in advance for us to do."   Ephesians 2:10
Who God is and What He has done:
You are a sinner, just like I am. But there's good news: God loves and saves sinners.
3. "But God demonstrates his own love for us in this: While we were still sinners, Christ died for us."   Romans 5:8
4. "This is love: not that we loved God, but that he loved us and sent his Son as an atoning sacrifice for our sins."   1 John 4:10
Who God is and what He will do:
God does not promise you an easy life, but here's what He does promise:
He'll redeem even your worst circumstances. He can around your hurts and disappointments to use them for your good.
5. "And we know that in all things God works for the good of those who love him, who have been called according to his purpose."   Romans 8:28
God will be with you and help you through your most difficult challenges:
6. "So do not fear, for I am with you;do not be dismayed, for I am your God.
I will strengthen you and help you; I will uphold you with my righteous right hand."   Isaiah 41:10
God has good plans for your future, even when life's rough spots leave you doubting it.
7. "For I know the plans I have for you," declares the Lord, "plans to prosper you and not to harm you, plans to give you hope and a future."   Jeremiah 29:11
Our teens can find the most important things they need to know in God's Word.
Let's point them to it, so they can discover who they are, who God is, and what He does. Learning to hold on to God's promises for themselves will help our teens grow into more resilient adults.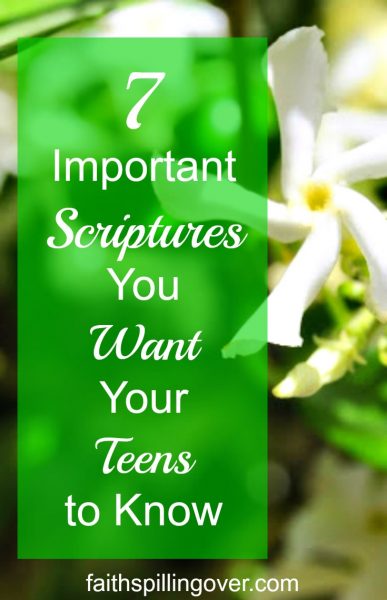 Now it's your turn: What do you think is a key scripture for young adults (and for all of us)?
Looking for a resource to help you build a lifelong faith in your kids?
I found so much help in the book Sticky Faith: Everyday Ideas to Build Lasting Faith in Your Kids by Kara Powell and Chap Clark.  This book gave my husband and I many ideas for preparing our teens to carry their faith with them as they transitioned to college. The book will help you connect with your kids and have conversations on faith and values. I only wish I'd read it when my kids were in junior high because it's never too early to start preparing them for life!
Note: This post contains Amazon affiliate links. If you purchase products through my links, I make a small commission towards the expense of running this site at no extra cost to you.