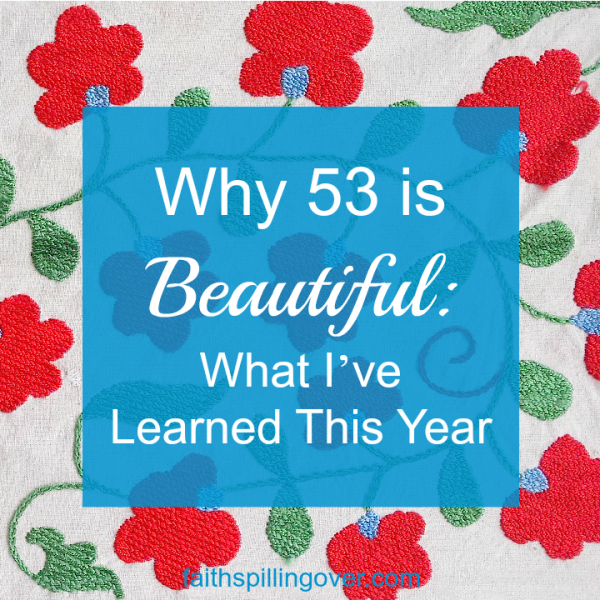 I never in my wildest dreams imagined I'd turn 53. "Who turns 53, anyway?" said my 26 year old self. The years rolled on, and then I stayed 36 for years, at least in my mind. I never thought aging would bother me either, but at 46 I started to get more gray. I left my oath to never dye my hair in the dust and ran out for my box of Miss Clairol.
For a few years I bemoaned aging. After all, I couldn't do anything about those wrinkles, and no sustainable diet could tame that middle age spread spreading around my middle. Honestly I was dreading 53. Because well, FIFTY THREE. It sounds older than 52, right? Yet recently I had an epiphany:
Life is Still Beautiful at 53.
Surely a woman at 53 can be more beautiful than ever if her eyes smile and her arms open wide to embrace others. She stays fresh at any age if she's learning new things. When she makes room for more of God in her life, He gifts her with more joy and hope. Maybe she grows a bit gentler? If that's not beautiful, I don't know what is.
Friends, I'm not there yet. But I hope I'm growing.
To celebrate my 53rd next week, I want to share with you what I learned last year:
God Never Leaves Me
Last year brought several challenges: a cancer scare, an international move, political unrest where I live, and the loss of my dearest spiritual "mom." At each step, I heard God say this: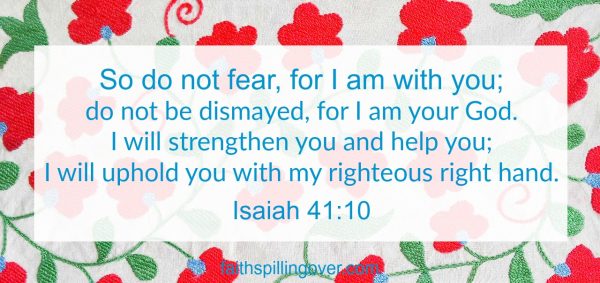 As I repeated these words over and over to myself, God did it. He strengthened and helped me.
Fun Can Change Your Life.
Deep, rip-snorting, side-splitting laughter does wonders for the soul. My daughter is my fun partner. We have spontaneous dance parties in the kitchen, and we bend over laughing hysterically during our daily walk in the park. I just hope I keep listening to Shakira, Bob Dylan, Ed Sheeran, and Selena after she leaves home.
I DO Have Time for Instagram.
After years of saying I didn't have time, I finally discovered how much fun Instagram is. I mean seriously, how can I not have time for a few more minutes of fun in my day? If you want to be Instagram friends, follow this link to find me.
I Never Want to Stop Learning.
I discovered how much I really do enjoy hanging out with younger people because they teach you things like Instagram, new words, and so much more coolness you'd miss out on otherwise.
If you keep learning, you keep growing, so I challenged myself to read at least one book a month this year. I learned more about writing and speaking from COMPEL training, started yoga with Adrienne, and tried cooking some new recipes. I'm currently experimenting with bullet journaling.
I Can Still Look Forward to the Future.
My 26 year old self had no way to know this, but life is not over at 53! Recently I challenged a younger woman to brainstorm things she could do to make her life better and more enjoyable.  I thought I'd better practice what I preach, so I wrote mine out in my journal: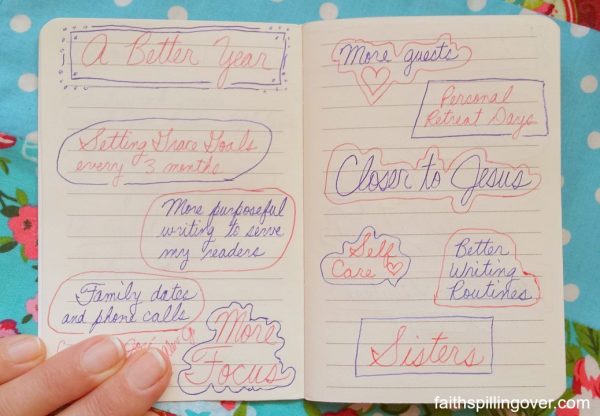 These are things I'm learning about the beauty of life at 53. Join me back next week for 5 more reasons we can be hopeful at any age.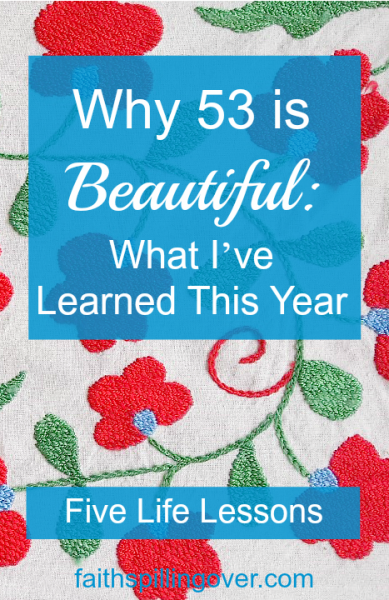 Now it's your turn: If you feel comfortable sharing your age, tell me how old you are and what's something you've learned recently.
If you'd like fresh servings of Faith Spilling Over delivered weekly to your inbox, enter your e-mail address in the box in the sidebar. I'd love to send you my free guide, 10 Days to More. You'll find 10 ways to study and engage with God's Word.
I'm linking up with Holly Barrett's #TestimonyTuesday, Kelly Balarie's #RaRaLinkup, Holley Gerth's Coffee for your Heart, Crystal Storms' #HeartEncouragement, and Arabah Joy's Grace and Truth. Check out these communities for more encouragement.