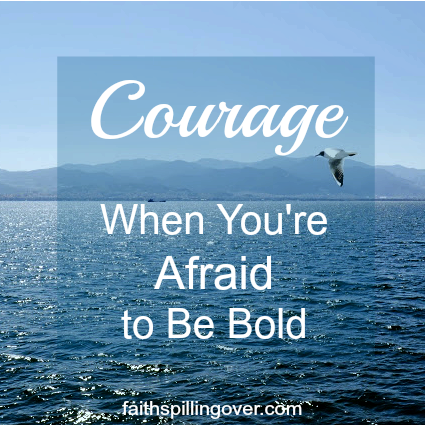 I always said I'd celebrate my 50th birthday by getting a tattoo. But 50 came and went, and I didn't get that tattoo after all. I was too scared. Scared of what people might think since I don't exactly look like the tattoo type. Scared it would hurt too much and scared I'd regret it later.
But a friend's tattoo keeps catching my eye. It says:
"Courage, dear heart."
"Courage, dear heart." The words speak to me because I may look brave on the outside, but on the inside I'm a chicken. I mean what woman is too scared to even get a tattoo? When I see the words on my friend's arm, I remember all the times I've felt fear. Fear that would have paralyzed me had God not kept me moving forward.
God gave me Courage to do things afraid:
I was scared to death to get on a plane from Texas to Istanbul when I was 24. Even more scared when I arrived at my new Turkish home with people I could barely talk to.
When I could hardly walk at age 27 and the doctor said, "Rheumatoid arthritis," I was terrified…
Please follow this link to join me at my friend Rachel Britton's place. I'm writing about how God moves us forward when we feel afraid for Rachel's #BeBoldGirl series.
If you'd like fresh servings of Faith Spilling Over delivered weekly to your inbox, enter your e-mail address in the box in the sidebar. I'd love to send you my free guide, 10 Days to More. You'll find 10 ways to study and engage with God's Word.
I'm linking up with Holly Barrett's #TestimonyTuesday, Kelly Balarie's #RaRaLinkup, Holley Gerth's Coffee for your Heart, Crystal Storms' #HeartEncouragement, and Arabah Joy's Grace and Truth. Check out these communities for more encouragement.