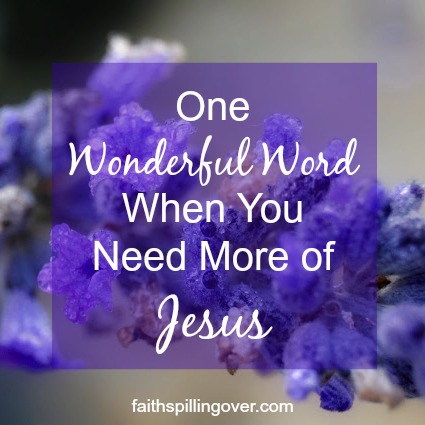 I've been a Christian 35 years, yet I need Jesus more today than ever. Or maybe I just understand more than ever how much I need Him.
Last fall I started reading the book of John with a college student who was struggling to believe. At first I thought I was doing it to encourage her, but apparently, 21 year old college students aren't the only ones who need more of Jesus. So do 52 year old home schooling writer moms.
I realized that I, more than anyone, need a fresh revelation of my Savior. I need a bigger vision of His glory, greater understanding of His power, and a fresh revelation of His love for me.
We all need more Jesus, don't you think?
Doctors, engineers, garbage collectors, farmers, housewives, and prison inmates need more of Him. We need a clearer picture of who He is. We need sharper vision to see His hand at work in our lives. We need spiritual sensitivity to hear His voice, and more wisdom to understand how He wants us to live.
As I read through John, I saw the miracle of Jesus all over again: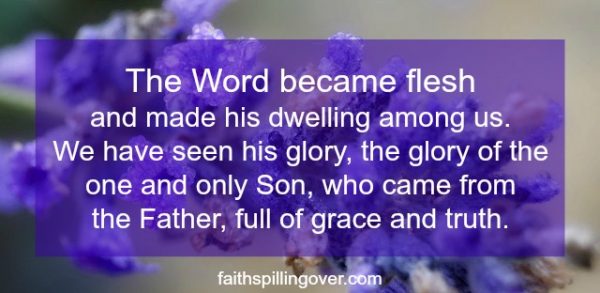 John 1:14
When I read the opening chapters of Jesus' story, words of invitation leap out at me: "Come and See." "Follow Me." I want to respond to His invitation. I want to come and see Him with fresh eyes. I hope to get to know Him better and follow Him more closely.
My word for 2017 is Jesus.
I want more of Jesus in my life. I need to learn how to slow down more to draw nearer to my Savior. I need His love in my heart, His words in my mind, and His power to work in me. I long for the light and life His Holy Spirit brings.
I'm choosing the word "Jesus" for 2017 because no other word says more about what I want for my life this year.  I want Jesus to be my biggest focus and my first love. I hope to grow more like Him. I believe He stands knocking at the door and waiting for all of us. He calls us to more.
Do you want more of Him too?
Join me each Tuesday in January for a series called "More of Jesus." Each week I'll write about a different aspect of our relationship with our Savior. On February 7, I'll have a free Bible study here for you. "10 Days to More of Jesus and His Word" will take you through the opening chapters of John and show you ten different ways to do devotional Bible study.
Jesus. Let's open the door to more of Him today by calling on His name.
Let's invite Him to come in. Let's Draw Closer to Him. Let's Lean in and Listen.
When we open the door and invite Jesus in, He won't disappoint us. No matter where we are, He always comes to meet every need, and we discover Him all over again.
Now it's your turn: Thoughts? Do you choose one word for your year?
.