Sometimes the Word of God I read in the morning goes right out the window by noon. The simplest snafu can undo my day. I get an irritating email, and my fallen nature gets the best of me. My computer freezes for an hour.  My poor husband, bless his heart, says the wrong thing. Memory loss hits me. God's blessings? What are those?
My own ranting thoughts take over my mind and push God's Word out.
Can I just say that yesterday when I stepped into 3 inches of gooey mud, I was not praising and thanking God?
I had jumped into my car to battle 5 o'clock traffic on the way to the store. After 5 minutes of parallel parking into a tight space, I found the store packed with other happy people who'd also come in from rush hour traffic. The item I wanted was on the top shelf. After trying to climb up there, I found a clerk with a ladder instead.
I grabbed my other items and headed to the long lines at the checkout. When my turn came, the register didn't accept my foreign credit card. I tried telling the lady that this store had taken my foreign card for the past five years, but that didn't work. I had no cash. So I left my bag on that counter, walked out of the store, and accidently stepped into the mud.
God's blessings? What are those? God is my helper? Yeah, whatever.
I really need God's Word to take over my mind and push my ranting thoughts out.
Some would call that brain washing. Yes, ma'am. I'll take it. Believe me, I need something to wash all the whining and complaining out of this brain. I need God to wash away fears, messages of rejection, and all the lies the enemy shoots my way. That's why I love this verse: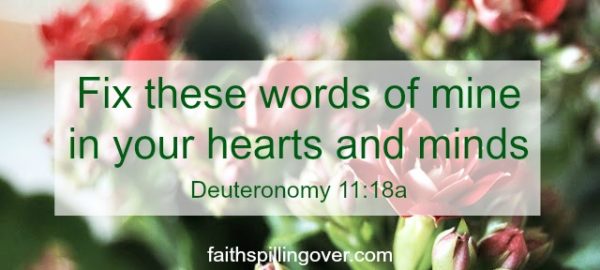 Before God led the Israelites into the Promised Land, He wanted them to stop and remember who He was, how He'd delivered them from slavery, and how He wanted them to live. He gave Moses the book of Deuteronomy to remind them. God wanted His children to remember His words.
I want to remember His Words too. That's why I write down snippets of scripture.
The best way for me to fix His words in my heart and mind is to write them down. Most mornings I record one or two verses that speak to me in my quiet time. Last week, I wrote about how to get a simple start on spiritual journaling. For me, copying down one Bible verse is the simplest and most powerful journaling tool. Copying might sound mindless, but it's not. It helps me do two things:
To Process
Writing it out helps me process the scripture I'm reading. I can think for a few minutes about how to live it out. God's words become mine when I write them down. I own the message.
To Remember
Writing it down gets the Word a little bit deeper into my heart. I'd love to say I always have my verse in mind the rest of the day, but I don't. The thing is, sometimes I do remember it. Even when I don't, that word is waiting for me to read again when I get back to my journal later. Each time I read it, it's etched a little more deeply into my mind, increasing the chance that I'll be able to access it when I need it. Over time, it makes a difference.
I don't want to let little snafus undo my day. That's why I want to keep God's Word in mind. Maybe the next time I step into 3 inch mud, I'll have something better to think about.
 Now it's your turn: How do you manage to keep whining in check on your step-in-the-mud days?