I admire organized women who keep a first aid kit at home, ready for any emergency. Then there are women like me who have a hard time keeping Band-Aids in the house.
I once had to walk my bleeding self to the corner pharmacy for first aid supplies after a kitchen accident involving broken glass, cake, and syrup all over the floor. (You don't want to know.) I ran into my neighbor and hoped she wouldn't notice blood dripping from the napkin wrapped around my thumb. Band-Aids come in handy when you actually have some on hand.
Sometimes we need a spiritual emergency kit because life crises can go far beyond broken glass on a sticky kitchen floor.
Real life emergencies can challenge what we know about God.
We know God is good. He showed his love for us clearly at the cross. He sacrificed His son for our sins, so we could become His children. God watches over and cares for us. He can do more than we ask or imagine. He has the answer to every problem. He's the God of second and third chances. He's a resurrection God who brings life to our dead places.
But sometimes our circumstances seem to contradict what we believe. God knew we'd encounter obstacles like a house that won't sell or a boss that won't budge. He knew some of us would experience the heartbreak of a string of negative pregnancy tests or a divorce.
That's why His Word is full of promises:
"My grace is sufficient for you, for my power is made perfect in weakness." (2 Corinthians 12:19
"I am convinced that nothing can ever separate us from God's love." (Romans 8:38, NLT)
"My God will meet all your needs…" Philippians 4:19
"If we confess our sins, he is faithful and just and will forgive us…" (1 John 1:19)
No matter what situation we're in, we always have hope:
Recent life challenges made me realize I needed more hope and faith.  I prayed and asked God to remind me of scriptures that spoke to my situation. I wrote out 10 promises in my journal. Now I start each day by reading and praying through my promises. I wrote a few of them on notecards, so I can get them out easily during the day.
A blogging friend of mine calls this an "emergency kit." I like the idea of a stash of scriptures ready to have on hand during life's emergencies. Each time I get out my emergency kit and read God's promises, my faith grows.
God's promises point us to hope. No need is too great for Him. No obstacle is too hard. We always have hope because we always have God. He will never leave us.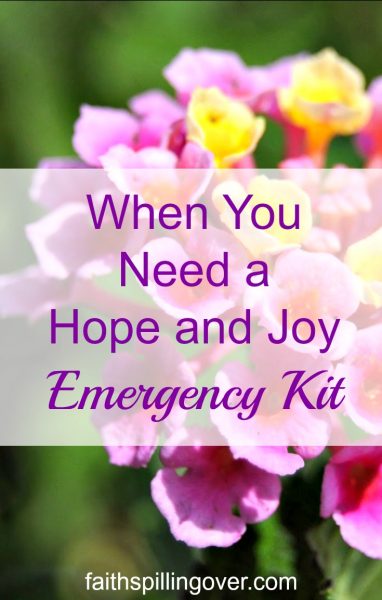 I want to share a good resource for your spiritual emergency kit if you or anyone you know is experiencing depression. My friend Michelle Bengston has written a book called Hope Prevails: Insights from a Doctor's Personal Journey Through Depression.  Michelle is a neuropsychologist with years of counselling experience, but she writes in a warm, conversational tone I found easy to read. Her personal stories will help you see you're not alone if you're going through depression.
Hope Prevails explores the spiritual roots of depression and helps us recognize the enemy's tactics in our lives. It offers practical tools for learning how to find healing from depression and rediscover God's peace and joy. Follow this link for more info about the book.
This book encourages us to combat the enemy's lies with God's empowering truth. Each chapter ends with a "doctor's prescription" section which includes questions to ask yourself, practical steps to take, and a playlist of songs.
This book is meaningful to me because I have the privilege of knowing Michelle. She's walked through some hard times, yet manages to remain a joyful, hopeful person. That's because the message of her book is true: with God, hope always prevails!
Now it's your turn. What else would you include in a spiritual emergency kit?
Linking up today with Holly Barrett's #TestimonyTuesday, Kelly Balarie's #RaRaLinkup,  Jennifer Dukes Lee's #TellHisStory, and Lyli Dunbar's Thought-Provoking Thursday.