Have you ever had seasons when you ask, "God, where are you?"
You know with your mind God is faithful, but your faith is falling flat. How do you keep your heart believing God when it feels like He's taking forever to fulfill His promises? How can you live joyfully through trials when you're just hoping to make it through the day in one piece?
My husband and I have been through challenge the last 12 months: a family death, two health scares, medical bills rolling in like the tide, an international move, and just to keep life interesting, political violence where we live!
I'm learning that we can find joy in the most unlikely places, and that God renews our hearts when we find something to thank Him for.
If you're struggling right now, remember you're not alone.
When we look through the pages of our Bibles, we see a host of people well acquainted with challenge. Jacob worked 20 years for a swindler. Moses spent 40 years leading 2,000,000 grumblers through the dessert. Daniel was exiled, and Paul was jailed. How did our faith fathers made it through?
One day at a time.
The same God who got them through will get us through too.
Maybe you're facing an impossible situation: depression that doesn't lift, a marriage that makes your heart ache, a job you can't stand, or no job at all. Remember God is with you. He's beside you, behind you, and He's waiting for you on the other side of the mountain facing you.
Let's look at how Abraham reacted when He faced unbelievable circumstances: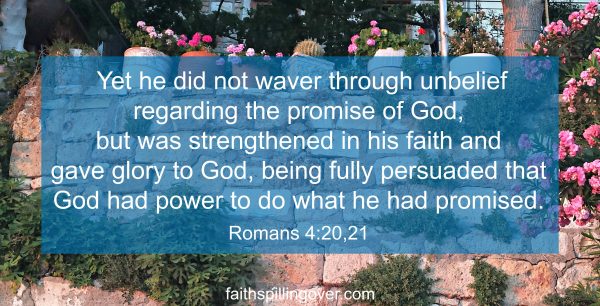 Scripture says he did not waver.  God promised to make Abraham the father of many nations, yet at age 100, he and his 90 year old wife still had no children. If it had been me, I'd have been wavering like a flag waves on a pole. Yet instead of flapping in the wind, Abraham showed two reactions:
1. He was strengthened in His faith.
Abraham chose to believe God despite overwhelming odds. Although he struggled with doubt, like we do, in the end He chose belief, and His faith grew. What do you need to believe about God today?
We're strengthened in faith when we choose to believe.
2. He gave glory to God.
He faced the fact that he and his wife were too old to have a child, but he gave glory to God because he believed. We give glory to God when we trust Him in challenging circumstances.
We give glory to God when we thank and praise Him even when we can't yet see His power working in our lives the way we'd like.
How about practicing faith and joy today?
Friend, if you're facing challenges —or even if you're not– how about trying an experiment? For 24 hours, determine to trust God and thank him for His faithfulness.
Can you think of a promise from God that you need to hold onto today? Here's mine:
How about it? Let's crank up our worship music, put on our praise, and practice our faith for one day. We can trust God and practice joy for one day.  Let's thank Him for His presence and the blessings He's already given us. Just today.  You with me?
Now it's your turn: Do you have a favorite promise from scripture that speaks to you today?