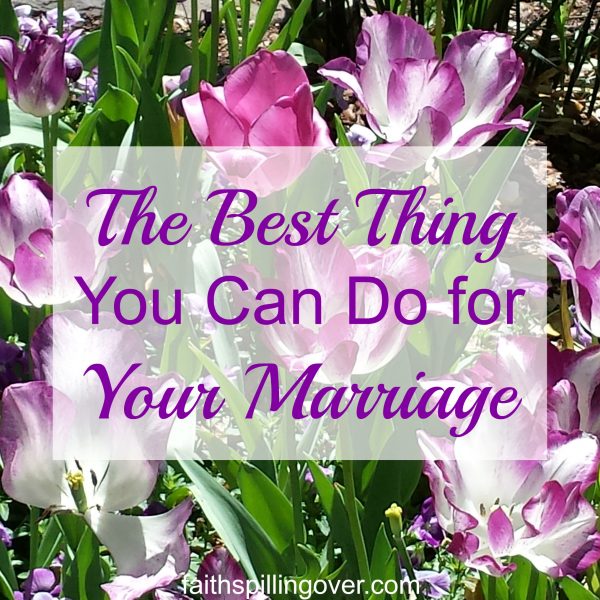 Right after my husband and I got married, our differences started to look a lot bigger than they had while we were dating.  For example Jose would finish his food in two minutes flat, the same amount of time it would take me to pick up a fork. In our newlywed days, we'd share desserts, but he'd finish them before my third bite. This irked me, but my suggestion to cut desserts in half irritated him because it seemed petty. We'd get in a stew over lemon meringue pie.
We still drive each other crazy some days:
He makes decisions slowly and rarely questions them afterwards. I make a decision quickly only to second guess it a thousand times. He's always on time; I'm usually running late. He's Mr. Neatnik. I'm Mrs. Clutter.
I'm telling you, I can drive that man up the wall.
Two people driving each other crazy isn't the picture God had in mind when He created marriage:
How do we become one flesh when we come from two different planets and get on each other's nerves?
Daily prayer together can stop the crazy cycle.
Maybe the best thing you can do for your marriage is to pray together. My husband and I have discovered praying together makes a bigger difference than anything else we do for our relationship. When we make spiritual unity a top priority, everything else falls into place more easily.
Praying together helps two people become one. Here are some benefits:
Spiritual Connection: You connect spiritually at the start or end of each day.  Over time, your spiritual intimacy grows as you seek God together in prayer.
Greater Agreement: Reaching a mutual decision comes more naturally when you seek God's wisdom together. It's easier to be on the same page concerning discipline and family matters when you're praying together for your children.
Encouragement: You can pray for each other's dreams, projects, or plans. And when one of you is discouraged, the other can hold him up in prayer.
Spiritual Growth Praying with your husband might encourage you to pray more as an individual.
Improved relationship: It's harder to withhold forgiveness or stay irritated at people when you're praying with them.
Daily prayer together can ground your relationship and help you grow spiritually closer as a couple.
3 steps can help you get started.
1. Pray first
Before you talk to your husband, pray about it yourself.
2. Honor him as the spiritual head of your home
. Make a gentle suggestion and ask him what he thinks. Let him pick the time that's best for him. Don't steamroller him to try to get your way.   (I've tried steamrolling, and it didn't work. You might want to check out "10 Ways to Honor Your Husband.")
3. Start small.
Begin with five minutes a day. If praying daily is too much for your husband, suggest once a week, and let him pick which day. You can always pray for your marriage and family by yourself the other days.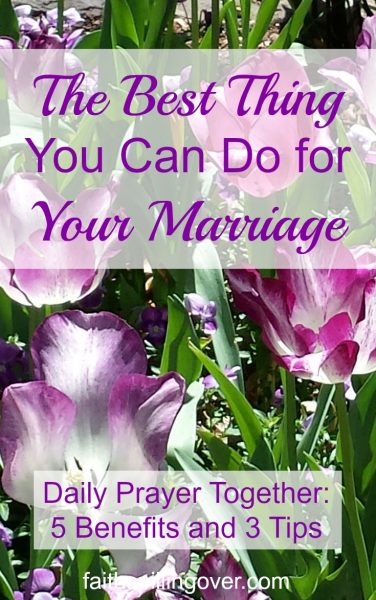 After twenty years, Jose and I have learned how to eat a piece of chocolate cake without fighting. We've also learned that praying together is the most important thing we do as a couple, but you know what? It's the first thing to go when we get busy or experience change. Even then, we always get back to it, and it's always worth it.
Now it's your turn: Do you and your spouse pray together?
Are you facing the challenges of life on an empty tank? Need help renewing your relationship with God?