A few years ago I helped both of my teens dye their hair red. My mom said I was crazy. I myself wondered if I'd gone stark, raving mad, but I figured helping them was better than dealing with red dye all over the bathroom. In the end my son had a red top, my daughter had a red lock, and I had a red spot on my nose.
The teen years bring joy as you watch your child develop his own interests and talents. Teens will keep you young if you let them. Their crazy spontaneity makes life more fun. Mine can talk about a wide variety of interesting topics at the dinner table.
Adolescence also brings a whole new set of challenges. Our kids desire more independence, but we have doubts about how much freedom they can handle. Every day brings new questions: "Mom, can I get a nose piercing?" "Can I order a beer?" I have my own questions: "Should I enforce a morning wake up time during summer vacation?"
Let's face it. Our teens can drive us crazy, but when I think back to my own high school years, I remember my parents drove me crazy too!
How can we turn down the craziness?
Scripture provides common-sense advice: 
This reminds me to major on the majors, like being a good role model and teaching my kids to love God's Word. If I pass on values like love for others and hard work, I can relax a bit on issues like bedtimes and fashion choices.
Let Go of Some Control
I'm the first to confess that some of my parenting difficulties lie in my reluctance to relinquish control. Conflict at home can arise simply because I want things my way, just because I'm the mother. When I let go of my way, my relationship with my teens improves.
Choose Your Battles Wisely
My husband and I let our son pierce his ear.  Why argue over something so small? But a tattoo? I'm sorry, but we're not going there. In our family, a tattoo is taboo until you're 50.  This means I can get one if I want, but my kids can't. (There I go again, exercising control!) Then again, the tattoo question pales in comparison with issues like respect for parents and taking responsibility at home, work, and school.
Allow for Growing Independence
It's scary, but sometimes I allow my kids to make their own decisions. I call my son and say, "What time were you thinking of coming back home this evening?" I suggest that my daughter spend more time studying for a test, but I don't push her. She knows she's the one who will get the grade.
Encourage Your Teen
Do you ever stop to evaluate whether you give your kids more negative or more positive input?  I tend to harp on the negatives, like "Don't leave the fridge door open." But I want to encourage my kids and cheer them on: "You did a great job on this project." Encouragement is a powerful motivator; it feeds healthy self-esteem.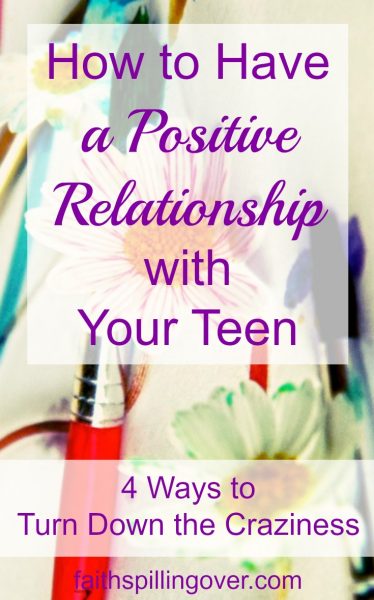 Adolescence presents a unique time to build a positive relationship with our teens as they transition into adulthood. We may not always get it right, but our honest apologies can work miracles when we let our kids know we're trying our best to be good parents. As we seek God for wisdom, He'll equip us to encourage and challenge our kids rather than exasperate them.
Now it's your turn: Do you have teenagers at home? What's a tip you can share with us?