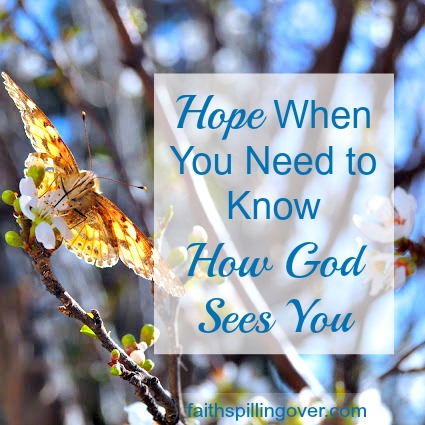 I still remember as if it happened last night how mortified I felt as I struggled to cut a rock-hard pizza for first-time dinner guests. The pizza was ready an hour early when my guests called to say they'd be late. Not knowing what else to do, I left it in the oven on low. By the time our friends arrived, the pizza I'd worked so hard to make had reached a perfect state of petrification.
It was just as hard to eat as it was to cut, and I felt pretty low on the Martha Stewart scale.
Now I can laugh about it, but at the time, I felt embarrassed in front of new friends. It made me feel like I came up short. After all, other women didn't serve rock pizza to guests.
The petrified pizza incident is long past, but every day I still face all the little ways in which I don't quite measure up.
I lose my temper and yell at the kids.
I waste a whole afternoon surfing the internet.
We run out of toothpaste. (I'm going on 20 years as a housewife. Can't I even keep toothpaste in the house, for crying out loud?)
It's 5:30. The living room is wrecked with home school materials, and I can tell that dinner's going to be late.
I can't seem to lose the 10 pounds that crept up on me.
If I focus on myself and my weaknesses, pretty soon I feel like a hopeless mess.
Maybe sometimes you have similar thoughts. We start to compare ourselves with others who seem like they have it all together. The voice of the enemy accuses us. "You don't measure up. You don't have what it takes, and you'll never change."
But God sees a different you.
He sees the daughter He created for Himself. If you've put your faith in Christ, He sees the righteousness and perfection of Jesus when he looks at you. You're a work in progress, and God sees the person you will be when He's finished with you.
You are beautiful.
You are fearfully and wonderfully made to show God's glory in a way no one else can. You're His workmanship, created in Christ Jesus for the good works he prepared in advance for you to do (Ephesians 2:10). He will complete the good work He began in you.
You are loved.
You're the apple of His eye, a prized and precious jewel. God demonstrated His love for you by giving His one and only son. Jesus demonstrated His love for you by dying in your place. What can you say to a love like that?
You are chosen.
You are precious and honored in His sight.
You are more than a conqueror.
You are a new creation.
You can do all things in Christ.
Rather than letting our own thoughts define us, let's choose to believe what God says about us in His Word. As we lift our faces to heaven and listen for His voice, He'll shine grace down on us.
This post is a re-edit from my archives.
Do you ever compare yourself with other women and feel you don't measure up?
In Over It. Conquering Comparison to Live Out God's Plan, Kristine Brown takes us on a quest to learn how to embrace God's unique plan for us instead of comparing ourselves with others. (Follow this link for more information.)
In her book, Kristine unearths the stories of three women in Scripture who fell into the comparison trap but learned the key to finding freedom. Walking through their stories, readers will:
Discover deep truths about the struggle with comparison.
Find contentment in their God-given uniqueness.
Take easy-to-follow steps toward claiming victory over comparison.
Realize God's plan is more than we could ever imagine.
Learn how to say, "I'm over it" and mean it.
I'm linking up with Holly Barrett's Testimony Tuesday, Kelly Balarie's #RaRaLinkup, Crystal Storms' Intentional Tuesday, Holley Gerth's Coffee for Your Heart, Lyli Dunbar's Thought-Provoking Thursday, Arabah Joy's Grace and Truth, and Susan B. Mead's Dance with Jesus. Check out these communities for more encouragement.