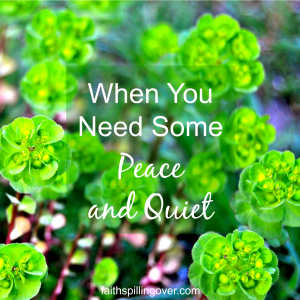 Just a moment of peace and quiet. Doesn't that sound heavenly?
When my kids were small, I used to tell myself, "If only I can make it until they go to bed. Then I'll be able to relax and enjoy a peaceful moment." But when they became teenagers, I couldn't stay awake until their bedtime!
Some nights I'd announce, "Mom's retiring at 9:30. See you in the morning." Then my husband and I could spend a few quiet moments with no loud music and no conversation about Woodstock, gay marriage, or Obamacare. (Our teens like to talk about a variety of topics.)
Peace and quiet are rare commodities in today's world.
"If I could go on vacation, then I'd enjoy some tranquility," we say.
"If I had more money in the bank, I'd feel more secure."
"When the kids stop screaming, I can calm down."
"If only my ex-husband would stop harassing me and leave me alone."
Jesus came to give us the gift of peace.
Peace with God. Rest from the stress and noise of life. Freedom from our burdens
The peace Jesus came to give goes so much deeper than the peace that the world gives. Peace from the world depends on a quiet evening, a vacation, or reconciliation in a broken relationship. The inner calm that Jesus offers is a super natural gift that we can receive in the middle of less-than-perfect circumstances.
Let's get intentional about receiving that gift.
The next time you feel anxious or burdened, how about stopping a moment and praying:
"Lord, thank you for the gift of peace. I receive it by the power of the Holy Spirit. Jesus, come and rule over my heart. I give my worries to you, and I choose to trust you. Pour your peace over my relationships, and help me to walk in the freedom that comes with your forgiveness."
Whether we're in a traffic jam or on the couch with the kids, a prayer like this invites more of Jesus into our lives. We take one baby step toward receiving His peace.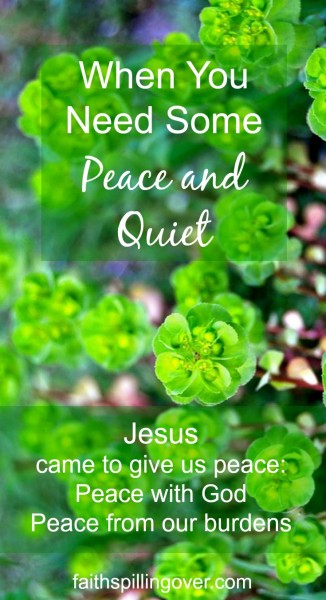 The peace that Jesus offers goes beyond a moment. Learning to receive it and to walk in it takes a lifetime, but we can start today.
Now it's your turn: Would you describe yourself as a peaceful person? What's your greatest barrier to receiving God's gift of peace?
If you want to learn about how you can experience peace that goes beyond the moment, check out Lisa Murray's new book Peace for a Lifetime. "You can cultivate peace in both calm and difficult situations," Lisa writes. "Peace is not a feeling. Peace is a way of life."
Peace for a Lifetime makes a good companion for anyone who wants to make the journey toward finding more inner peace. A licensed Christian counselor and therapist, Lisa Murray draws on both clinical knowledge and biblical insight to suggest a path towards what she calls "emotional abundance." Lisa covers topics like fortifying our foundations, nurturing ourselves, healing from past wounds, finding our identity in Christ, and cultivating healthy relationships.
One of my favorite parts of this book was the "Stepping Stones" section at the end of most chapters. The stepping stones include self-evaluation questions and ideas for applying what you're learning to your life. This book is a great resource for anyone who wants to learn more about emotional wellness.
Photo Credit: Melika