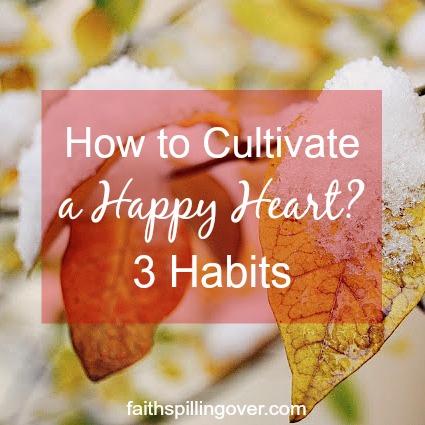 I really need to keep my glory glasses on tight. Rose colored shades help me see more clearly the beauty of God's work around me.  All too often, I let gloom glasses blind me to God's blessings.
You've probably worn gloom glasses before too. You know how those gray shades can cloud your vision.  One bad day makes you think your whole life is one crash and burn. You had a spat with your spouse, you're out of dish washer detergent, and suddenly life looks terrible.
In a recent conversation, my 16 year old daughter suggested 6 habits for cultivating a happier heart. (The girl's got a future as a life coach.) You can catch the first 3 in last week's post, but now we'll cover habits 4-6.
First, let's look at Proverbs 17:22
Check out this version: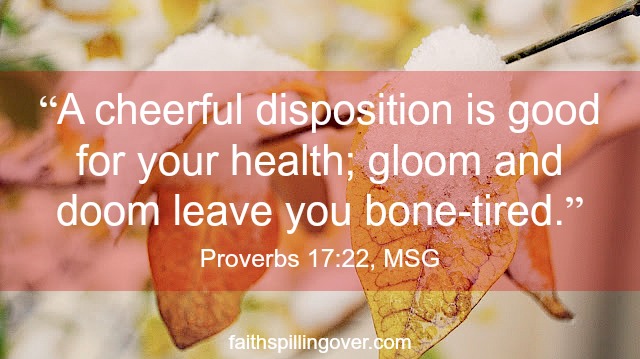 Sometimes we experience hardship that goes beyond just one bad day. Gloom and doom creep up on us. We can't exactly read this verse and say, "Okay, got that. Need a cheerful heart. Presto, change-o. I'm happy!" Don't you wish it worked that way?
When life sends us trials, happy heart habits won't make difficulties disappear, but they can help us feel better, just like medicine does when we're sick. Over time, they help us cultivate a more positive attitude.
4. Acknowledge Negative Feelings
We all experience occasional sadness, depression, or anxiety. It sounds counter-intuitive, but when life gets hard, maybe the first step to working through our negative feelings is to acknowledge and express them.
Haven't we all experienced the relief that comes when we open our hearts to others? Talking to God invites Him into our struggles and changes our perspective. Talking with our mate, a trusted friend, or a counsellor can help us on the road to a more positive outlook.
5. Grow Some Gratitude
A little bit of gratitude goes a long way in making life's tough experiences more bearable. Last fall my husband had a medical emergency and spent two days in the hospital. We couldn't help but notice the kindness of the medical staff. Gratefulness made a bitter experience just a bit sweeter.
Even on ordinary days, nothing robs your joy like discontent. Your neighbor drives a fancier car then you do. Your best friend's husband took her to Hawaii to celebrate their anniversary, and yours took you out for pizza. You can either bemoan what you don't have, or give thanks for your blessings. When I keep my eyes peeled for the good things God has done for me, my heart gets a bit happier.
6. Do Something You Love
Some of us are fortunate to have jobs we love, but even if we don't, taking time for things we enjoy makes life a bit brighter. At age 40, Winston Churchill took up painting as an antidote to depression. Can you imagine the job stress he faced as England's prime minister during World War II? His beloved hobby gave Churchill a way to find a measure of joy during dark days.
What do you enjoy doing? How about setting aside some time each week to take care of yourself by doing something fun?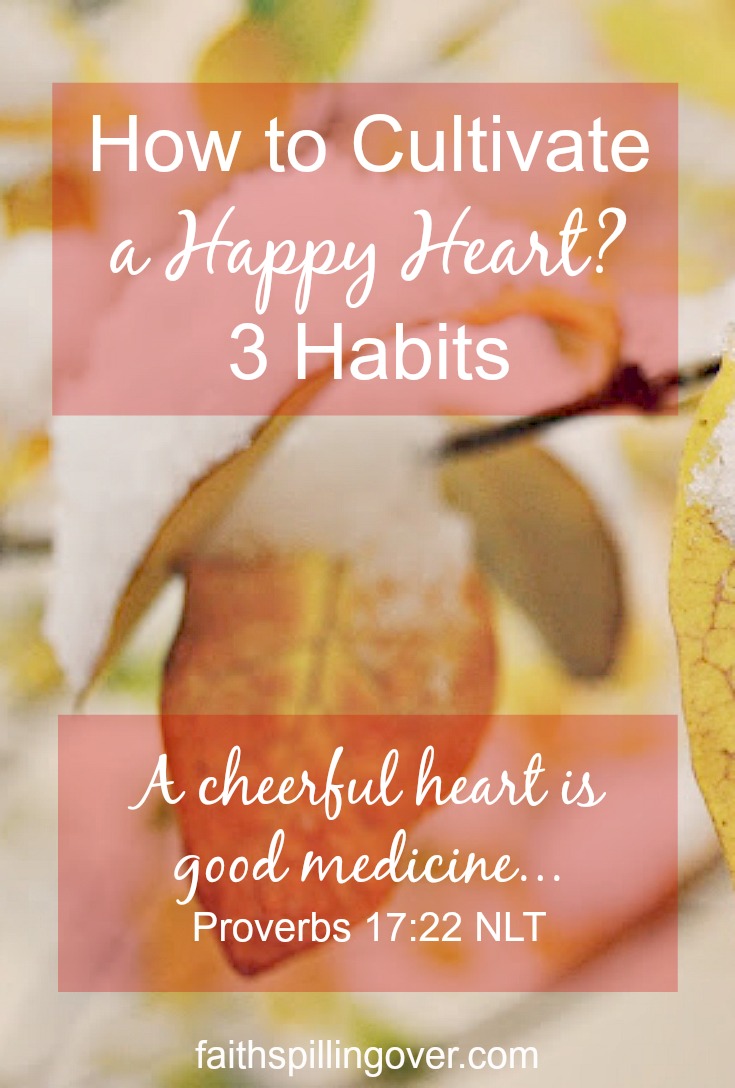 Happy heart habits don't work like magic, but they do help us take some control over our attitudes. When we put our glory glasses on, our problems look a wee bit smaller and our joys look larger. And who doesn't want a little more joy?
Now it's your turn: What are you grateful for today? What do you love doing?