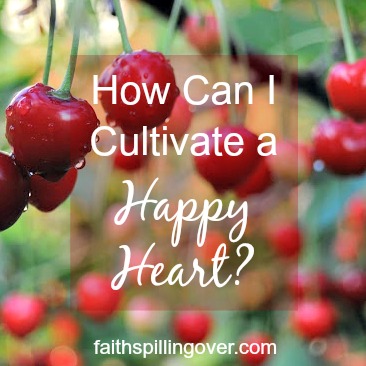 Do you know anyone who wears gray-colored misery spectacles? No matter what happens, he finds something to complain about. Those misery spectacles magnify everything. The weather's too cold, or too hot, or too rainy. The food's too salty. When you're wearing gray-colored glasses, your glass is always half empty.
Let me tell you, on my bad days, that person in the gray-colored shades is me. I can moan and groan along with the best of them, but I don't want to be like that.
How can I exchange my gray misery shades for some rose-colored glory glasses?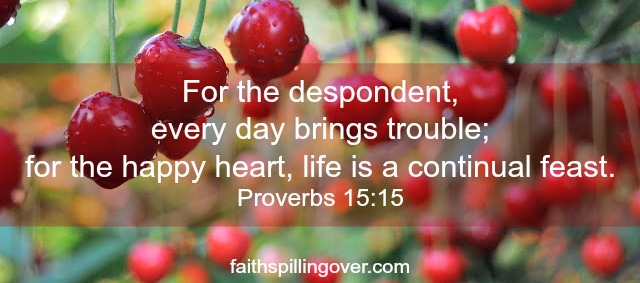 Wow, I'd love a continual feast. So what's a happy heart and how do I get one of those, please?
Different translations of this verse reveal the following synonyms for happy heart: cheerful, merry or glad heart; secure mind; and right attitude. Perhaps in everyday language, a happy heart is a positive attitude.
Chuck Swindoll wrote, "I am convinced that life is 10% what happens to me and 90% how I react to it. And so it is with you. We are in charge of our attitudes."
I believe him, but how does that work in real life? When the bills are due and your bank account's running on empty? When you work for Atila the Hun? When the kids are sick and you have cabin fever? How can we take charge of our attitudes?
How can I cultivate a happy heart?
Believe it or not, I asked my 16 year old daughter this question. We put our heads together, and came up with 6 ideas or habits to help us cultivate happier hearts. Here are the first 3:
1. Hang Tight With God
God is the source of joy, so it makes sense that sticking close to Him is the most important thing we can do to cultivate a more joyful attitude. Psalm 16:11 says, "You will fill me with joy in your presence." That's a promise for heaven, but God also wants to fulfill it now as we walk in fellowship with Him. As we seek Him, He strengthens us for challenges. He renews our minds when we're discouraged, and fills us with the love, joy, and peace we need each day.
2. Give Up on Trying to Be Happy
Everyone wants to be happy, but maybe we're running after the wrong goal. We're pursuing happiness when we should be going after joy. Happiness shifts with our circumstances, but joy depends on our unchanging God. As we focus on rejoicing in God through praise and thanksgiving, we find inner strength, and we just might end up being happier people.
3. Look for Opportunities to Bless Others.
When my father's wife died in December 2014, we worried about him. After focusing all his time and energy on caring for his ailing wife, Dad had few friends. We wondered how he would survive his first Christmas alone. I'll never forget how Dad celebrated the holiday. He made lemon squares for the hospital staff who'd cared for his wife, and he gave bags of gourmet popcorn to employees at his neighborhood gym.
Even during difficult times, doing something nice for someone else brightens our day.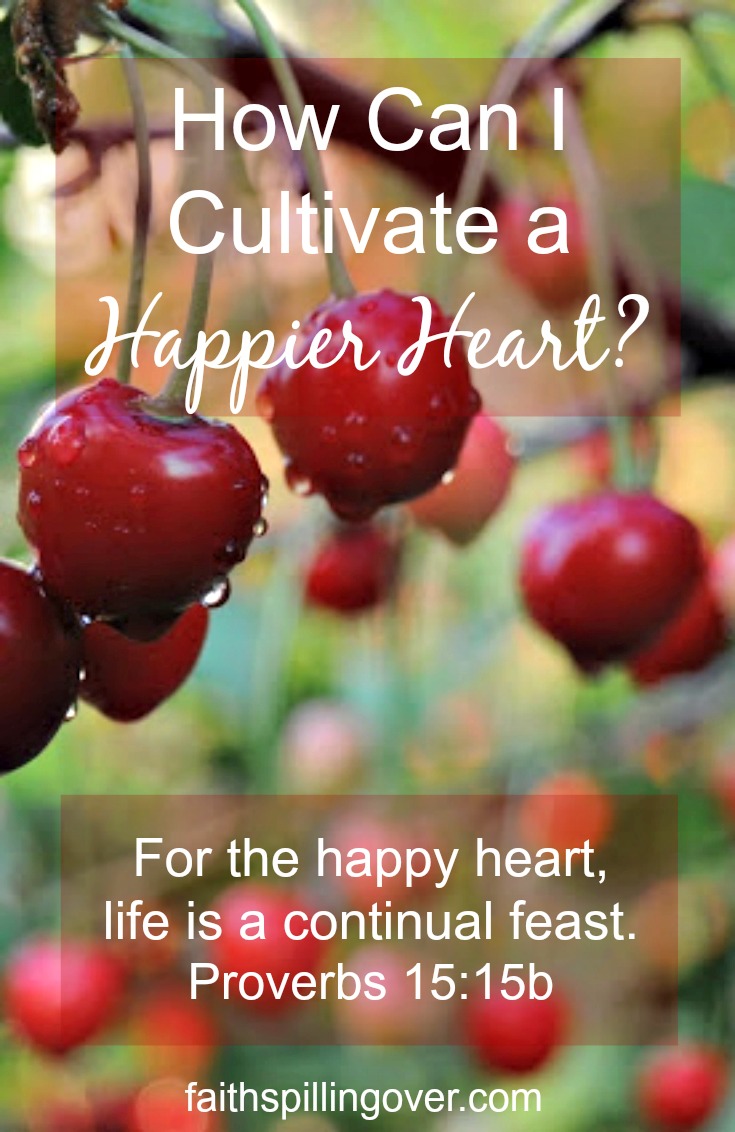 Life will always bring challenges, but we can cultivate a more positive outlook as we make close fellowship with God our top priority. When we forget about our own happiness and reach out to bless someone else, we discover more joy.
Trading our misery spectacles for rose-colored glory glasses won't make difficulties disappear. But we'll certainly enjoy a rosier view.
Read the second part of this post for 3 more ways to cultivate a happy heart.
Now it's your turn. What helps you to cultivate a more positive attitude?