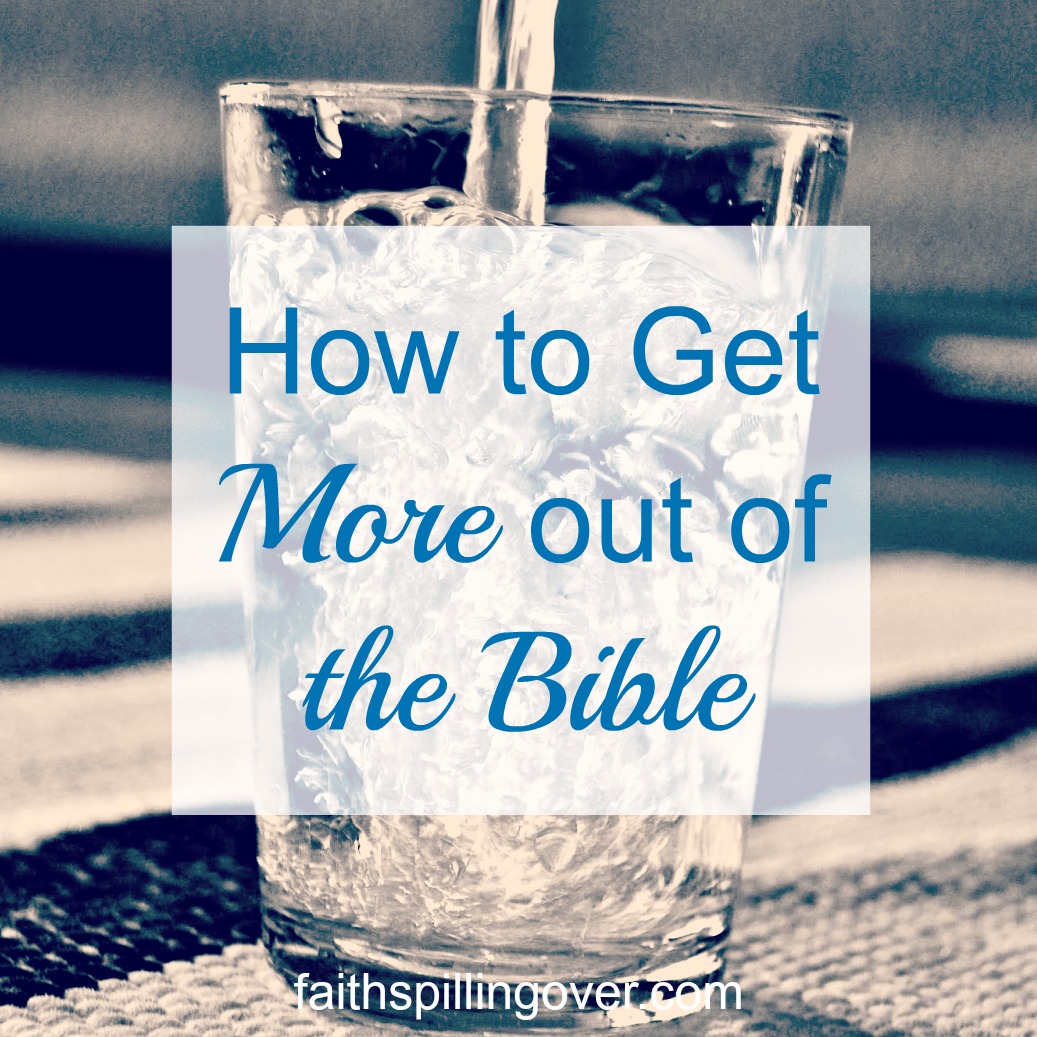 Have you ever turned on a water faucet, but nothing came out? Back when my husband and I were newly married in El Salvador, our neighborhood had running water only one hour a day, at 3:00 a.m.! We'd set an alarm clock, and I'd start the washing machine while Jose filled plastic storage containers in the bathrooms. Then we'd fill a large sink on the patio next to the kitchen before going back to bed.
We take water for granted until we don't have any. Tasks like doing laundry, washing dishes, and other things I won't mention become impossible without it. Most importantly, we need water to quench our thirst and stay healthy. Can you imagine going through a day without one sip of water? You'd end up with a big headache and no energy.
We need the Word like we need water.
Flowers can't grow, fish can't swim, and runners can't run marathons without water. Doctors say we need 8 glasses of it each day to stay healthy. In the same way, believers need frequent intake of God's Word. Along with a generous portion of the Holy Spirit, scripture feeds our faith, renews our thoughts, and empowers us to run our race.
How do we get more of the spiritual nutrients we need out of the Bible?
We get more out of the God's Word when we go after it with all our hearts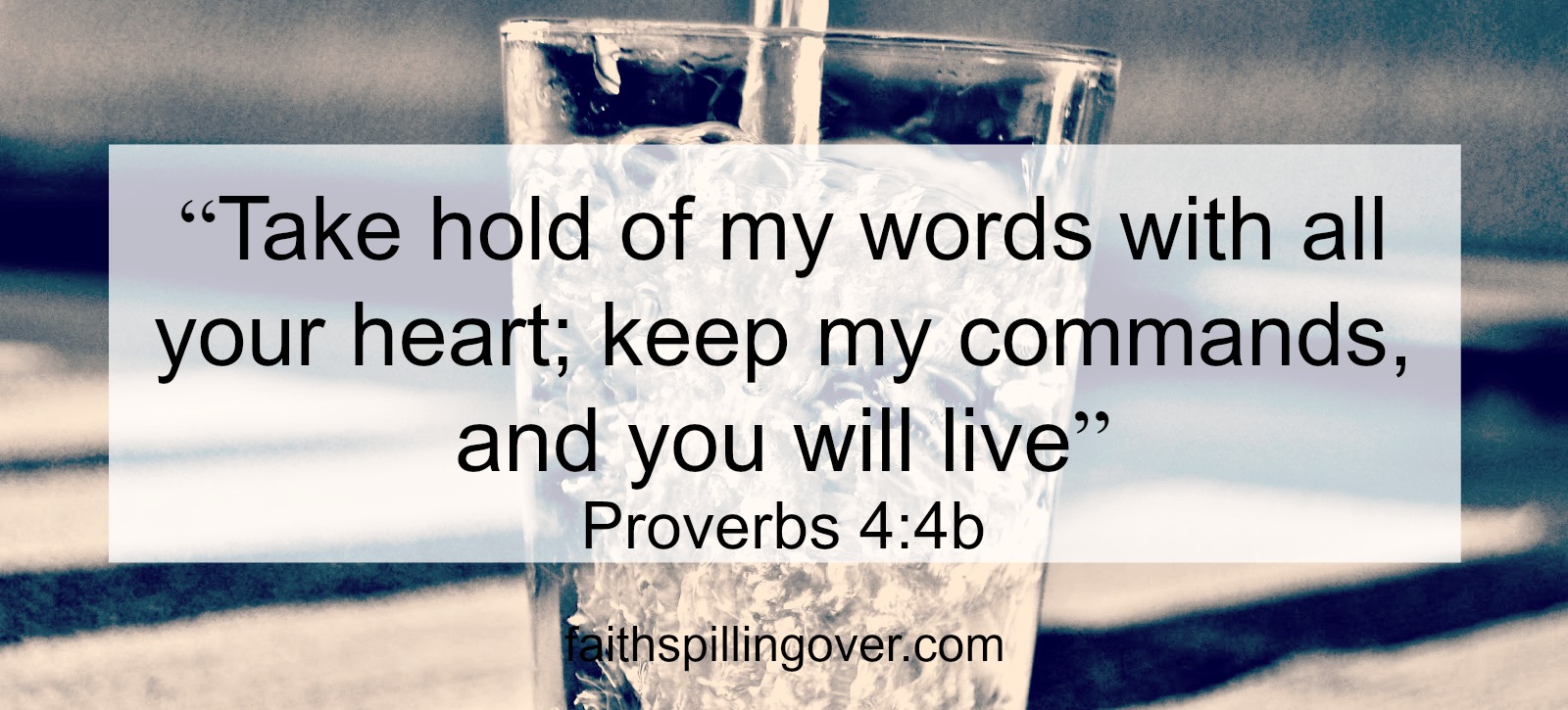 What comes to your mind when you think of taking hold of God's Word with all your heart? I think of active pursuit, really going after truth. I want a heart that goes after God and His Word. Let's go after it with all we've got to get our daily dose of truth from scripture.
Here are 10 ways to take hold of God's Word with all your heart:
1. Read it out loud. Actually HEARING scripture as you read it is powerful! You'll wake up and pay more attention.
2. Read it together with someone: your husband, your kids, or a friend.
3, Listen to scripture. Check out Bible Gateway's on-line audio Bible, and listen up while you put on your makeup, drive your car, or take a walk.
4. Read a passage in several different versions, and see what new meanings become clear. Again, Bible Gateway is a good resource for this.
5. Make it personal. Copy some verses, writing your name in the appropriate places.
6. Highlight, underline, or circle words as you read.
7. Memorize a verse. Carry it around with you on a card or in your phone.
8. Answer a question about the passage you're reading. Try one of these:
What's the key verse for me here?
What difference does this make in my life?
How can I live this out today?
9. Share God's Word with Someone. Watch the Bible come alive as you tell your spouse, a friend, or a child about a verse that encouraged you.
10. Pray the Word. Read a passage. Then go back through it a second time, stopping to pray for yourself or others, following the thought of what you're reading and the Holy Spirit's prompting.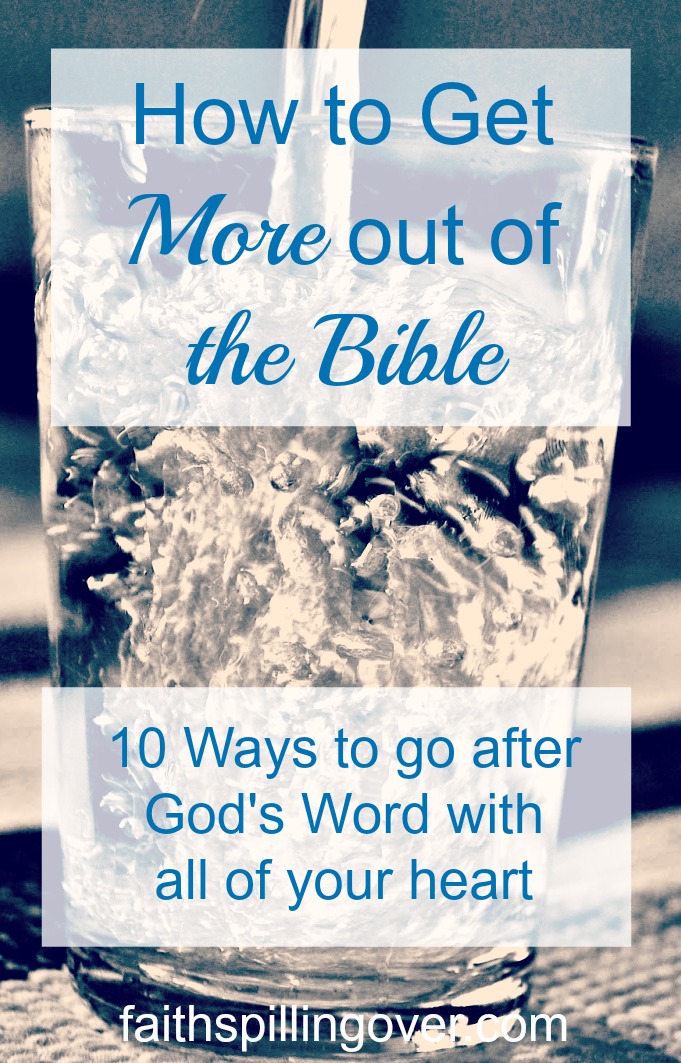 The more we actively take hold of God's Word, the more it takes hold of us. Just like drinking 8 glasses of water a day requires discipline, really going after God's word takes intentional effort.  But as we make that effort, we'll find a renewed perspective, stronger faith, and the power we need to live each day.
Now it's your turn. Does one of these ideas resonate with you?
If you'd like fresh servings of Faith Spilling Over delivered weekly to your inbox, enter your e-mail address in the box in the sidebar. I'd love to send you my free guide, 10 Days to More. You'll find 10 ways to study and engage with God's Word.
I link up with Holly Barrett's #TestimonyTuesday, Kelly Balarie's #RaRaLinkup, Holley Gerth's Coffee for your Heart, Crystal Storms' #HeartEncouragement, and Arabah Joy's Grace and Truth. Check out these communities for more encouragement.