Twenty five years ago I met a handsome, fun, committed Christian guy. Three days later I decided I'd marry him. I only had one problem. He got on a plane back to El Salvador, his home country, leaving me behind in Texas.
How were my guy and I going get to know each other? Back in the days before cell phones, internet and WhatsApp, talking on the telephone was expensive.
One day the mailman brought me a treasure: a letter from Jose! Excited beyond words, I ripped open the envelope only to find that I couldn't read his handwriting. Like a spy working feverishly to crack a code, I spent an hour deciphering the letter.
In the following months, more letters arrived in the mail.  It took intense effort to decipher Jose's handwriting, but that didn't matter. Those letters were my treasure, a tangible representation of Jose. He was far away, but I could hold his letters close. I saved them and got them out to read again and again. As I read them, I got to know him better.
Like a precious letter, God's Word is our treasure.
The Bible is His love letter to us, containing everything He wants us to know. We can't physically see God. We believe in Him by faith, and we see His work in our lives, but we can't see Him. We can, however, get to know Him through His Word.  As we get it out and read it again and again, His love for us comes alive.
God's Word imparts blessings that money can't buy. That's why Psalm 119 says:
God's Word has Power to Fuel our Faith.
It provides a never-ending source of strength to sustain us when faith falters.
God's Word speaks hope into our desperate moments and renews joy on our hard days.
Scripture is a powerful weapon that triumphs over doubt, depression, and defeat.
It's an antidote to anxiety, and it wipes out worry when we trust what it says.
The Bible gives us God's eternal perspective on our passing circumstances.
It's a compass that gives us guidance and direction.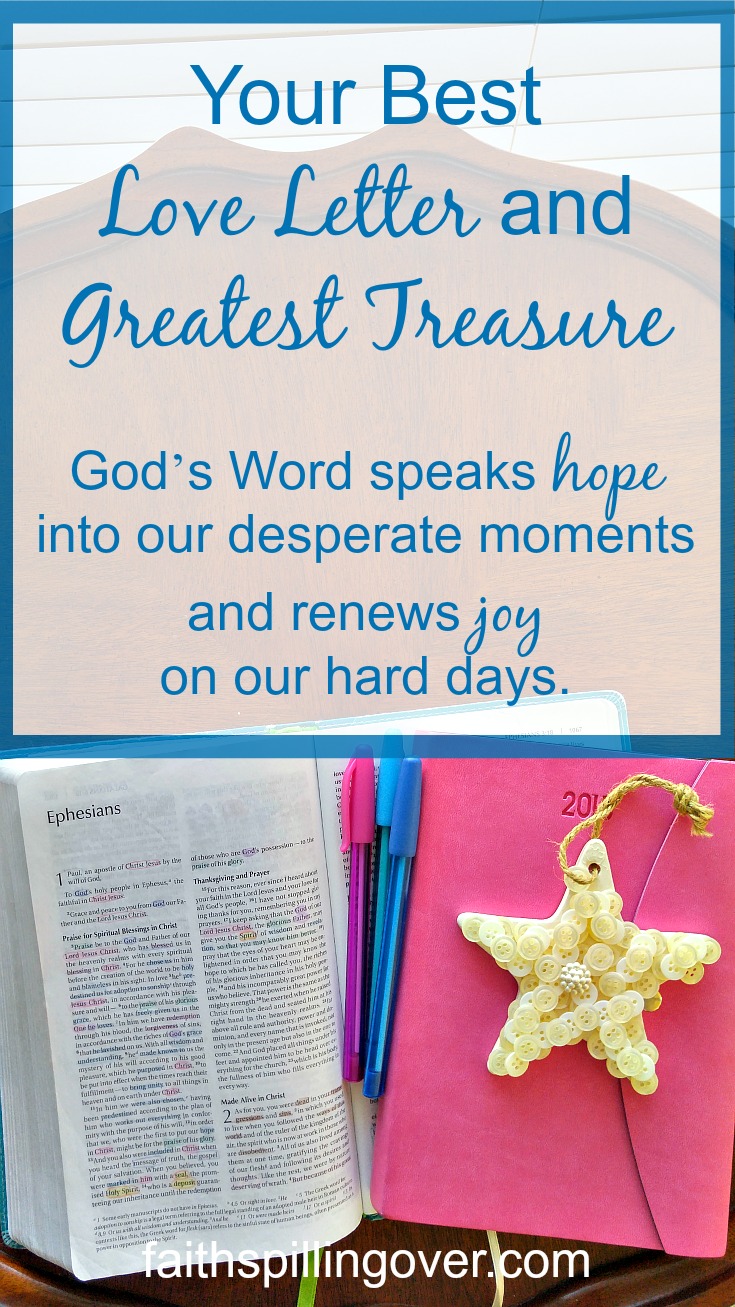 The Bible is an amazing treasure, available at our fingertips, but when life speeds up, we find it hard to make time to read it. When I received those letters from Jose, I never would have dreamed of setting them aside, unopened and unread. Yet how often do we let several days go by without even cracking the cover of God's love letter to us?
Friends, God is burning a renewed passion in my heart for His Word and its transforming power. What better way to start a new year than with a renewed commitment to listening for God's voice through the Bible? The deeper we get into scripture, the better equipped we'll be to meet challenges and live out our calling effectively.
This January, I'm featuring a series: "God's Word: Your Best Love Letter and Greatest Treasure."
Look for the second post this Thursday. After that, I'll post more tips and encouragement for digging deeper into scripture each Tuesday in January. I'm praying for you, dear reader, that God will write His words on your heart this year. For now, how about if we make a commitment to spending at least 10 minutes reading and praying over scripture each day. Will you join me?
I'm linking up today with Holly Barrett's Testimony Tuesday, Kelly Balarie's #RaRaLinkup, and Jennifer Dukes Lee's #TellHisStory, Holley Gerth's Coffee for your Heart, and Holly Brown with #GraceandTruth. Check out their communities for more encouragement.
The first part of this post was re-edited from my archives.